Category: Russia
The analysis published under this category are as follows.

Sunday, December 02, 2007
Is Vladimir Putin the Worlds Most Popular Leader?
On Sunday, Russians will vote in their country's parliamentary elections. The results are a foregone conclusion. Putin's party, United Russia, is expected to win in a landslide. The only question is whether the margin of victory will exceed 70%. If it does, then Putin will continue to be the most powerful player in Russian politics even after he steps down from office next year.
Read full article...

Read full article...
---

Monday, November 26, 2007
Garry Kasparov, the former world chess champion, was arrested by Russian authorities on Saturday for helping to lead an unsanctioned procession of at least 1,500 people (against Russian President Vladimir Putin), he was sentenced to five days in prison.
Read full article...

Read full article...
---

Monday, September 17, 2007
The recent sacking of the Russian Prime Minister, Mikhail Fradkov, was perhaps less of a surprise than President Putin's choice to replace him. Fradkov was also an unusual selection when he was appointed to the position, and his profile has been so low he was almost invisible.
Read full article...

Read full article...
---

Sunday, September 09, 2007
Invisible transfers and long distance calls Hollow laughter in marble halls Steps have been taken, a silent uproar Has unleashed the dogs of war... -- Pink Floyd, Dogs of War
Read full article...

Read full article...
---

Friday, July 13, 2007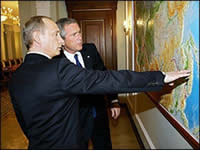 Presidents Bush and Putin concluded their brief summit in Kennebunkport, Maine without resolving any of the main issues. Bush seeks Putin's help to pressure Iran into giving up its nuclear enrichment program and Putin wants Bush to abandon his plans to deploy the US Missile Defense System in Czechoslovakia and Poland. No progress was made on either topic.
Russia and the United States are now more politically divided than any time since the breakup of the Soviet Union. In fact, following the meeting in Maine, first deputy Prime Minister Sergei Ivanov, blasted Washington in the blistering rhetoric of the Cold War era:
Read full article...

Read full article...
---

Friday, June 22, 2007
What is a 'unipolar' world?

It is world in which there is one master, one sovereign--- one center of authority, one center of force, one center of decision-making. And at the end of the day this is pernicious not only for all those within this system, but also for the sovereign itself because it destroys itself from within.

It has nothing in common with democracy, which is the power of the majority in respect to the interests and opinions of the minority.
Read full article...

Read full article...
---

Saturday, January 27, 2007
The richer Russia becomes, the more aggressive its foreign policy becomes. This is evidenced by the recent turmoil in the oil & gas supplies to Western Europe Russia cuts oil to Europe in response to Belarus syphoning off thousands barrels of oil . And the assassination of a critic of President Putins regime in Russia, Andre Litvinenko who died on November 23rd from Polonium-210 poisoning ( Russian ex-agent poisoned whilst investigating killing of journalist Anna Politkovskaya).
The media in Britain have named Andrei Lugovoi as the person considered as the prime suspect for the poisoning, to be named by British Police, who have spent the last 2 months laboriously following the Polonium 210 trail across London, on board flights right back to Andrei Lugovoi in Russia. (Radiation found on at least two BA B767 aircraft that flew from London to Moscow)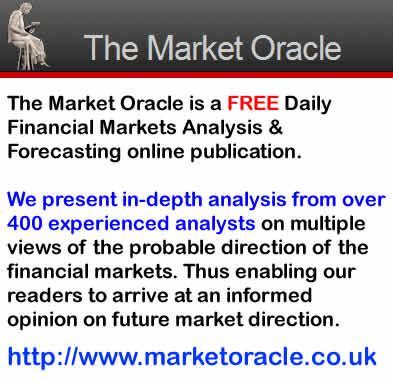 Read full article...

Read full article...
---

Wednesday, November 29, 2006
In a new development in the case of the fatal poisoning of Alexander Litvinenko that strengthens the link between the murder and Moscow, according to the Home Office, traces of a radioactive substance has been found aboard two BA planes, with a third being tested. The three B767 short haul aircraft were taken out of service for forensic examination. BA said it has been advised that the risk to public health was low. But it was contacting customers who had flown on the planes.
Read full article...

Read full article...
---

Sunday, November 19, 2006
The dangers of doing business with Russia came to the fore this week, when it was confirmed that Alexander Litvinenko (Ex FSB Colonel) was poisoned by potentially a lethal dose of Thallium (a toxic metal commonly found in rat poison) according to Dr. John Henry, who has been treating Litvinenko.
Read full article...

Read full article...
---