Homebuilders Stocks Rallying : How could this be?
Housing-Market
/
US Housing
May 23, 2007 - 01:36 PM GMT

Since bottoming on April 12th, the SPDR Homebuilders ETF (XHB) is up 12.5%; twice as much as the S&P 500's gain of 6%. If you are surprised by that statement you are not alone. I still find it hard to believe even after staring at the chart.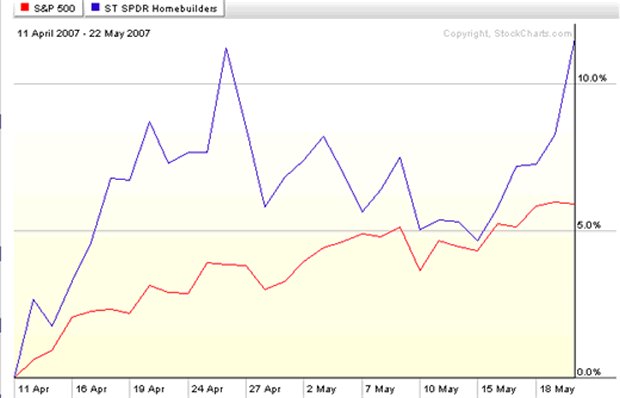 I have written several articles on the subprime fiasco ( Subprime Lenders Gone Too Far - A Time Bomb Waiting to Explode and The Real Estate Market: Why "Bottom" is a Dirty Word ) including one discussing an ideal short setup provided courtesy of New Century ( Nailed Subprime Trade w/Help From Napoleon Hill & Donald Trump ). As the shorts stopped working around mid-April, I moved on. Needless to say that has proved to be the right move.
On Monday, it was brought to my attention that the XHB had recently made a higher low and it looked like a technical buy.
How could this be? Had I missed some news? I quickly reviewed some of the latest news from the last few weeks.
May 18, (AP) — Federal Reserve Chairman Ben Bernanke has repeatedly said this year's mortgage fallout is likely to remain "contained," but there is plentiful evidence the credit problems plaguing home lenders have hurt companies across a much broader range of the economy
May 17, (AP) — The nearly two-year housing slump has taken its toll on a number of related industries, including major home improvement retailers whose demand relies on fixer-up or remodeling projects undertaken when homes change hands.
May 15, (Market Watch) — Home Depot Inc., still smarting from the faltering U.S. housing market and a host of operational issues, on Tuesday posted a 30% drop in quarterly profit and warned that earnings for the year will fall to the low end of projections.
Even the good news is good in a strange kind of way.
May 15, (The Street dot Com) — The Commerce Department said Wednesday that new housing permits tumbled 9% from March to April. The decline signals that homebuilders are slowing down construction to clear the excess inventory in the market.
On Monday, the tape was saying buy the homebuilders - putting my macro views and the tape in opposition.
"The desire for constant action irrespective of underlying conditions is responsible for many losses in Wall Street even among the professionals, who feel that they must take home some money every day, as though they were working for regular wages." Jesse Livermore
Sometimes it is better just to stand aside. So, I passed on the trade.
Out of curiosity, I decided to dig a little deeper to see if I could figure out what kick started the rally. Champion Enterprises (CHB), Centex Corp (CTX), Mohawk Industries (MHK), Beazer Homes (BZH) and WCI Communities (WCI) led the XHB during the week of April 13th.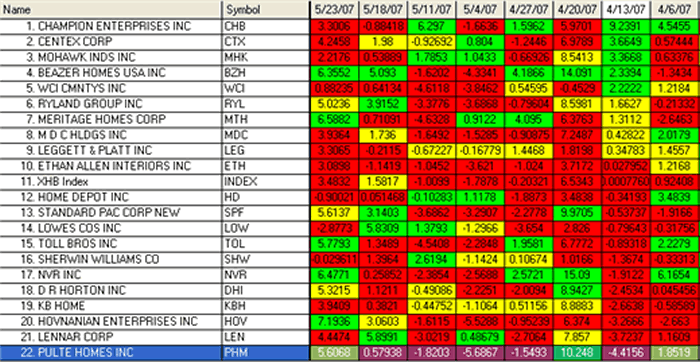 The news surrounding these stocks was mixed at best.
April 19, (AP) — Mohawk Industries Inc., a flooring supplier, on Thursday said the residential business remains "challenging" in all product categories, but it still expects its second quarter to produce stronger results than its first quarter.
April 18, (AP) — Shares of Champion Enterprises Inc., which manufactures homes and military barracks, rallied Wednesday after several analysts maintained bullish ratings on the stock, despite the company's lower-than-expected first-quarter report.
April 11, (CNNMoney.com) — The National Association of Realtors said Wednesday it expects its measure of home prices to fall this year for the first time since the group began keeping track nearly 40 years ago. In its latest monthly forecast, the real estate group said it expects a 0.7 percent decline in the median price of an existing home sold in 2007. A month ago it had been projecting a 1.2 percent increase.
I had no regrets as I watched XHB climb 3% on Tuesday. My present views on housing wouldn't have allowed a large commitment to this trade anyway. I feel better when I think of it from that perspective.
The bottom-line is that market could care less about my thinking or views – the homebuilders are in rally mode.
By Michael K Dawson
http://www.thetimeandmoneygroup.com/
Copyright © 2007 Michael K Dawson
Michael K Dawson founded the Time and Money Group with the aim of educating and sharing 20 years of experience on how to reach financial freedom. "Financial Freedom is freedom to focus on what is truly important to you and your family without having to trade time for a wage. It is enabled by a portfolio of income producing assets, managed by you, which generates sufficient income to cover your yearly expenses on an ongoing basis. It provides both time and money". The intent of his website is to become a repository of information to put you on the fast track to becoming financially free. For further infromation visit http://www.thetimeandmoneygroup.com/
© 2005-2019 http://www.MarketOracle.co.uk - The Market Oracle is a FREE Daily Financial Markets Analysis & Forecasting online publication.

Only logged in users are allowed to post comments.
Register/ Log in