HyperInflation or Deflation Depression, Which is More Probable?
News_Letter
/
Recession 2008 - 2010
Jul 04, 2009 - 12:43 AM GMT


Dear Reader
The inflation / deflation debate continues to rage as deflationists see continuing collapse in the global economies under the weight of the deleveraging debt mountain as recently iterated in a 20 minute video by the worlds foremost proponents for deflation.
On the other hand the more consensus view is that of hyper inflation as most recently voiced by Marc Faber, as a consequence of governments printing money to monetize debt to ignite economic recovery.
Which is more probable ?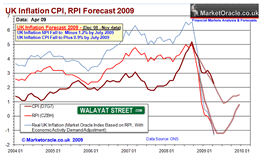 My own analysis in the forecast for UK inflation for 2009 as of Dec 08, forecast that UK inflation as measured by the RPI index would fall to -1.2% by mid 2009 and thereafter see a return to mild inflation by year end to target +0.8%. UK inflation hit -1.2% in April and recorded a -1.1% rate for May, which is inline with the forecast and therefore we should continue to see a gradual trend out of deflation and towards a weak +0.8% by year end.
Therefore my conclusion remains that after deflation ends in the coming months, the following inflation looks set to remain weak into the end of 2009 and most likely for the first half of 2010 at least. I will elaborate up on the inflation outlook and forecast for 2010 later this year.
So I do not see forward signs of either deep deflation or hyperinflation, but rather weak inflation for the next 6 to 12 months.
Nadeem Walayat
Editor, The Market Oracle
P. S. Our friends at Elliott Wave International are offering our readership an exclusive 45% discount on their Financial Forecasts Service, click here for details, offer ends 11th July.
The Deflation Debate - Featured Analysis of the Week


Most Popular Financial Markets Analysis of the Week :
1. Cap and Trade Bill HR 2454 Will Lead to Capital Flight
By:Dr_Ron_Paul
In my last column, I joked that with public spending out of control and the piling on of the international bailout bill, economic collapse seems to be the goal of Congress. It is getting harder to joke about such a thing however, as the non-partisan General Accounting Office (GAO) has estimated that the administration's health care plan would actually cost over a trillion dollars. This reality check may have given us a temporary reprieve on this particular disastrous policy, however an equally disastrous energy policy reared its ugly head on Capitol Hill last week.
2. Goldman Sachs The Fourth Branch of the U.S. Government
By: Graham_Summers
Quietly and almost unnoticed by most Americans, the US Federal Government introduced a fourth branch to its political structure in 2006. As you know we already had three branches, they are:
3. The Coming Economic Apocalypse
By: Roy_F_Grieder
Astonishing to me is the fact that no one seems to understand the ultimate result of the current policies and practices of Washington D.C. and the Federal Reserve Bank, the Fed. I have studied our economic situation for about 3 hours per day for the last 8 months and conclude we are bankrupt. Think about the facts.
4. The End of the Recession?
By: John_Mauldin
Last week we began a series on data abuse, about how various commentators twist and torture data to make it say what they want, or fail to look at the details underneath the headlines. Predictably, there is a lot of fodder this week as we forge ahead into this ripe territory.
5. Bernanke is a Total Failure Unsuited for Role as Fed Chairman
By: Mike_Shedlock
After trashing (and rightfully so) Bernanke's last appearance before Congress, Caroline somehow arrives at the following conclusion.
It would be hard to find someone more suited for the job of Fed chairman than Bernanke. His performance yesterday has nothing to do with his unique qualifications for the position. ... Unless President Barack Obama wants a solo pilot, he would do well to tap Bernanke for a second term.
6. Fed Market Manipulation, Surmounting The Main Threat To Profits And Protection
By: DeepCaster_LLC
"Some people think that the Federal Reserve Banks are United States Government Institutions. They are private monopolies which prey upon the people of these United States for the benefit of themselves and their foreign customers; foreign and domestic speculators and swindlers; and rich and predatory money lenders." - The Honorable Louis McFadden, Chairman of the House Banking and Currency Committee in the 1930s
7. China Mega-trend Stocks Stealth Bull Market Update, SSEC Up 47%
By:Nadeem_Walayat
Whilst many readers have benefited from my series of analysis on the stocks stealth bull market of the past 4 months on the western markets. However, back at the start of September 2008 I gave the first of a series of accumulating buy signals on a major world market which was for China at SSEC 2,000 or lower, which had followed a year of bearish analysis as of October 2007 at above SSEC 6,000 and therefore subsequently reflected up on accumulating into a meg-trend at less than 1/3rd the level of a year earlier.
How to Subscribe
Click here to register and get our FREE Newsletter
About: The Market Oracle Newsletter

The Market Oracle is a FREE Financial Markets Forecasting & Analysis Newsletter and online publication.
© 2005-2019 http://www.MarketOracle.co.uk - The Market Oracle is a FREE Daily Financial Markets Analysis & Forecasting online publication.

Only logged in users are allowed to post comments.
Register/ Log in