Thoughts on the Next Decade of Market Performance
Stock-Markets
/
Stock Market Sentiment
Aug 05, 2009 - 06:17 PM GMT

Last month I posted a poll on my website www.avaresearch.com asking readers by how much the U.S. stock market would return on average, annually over the next ten years. The results were a bit surprising.
Now let's have a look at the results. Coming in first place with 26.39% of the votes was an expected 2% annual return over the next ten years. A very close second with 25.69% of the voters feel the average annual returns will be -5%.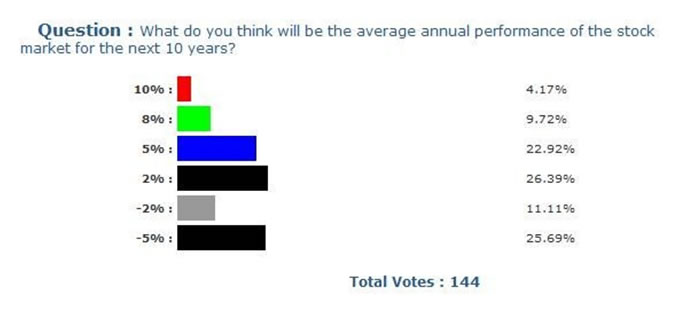 Wow, you guys are really pessimistic!
Understand that if this poll was taken in 2007 when the Dow was 13,000 to 14,000, these expectations would be more reasonable. However, now that the market has sold off by a huge amount, in my opinion it is likely we will see positive returns over the next ten years; not because the economy will fully recover, but because it will recover enough to mount small positive returns.
If I had to make a guess based upon where the Dow was when the poll was taken (a rough average of around 8800), I would say that 2% is still too pessimistic (I hope!).
I would say that 5% is more reasonable.
Note that if the market returned an average of 5% annually over the next ten years, the Dow would still only be around 15,000, which is not much higher than the highs made in October 2007 of around 14,200. In my view, such results are plenty pessimistic. Anything lower is extremely pessimistic. Negative returns from here assume a Japan-type downward spiral (since 1989), which I do not feel is likely.
Note that 8% average annual returns are not out of the question, but ONLY because the market sold off so hard. But anything beyond that is very unlikely.
In conclusion, I would estimate that the average annual performance for the Dow over the next decade will be 5-7%, with much of these average gains registering towards the later part of this ten-year period.
This means it's a fairly good time for new investors to invest. But be forewarned. I expect several periods of up and down volatility. Furthermore, note that when adjusted for inflation, these gains might well be wiped out so you will need higher returns. And you won't get them buying mutual funds or using a buy-and-hold strategy (which is how annual performance in measured).
For investors who got caught in the market and are looking at losses since 2007 or 2008, you are going to have to not only become a great stock picker, but more importantly you will need to actively manage your positions. The AVA newsletter is geared towards helping you do that.




By Mike Stathis
www.avaresearch.com
Copyright © 2009. All Rights Reserved. Mike Stathis.
Mike Stathis is the Managing Principal of Apex Venture Advisors , a business and investment intelligence firm serving the needs of venture firms, corporations and hedge funds on a variety of projects. Mike's work in the private markets includes valuation analysis, deal structuring, and business strategy. In the public markets he has assisted hedge funds with investment strategy, valuation analysis, market forecasting, risk management, and distressed securities analysis. Prior to Apex Advisors, Mike worked at UBS and Bear Stearns, focusing on asset management and merchant banking.
The accuracy of his predictions and insights detailed in the 2006 release of America's Financial Apocalypse and Cashing in on the Real Estate Bubble have positioned him as one of America's most insightful and creative financial minds. These books serve as proof that he remains well ahead of the curve, as he continues to position his clients with a unique competitive advantage. His first book, The Startup Company Bible for Entrepreneurs has become required reading for high-tech entrepreneurs, and is used in several business schools as a required text for completion of the MBA program.
Restrictions Against Reproduction: No part of this publication may be reproduced, stored in a retrieval system, or transmitted in any form or by any means, electronic, mechanical, photocopying, recording, scanning, or otherwise, except as permitted under Section 107 or 108 of the 1976 United States Copyright Act, without the prior written permission of the copyright owner and the Publisher. These articles and commentaries cannot be reposted or used in any publications for which there is any revenue generated directly or indirectly. These articles cannot be used to enhance the viewer appeal of any website, including any ad revenue on the website, other than those sites for which specific written permission has been granted. Any such violations are unlawful and violators will be prosecuted in accordance with these laws.
Requests to the Publisher for permission or further information should be sent to info@apexva.com
Books Published
"America's Financial Apocalypse" (Condensed Version) http://www.amazon.com/...
"Cashing in on the Real Estate Bubble" http://www.amazon.com/...
"The Startup Company Bible for Entrepreneurs" http://www.amazon.com...
Disclaimer: All investment commentaries and recommendations herein have been presented for educational purposes, are generic and not meant to serve as individual investment advice, and should not be taken as such. Readers should consult their registered financial representative to determine the suitability of all investment strategies discussed. Without a consideration of each investor's financial profile. The investment strategies herein do not apply to 401(k), IRA or any other tax-deferred retirement accounts due to the limitations of these investment vehicles.
© 2005-2019 http://www.MarketOracle.co.uk - The Market Oracle is a FREE Daily Financial Markets Analysis & Forecasting online publication.

Only logged in users are allowed to post comments.
Register/ Log in