Gold Continues to Strengthen
Commodities
/
Gold & Silver
Jun 21, 2007 - 09:19 AM GMT

Gold does continue to strengthen regardless of what you think.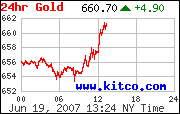 Below is the action in gold this past Tuesday. Is gold on the verge of crashing? Gold will crash the day the United States pays off all its debts to China and Asia . Will that day come any time soon? Don't think so.
"Gold climbs over $1 to close near the $660 mark" "Gold futures closed higher Monday, building off last week's gains to close near the $660 level as traders eyed movements in the U.S. dollar and continued to gauge inflation concerns and the likelihood of an interest-rate hike by the Federal Reserve." "Gold for August delivery climbed $1.20 to close at $659.90 an ounce on the New York Mercantile Exchange, marking its strongest closing level since June 7." Click
I've got two interesting emails that are really worth looking at. Both emails represent two very different opinions about current economic events. What I'd like to do is follow both thoughts out logically to examine which opinion may be closer to expressing the present economic reality of the day. Lets look real quick at the first email message that I received. Let's read it below.
David, "It's time to get out of anything gold; it's going a lot lower with rising rates. Best to sit back and wait…" John F.
OK. John is telling us I think that because interest rates are rising that this is no good for gold and we better sit this baby out and see what happens down the road. Is that what you meant John? Well, historically what do rising rates mean for gold? There is a historical precedent for this type of economic activity. Let's just take a quick peak at what the statistics have to say about rising interest costs and their effect on the gold price. After all our money is on the line here so let's look at the facts.
"Yet, perhaps surprisingly, nominal fed funds rate increases have rarely succeeded in bringing down the price of gold." Click
And more to the point what has history shown us when the Fed funds rate rises?
"In May 1977 the Fed began tightening again, with the fed funds rate rising from 5.25 percent that month to 17 percent in April 1980. Despite this large nominal rate rise, the price of gold skyrocketed from $150 to $540 an ounce." Click
Now let's listen to the second email that I received. This email merely stated the facts as they presently have played out these past few years. To the point the email tells us factually just how little the gold price has actually fluctuated these past two years or so. Let's go below and read this email.
Hi David, "If people only took a step back and realized that, since March and April, gold has been hammered repeatedly – first by being dumped in large quantities by Spain (and others) in ECB sales – then by liquidation to raise cash to cover Asian market declines – then by rising interest rates – yet it remains within 40 or 50 dollars of its spring 2007 high, and within $100 of it's 2006 high – imagine when the music stops and there's no more gold left with which to manipulate the market – reminds me of the Bank of England ceasing its weekly auction sales in 2001 (or 2002?) – gold went from $250 to $390 in a hurry – that's over 50% - patience, my friend, patience. Best regards, George I. L.
The first email speculates that gold and related precious metals equities are presently too volatile to buy right now. And the second email states just how stable the gold price really has been. Why are these two very different 180 degree apart view points so important when making our investment decisions?
Do I sound like a broken record saying the same thing over and over again? Does it get tedious hearing the same ole' message over and over again? Well, while the Titanic was sinking there were those passengers who continued sleeping in their comfortable beds while the water was slowly rising above their bed posts. The light from the light house out at sea is bright and obnoxious but ultimately many a mariner is saved from washing up on the reefs because they paid heed to the light.
"Every human being," says C.S. Lewis. "is in the process of becoming a noble being; noble beyond imagination. Or else, alas, a vile being beyond redemption." C.S. Lewis
Depending on which view point we follow and adhere to will make us either noble or lead to creating a vile and wretched portfolio destroyed beyond redemption. How we manage our money today and what we choose to believe in will affect dramatically what our financial future holds for us some day when we wish to and are ready to retire.
Ned W Schmidt – " Gold's price has fallen recently in sympathy with collapse of paper asset markets, providing an excellent chance to buy at a relatively low price. $650 Gold is a bargain relative to a long-term price target of $1,400+." Click
But really it is always how we answer the simple questions in life that ultimately determine our happiness and security when tomorrow comes. And tomorrow does eventually come like a thief in the night. Our future will sneak up on us and envelope us one day as a roaring lion. Don't believe me? The nursing homes today are filled with those souls who thought they were going to live forever. That ain't the way it's going to be. Choose today what you are going to believe.
"Gold remains the only world currency not open to debasement, competitive devaluation, or the excessive promises of overspent governments." Click
Gold truly is immortal and will play out its own role in the eternal ages to come.
"Adrian Ash submits: Oil down, gold up – and still the mass of investors, led by Wall Street, can't figure out what's driving this six-year bull market in bullion." "And for US investors wanting to buy gold today? Gold bullion just completed its fourth-best month on record." Click
Yes, gold truly is immortal and some day in the not too distant future some of us will be walking on it.
"There are no ordinary people…It is immortals whom we deal with, work with, marry, snub and exploit – immortal horrors or everlasting splendors." C.S. Lewis
Tomorrow awaits us. Whether it is pleasant or unpleasant depends on what we do today.
"Gold to stabilize around $700" "Gold has already seen this year's low and prices should stabilize around $700 an ounce in the long term on a bearish outlook for the dollar, the chairman of the industry-funded World Gold Council said." "In the fall this year, we would probably see prices somewhere between $700 and $750. We might see a year or so where the price stabilizes around the $700 mark," Pierre Lassonde said." "I think $630 was the low and we have seen it." ""The biggest single factor affecting the gold price is the US dollar and the dollar is going to go down. Because of the current account deficit and the trade deficit, the dollar has to go down…" "ETF demand is about 200 tonnes per year of new demand and I think we have many more years of new demand to come. We are rolling out the ETF in the Far East and Europe and there is a lot new demand coming in," he said." Click
We are in a new investment era that is very much altering the way we invest including changing simple investing rules. Gold Letter, Inc. reviews this new era and recommends those resource stocks, including gold, silver & uranium mining companies, that are under valued and poised to rise in this age of increased demand for resources. Gold Letter's 10 best performing stocks are up over 2,000% and GL's top 55 performing stocks are up over 500%. GL charts are computer generated and updated every hour while markets are open.
Click here to order Gold Letter
Send me an email.
"…there is a convergence of global events that will have profound implications for our world. The effects of the convergence are just now beginning to manifest themselves in our country." Doug Tjaden, Traditions of Men
By David Vaughn
Gold Letter, Inc.
David4054@charter.net
The publisher and its affiliates, officers, directors and owner may actively trade in investments discussed in this newsletter. They may have positions in the securities recommended and may increase or decrease such positions without notice. The publisher is not a registered investment advisor. Subscribers should not view this publication as offering personalized legal, tax, accounting or investment-related advice. The news and editorial viewpoints, and other information on the investments discussed herein are obtained from sources deemed reliable, but their accuracy is not guaranteed. © Copyright 2007, Gold Letter Inc.
© 2005-2019 http://www.MarketOracle.co.uk - The Market Oracle is a FREE Daily Financial Markets Analysis & Forecasting online publication.

Only logged in users are allowed to post comments.
Register/ Log in