Gold Double, Triple Top or New Bull Run?
Commodities
/
Gold & Silver 2009
Sep 13, 2009 - 05:10 PM GMT


A dull week until Friday, when gold moved to within striking distance of all time highs. But something tells me that it might not make it this time. New highs may have to wait, again. I hope I'm wrong.
GOLD : LONG TERM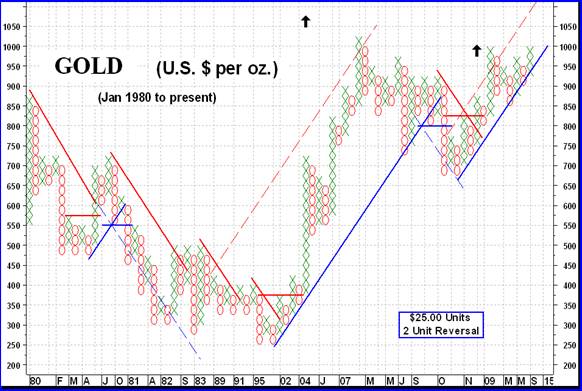 Technicians have quite an advantage (although sometimes it's a disadvantage) in that they can access many different charts to perform their analysis. These different charts usually give a technician different perspectives about the market or stock he is trying to analyze. My long term point and figure (P&F) chart has been a $15.00 Unit / 2 Unit Reversal chart (It started as a $10.00 Unit / 2 Unit Reversal during the early days/years of this bull market).
The chart this week is what I refer to as a very long term P&F chart and is a $25.00 Unit / 2 Unit Reversal chart. As the ratio between the Unit price and the gold price becomes smaller and smaller, at some point this might become a revised new long term chart. Once gold reached its peak in early 1980 and started its bear market this chart has given us only 5 reversal signals along the way. That's an average of one reversal every 6 years (although two of the signals came very close to each other). In mid-1980 we had a bull signal followed by a bear in early 1981 (for a $50 loss). In late 2003 we had a bull signal which lasted until Oct 2008. It went back into a bull in Dec 2008 (again for a $50 loss) and remains a bull. For a trip that took us from $875 to $275 and then back to $1000 (a $1325 trip), a total $100 loss isn't bad.
The longer the time period that a P& F chart reflects the farther away from the actual bottoms and tops a signal will be given. This is one reason technicians would normally not use a chart with these parameters for trading or investing, but just for a better view of where we had been and where we might be going. The 2003 bull break gave us a projection to $1075 while the long upward Xs, when reversed, gave us a second projection, based upon a vertical count, to the $1575 level. This is the often mentioned $1600 projection one hears about. Now, should we decisively break into new highs (requiring a move to $1050) a new very long term projection would be possible, to at least the $2050 level.
Some technicians think we just might be into a new major bear market ahead. This could be reflected in a major double (or triple) top pattern if the price stays below the $1050 level and reverses. However, for a confirmation of such double top the price would have to drop all the way to the $675 level, at which point it would project down into the $300 to $400 major consolidation area of 15 years ago. In my view that is highly unlikely but that's what the chart would say if we confirm a double top.
One interesting point about this chart, the bull move that was signaled late last year had a projection to the $1000 level. This was met during this past week. It just could be a warning that the move is over. Hope not.
As you can imagine, a technician is never short of things to look at or charts to dwell upon. It keeps them busy.
Back to the real world. As one might expect everything on the long term is positive. The gold price is above its positive moving average line and the momentum indicator is moving higher inside its positive zone and above its positive trigger line. The volume indicator continues to make new bull market highs and remains above its positive trigger line. The long term rating remains BULLISH.
About the only negative is the fact that the price of gold is at its highest value in almost 18 months while the momentum indicator has not yet breached its previous high from this past Feb. The momentum indicator seems to be suggesting that this latest move on the part of gold does not have the strength of previous moves and one should be on guard for a reversal, JUST IN CASE.
INTERMEDIATE TERM
We have the same problem with the intermediate term momentum indicator. It too has not yet breached its previous high from last Feb and may be a warning of possible problems ahead. I would not forecast a problem nor act ahead of time but wait for the trend and other indicators to confirm that a reversal has taken place before acting.
In the mean time everything is going smoothly. Gold remains above its intermediate term positive moving average line and the momentum indicator remains in its positive zone above its positive trigger line. The volume indicator is acting quite positive and remains above its positive sloping trigger line. All in all, the intermediate term rating remains BULLISH.
SHORT TERM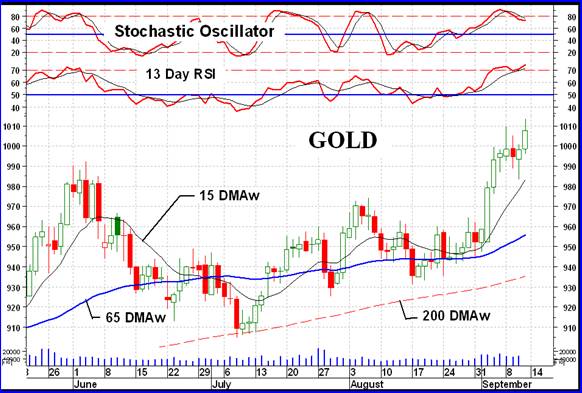 Unlike the other time periods the short term momentum indicator HAS just breached its previous Feb high. However, it has done so while inside its overbought zone and may be getting close to a reversal of trend or at least a rest period ahead. It remains above its positive trigger line so for today it is still a positive indicator. The price remains above its positive moving average line. The daily volume activity has picked up somewhat, which is encouraging. For now the short term rating remains BULLISH.
The short term moving average line remains comfortably above the intermediate term moving average for a confirmation of the bullish intermediate term rating. Likewise, the very short term moving average line crossed above the short term line over two weeks ago (not shown) and remains above the short term line for a short term bull confirmation.
Trying to assess the immediate direction of least resistance we have an interesting difference of momentum indicators. Although the short term RSI and the Stochastic Oscillator (SO) are calculated quite differently they both try to assess the momentum of the price. The short term still has the momentum increasing while the SO has the momentum already on the decline. The SO is the more aggressive indicator so it might be foretelling a decline in gold price ahead, if only for a short term. We just could have a case such as in late May where the SO reversed and went back into the overbought zone for an extended bullish move. Going with the SO I would think that the move over the next day or two is going to reverse to the down side. Again, I hope I'm wrong.
SILVER
Silver had a good week, both the bullion and stocks. The silver stocks had the best weekly performances of any of the North American Indices by a considerable margin. That just seems to continue suggesting this is where the action will continue to be in the precious metals (gold & silver). Although all of the time periods are still rated as BULLISH and silver continued to rise throughout most of the week the more aggressive Stochastic Oscillator has been indicating that the upward move was not as strong as might seem. The indicator, inside its overbought zone, has been topping out and moving lower. Although it spent the week below its trigger line it has not quite yet moved below the overbought line so is still in the weakening stage, rather than the reaction stage. However, one should not ignore this indicator. It is often ahead of a move and although it is a very short term indicator, i.e. moves may only last for a day or three, such move could always be the start of a longer term reaction. It's a short term traders vehicle that sometimes foretells of a longer term move.
Until silver and silver stocks ACTUALLY turn around one would continue to trade in the direction of the existing trend with one eye on a possible reversal.
PRECIOUS METAL STOCKS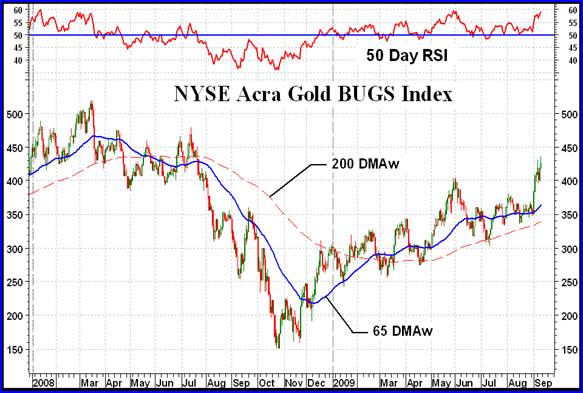 Formerly the AMEX Gold BUGS Index, after the NYSE take-over of the AMEX it is now called the NYSE Acra Gold BUGS Index (HUI). It is probably still the second most popular gold Index in North America and the best performing North American Index in the Table of Precious Metals Indices (see end of commentary). The HUI is into new recovery highs but unlike gold it is still some distance from its previous highs from March of 2008. With 15 component stocks it is a very select representation of gold mining companies. The largest 4 stocks have an over representation towards the Index calculation while the other 11 stocks have an under representation in the Index. With 2 stocks representing more than 27% of the Index value any significant movement in only these two stocks (Goldcorp and Barrick) could have a significant effect on the Index as a whole. This is a common situation with almost all (if not all) of the major North American Indices. The Merv's Indices have at least 30 component stocks (except for the silver Indices due to limited companies) and each stock has the same weighting towards the Index calculation. In this case a very small minority of stocks could not adversely affect the Index calculation.
Despite the positive move over the past few days the HUI momentum indicator is slightly weaker in its action versus the Index itself. This should be watched for reversal of trend as a weakening momentum is very often a precursor to a trend change.
U.S. Dollar Index
The U.S. $ has now moved into new reaction lows and continues to head towards its previous bear market lows at the 71 level. This may be why gold is moving but I wouldn't bet the ranch that this relationship will continue. Go with the trend, for whatever reason the trend is moving.
MERV'S PRECIOUS METALS INDICES TABLE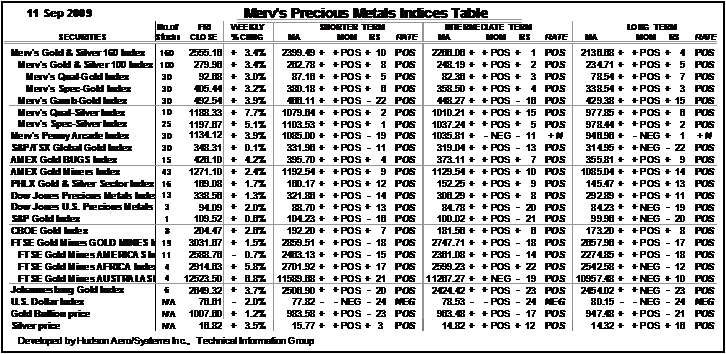 Well, that's it for another week.
By Merv Burak, CMT
Hudson Aero/Systems Inc.
Technical Information Group
for Merv's Precious Metals Central
For DAILY Uranium stock commentary and WEEKLY Uranium market update check out my new Technically Uranium with Merv blog at http://techuranium.blogspot.com .
During the day Merv practices his engineering profession as a Consulting Aerospace Engineer. Once the sun goes down and night descends upon the earth Merv dons his other hat as a Chartered Market Technician ( CMT ) and tries to decipher what's going on in the securities markets. As an underground surveyor in the gold mines of Canada 's Northwest Territories in his youth, Merv has a soft spot for the gold industry and has developed several Gold Indices reflecting different aspects of the industry. As a basically lazy individual Merv's driving focus is to KEEP IT SIMPLE .
To find out more about Merv's various Gold Indices and component stocks, please visit http://preciousmetalscentral.com . There you will find samples of the Indices and their component stocks plus other publications of interest to gold investors.
Before you invest, Always check your market timing with a Qualified Professional Market Technician
© 2005-2019 http://www.MarketOracle.co.uk - The Market Oracle is a FREE Daily Financial Markets Analysis & Forecasting online publication.

Only logged in users are allowed to post comments.
Register/ Log in