UK Interest Rate forecast for 2007 - Bank of England to do battle with inflation
Interest-Rates
/
Forecasts & Technical Analysis
Dec 26, 2006 - 01:57 PM GMT

UK Interest rates end 2006 at 5%, up 0.5% on the years low of 4.5%, as the bank of England strives to bring inflation back under control. Though the bank increasingly seems to be fighting a losing battle against a soaring money supply of over 14% ! stoking the fires of inflation as the RPI hits 3.7% and the CPI 2.7% the highest levels since 1993 !
With the economy near full employment, the inflation figures are set to wage costs soaring feeding into a wage price spiral. which is expected to feed through into even higher inflation during 2007. The middle class already are experiencing inflation closer to 6% than the 2.7% that the CPI represents.
As my previous articles indicated, ( UK Interest Rates could rise to 5.75% in 2007 - 7th Nov 06), and ( UK Interest Rates set to rise to 5.25% by March 2007 -10th Nov 06 ) UK Interest rates are set to rise further in 2007, even talk of a US slowdown or sterling strength is not going to prevent the Bank of England from raising interest rates during 2007. The question is not if, but rather how high will interest rates go !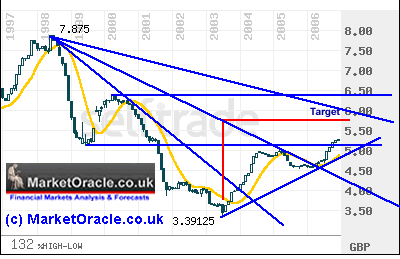 The above chart shows that interest rate futures are already discounting a further rise by March 2007 to 5.25%. A rise to 5.5% is also expected with the 3 month LIBOR forecast to hit to 5.75% late 2007. As stated earlier in this article, the problem is that, unless the growth of the money supply is controlled, then interest rate rises of a further .25% is NOT going to be able to put much of a dent into inflation ! It would take interest rates rising to a level where they hit the economy, push house prices into reverse and increase unemployment significantly to reign in inflation.
Technical Analysis
Time - The up trend to 5%, took about 1.5 years, after which the market corrected over the next 12months to 4.5%. Therefore a 1.5 year trend forecasts the next Peak in UK interest rates between Aug and October 2007.
Target - The price target of 5.7% represents a 50% retracement of the decline in interest rates to 3.39%, and also the 2005 target for a peak in UK interest rates (Nov 05)
Moving Average - As long as the 3 month LIBOR remains above the 200day moving average then the price will trend towards the 5.7% target.
So I am sticking with the earlier forecast of UK interest rates hitting 5.25% by March 2007 and possibly even going as high as 5.75% during the 2nd half of 2007 as the Bank of England is forced to reign in inflation as it hits the upper boundary of 3% (CPI).
The risks to the forecast are a sharp drop in the UK housing market or sharp slowdown in the UK Economy, though thus far the rise to 5% has failed to have an impact on either.
by Nadeem Walayat
Disclaimer - This Analysis / Forecast is provided for general information purposes only and not a solicitation or recommendation to enter into any market position, and you are reminded to seek independent professional advice before entering into any investments or trading positions.
Attention editors and publishers ! This article can be republished. Republished articles MUST include attribution to the author and the following short paragraph:
The Market Oracle is a FREE Financial Markets Forecasting & Analysis online publication. We aim to cut through the noise cluttering traditional sources of market analysis and get to the key points of where the markets are at and where they are expected to move to next ! To view articles, visit http://www.marketoracle.co.uk
© 2005-2019 http://www.MarketOracle.co.uk - The Market Oracle is a FREE Daily Financial Markets Analysis & Forecasting online publication.
Comments
Les Duff
17 Jul 08, 10:13
Savings


Does higher bank interest rates mean better saving interest rates,should I be in a fix saving rate or a variable rate




Only logged in users are allowed to post comments.
Register/ Log in