Monday Stock Market Mayhem, Is Goldman's Goose Cooked?
Stock-Markets
/
Stock Markets 2010
Apr 19, 2010 - 10:16 AM GMT


Goldman, Goldman, Goldman…
Did anything happen this weekend? You sure wouldn't know it from listening to the MSM, who have no other topic to discuss. I was contacted by over a dozen media people asking me to comment on GS's guilt or innocence (and, big hint for those of you who like to be quoted - don't say "how the hell should I know") but, by far, the best analysis I read this week was Sam Antar's analysis, where Sam says:<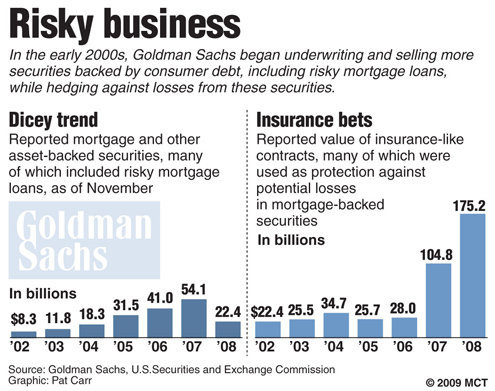 Goldman Sachs Makes Huge Error in After Market Response to SEC Lawsuit. Rule 10b-5 prohibits public companies, their officers, and employees from making:
…any untrue statement of a material fact or to omit to state a material fact necessary in order to make the statements made, in the light of the circumstances under which they were made, not misleading, or to engage in any act, practice, or course of business which operates or would operate as a fraud or deceit upon any person….
The SEC claims that Goldman Sachs and Fabrice Tourre violated Rule 10b-5 by failing to disclose material information about Paulson's role in selecting certain underlying mortgage securities and that Paulson was betting against the viability of those securities by taking a short position against them.
The Goldman Sachs press release starts out by saying:
…We are disappointed that the SEC would bring this action related to a single transaction in the face of an extensive record which establishes that the accusations are unfounded in law and fact.
At the very least, the SEC's allegations are founded in law under Rule 10b-5, contrary to the company's representation to investors in its press release. In addition, the press release misleads investors about the SEC complaint, too. Therefore, the Goldman Sachs press release may subject the company to additional Rule 10b-5 violations.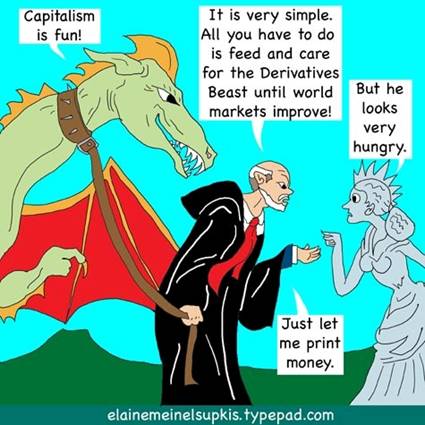 Oh what a tangled web we weave… The bottom line is that the SEC is sending a message to the financial community that business as usual will not be tolerated going forward and I urge you to read through Sam's entire post on the subject as it's a very good overview of the legal issue GS faces. The other big issue around GS is that the MSM seems to have a lot of trouble explaining what they did wrong.
Mostly they keep referring to a "defective car" model, comparing GS and Paulson to people who purposely sold a defective vehicle and then bet that the people who bought it would crash. Sure that's evil enough but what they actually did was worse and you need to understand the timeline (which the media is very confused on) to understand the "alleged" crime:
Step 1 - Paulson comes to Goldman and says "I want to bet that sub-prime mortgages will fail."
Step 2 - Goldman says "Sure, we'll do anything for money! Let us help you for a big fee."
Step 3 - Goldman designs a vehicle in which they can slap an A rating on a crappy portfolio that Paulson can short AND Goldman will market it to suckers for even more fees.
Step 4 - That's not good enough for Paulson and he want's to SELECT the crap that goes into the portfolio AND GOLDMAN LETS HIM!
Step 5 - Goldman markets the portfolio to pension funds and other investors looking for relatively SAFE investments and fails to mention (because no one would buy it if they did) that Paulson picked the securities and bet $1Bn on them failing. GS argues that they did mention Paulson was an investor - just not that he was a SHORT investor. Surprisingly, some of the other investors (and the SEC) find that to be misleading.
This is very much like a broker's big client going to a dozen hospitals and picking the 97 most terminal patients under 40 he can find plus 1 healthy newborn, one healthy teenager and one healthy adult and then the broker sells you on investing in life insurance for their big client's 100-person group that ranges from 0-40 and presenting the 3 healthy people as a "typical" insurance pool. The broker then gets you invest on the basis of insuring that the people in the insurance pool will live average lives while the big client, who paid the broker a fee to structure an instrument to fail, is never mentioned to you at all or is mentioned as a "co-investor". When people start dying, you get hit for a million here and a million there and another million and another million until you are broke and the client is rich(er) and they call it a "black swan event" that no one could have seen coming. That's what happened - it's not complicated!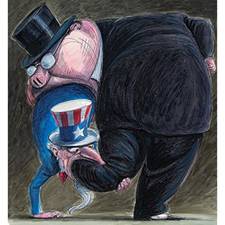 By the way, if you are one of the many GS investors who are angry that your company is being accused of fraud - consider the fact that GS received a Wells Notice from the SEC in July of 2009 indicating that it was a target of an active investigation. The WSJ reports that Goldman responded to the Wells notice in September. In March, Goldman contacted the SEC to check on the status of the investigation but at no point along the way did they report to investors (even Buffett?) that they were under investigation as their stock went from $140 to $190 - that too is an actionable issue and makes GS subject to lawsuits from investors who were burned buying their stock since last July!
Now, our friend Paulson made $3.7Bn betting on sub-prime failures and that was just his cut off his fund's earnings so there are about $15Bn of other deals that Paulson's group alone pushed through besides the $1Bn deal that is the subject of this investigation. How many of them were structured similarly to the Goldman deal and how many other IBanks are involved? We can look forward to many weeks of rumors and speculation driving wild swings in the financials thanks to this.
On Sunday, U.K. Prime Minister Gordon Brown said he would instruct the Financial Services Authority to conduct an immediate special investigation into how Goldman's alleged actions affected British banks. "There is a moral bankruptcy reflected in what I am reading about and hearing about," Mr. Brown told the BBC's Andrew Marr show. This is not going to go away quietly folks and I would strongly advise all GS executives to stay away from China for a while lest they be handcuffed as they walk off the plane as the Chinese are not known to spend much time investigating a fraud before making arrests.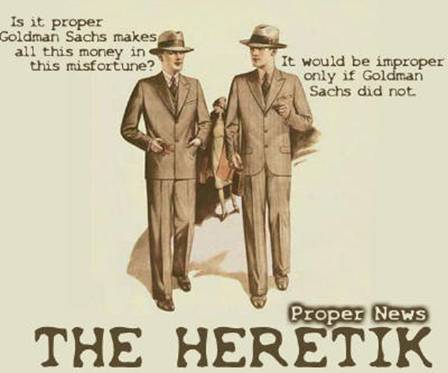 Lloyd Blankfien was already scheduled to testify in general terms about the financial crisis to the Senate Permanent Subcommittee on Investigations on April 27, people familiar with the matter said. The Democratic-led panel has been hostile territory for financial executives so mark your calendar! Keep in mind that investment banks (all banks for that matter) exist only as long as their investors have confidence in them. We never thought BSC or LEH could fail but they did and I'm not saying GS will not recover from this but I would warn anyone considering "bottom fishing" on GS stock to find another fish to fry…
If you want to buy a GS lottery ticket, I would suggest the 2012 $70 puts for $2, which have a 7,000% payoff if GS should happen to fold which is about as unlikely as the odds you are getting but $200 returns $14,000 IF it happens. You can offset the cost of this trade by taking a bullish vertical spread - buying the 2012 $100 calls for $68 and selling the 2012 $145 calls for $38 which is net $30 on the $45 spread so the bet is that GS either fails, and pays you spectacular returns or they don't and maintain $145 in value and you make $15 in profit. A single bull call spread contract costs $3,000 and pays $4,500 if successful so you can then take $1,000 and buy 5 short positions that pay $35,000 if successful and your total risk on the play is $3,000 (between $60 and $140) while anything over $140 or under $60 at Jan 2012 expiration is profit.
Moving on to other topics, oil is still falling today - now down to $81.11 on the realization that price gains in the commodity have far outpaced demand or, as we at PSW like to say - DUH! Oil extended losses after tumbling 2.7 percent on April 16, the most in 10 weeks. Prices are being driven by speculation and currency movements and there's no need for OPEC to review output before its October meeting, Qatar's oil minister Abdullah bin Hamad al-Attiyah said yesterday. The dollar strengthened against the euro, reducing the appeal of all commodities as copper fell to $3.45 and gold touched $1,124.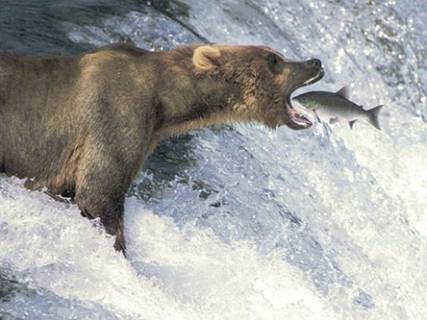 We couldn't be more pleased because, as I noted in the Weekend Wrap-Up, I sent an Alert to Members at 9:59 on Friday to cash out on the bull side and I felt so strongly about it I even sent it out a warning on Seeking Alpha's Stock Talk and Twitter, saying: "That Consumer Sentiment (69.5) was the last straw - back to cash over weekend. Still some bear plays but bullish exposure off the table!" So the whole Goldman debacle was just a bonus for us - we were bailing on the fundamentals long before that news hit the fan!
Our FXP and EDZ plays should do very well today as the Shanghai Composite dropped 5% this morning (and that's a big deal as limit down is 10% on individual stocks), finishing at the day's low 2,980 as China's central bank pledged to immediately implement new lending rules to cool real-estate speculation. "We don't think that's the end of the policy crackdown on the property market and some shoes have yet to drop," said Larry Wan, deputy chief investment officer at KBC-Goldstate Fund Management Co., which oversees about $583 million. "Property accounts for a big proportion of fixed-asset investment and if the property industry is down, the whole economy will get hurt. So will related industries such as banking and resources." The Hang Seng fell "just" 2.1% on the day but that's a whopping 460 points and took the index well below the 22,000 "safe" zone, all the way to 21,405. Over in Japan, the Nikkei gave up their own 11,000, dropping 193 points to 10,908.
Europe continues to operate under a cloud (of volcanic ash) this morning and now it looks like European airlines will need emergency bail-outs as we enter day 5 of a flight ban over much of Northern and Central Europe. I would suggest that European readers look into some rail shares as Q2 is going to be starting off with a bang in that sector. Overall, Europe is holding up fairly well and is down just about half a point ahead of the US open (9am).
US earnings continue to come in generally strong and our green shoot of the day is going to be news that Mortgage delinquencies fell in March for the second month in a row, dropping 8.6%. Loans overdue by 30 days fell a record 342K to ~1.45M, a level last seen in spring 2008. But a seasonal downtrend in Feb/Mar, as borrowers get their tax refunds, means it's too soon to suggest a turnaround has begun. We got quite the opposite news on the Commercial Real Estate side as Southern California's long-suffering office market continued to weaken in the first quarter as demand slid and rents fell, a pattern expected to carry on through the months ahead. Overall office vacancy in Los Angeles County reached 17.6% in the first quarter, up from 14.3% a year earlier, according to Cushman & Wakefield. The average rent landlords asked for dropped to $2.60 a square foot per month from $2.82 in last year's first quarter.
We'll be very proud of the markets if they do manage to shake off this adversity and move higher but, on the whole, we're happy to be mainly in cash and simply deciding when (and if) to cash in our short positions. The Weekend Wrap-Up reviewed our newest disaster hedges and they are still in play as are our two 566% upside plays from last week as we're right back to where we first looked at them (breaking over Dow 11,000). As I said at the time, these are VERY easy lines to watch so we can afford to get aggressive on the bull or bear side of Dow 11,000 and S&P 1,200 as long as we keep a good strong stop discipline. Meanwhile, it's earnings season so let's go out and have some fun!
Oh, and don't forget to be careful out there…
By Phil
Philip R. Davis is a founder of Phil's Stock World (www.philstockworld.com), a stock and options trading site that teaches the art of options trading to newcomers and devises advanced strategies for expert traders. Mr. Davis is a serial entrepreneur, having founded software company Accu-Title, a real estate title insurance software solution, and is also the President of the Delphi Consulting Corp., an M&A consulting firm that helps large and small companies obtain funding and close deals. He was also the founder of Accu-Search, a property data corporation that was sold to DataTrace in 2004 and Personality Plus, a precursor to eHarmony.com. Phil was a former editor of a UMass/Amherst humor magazine and it shows in his writing -- which is filled with colorful commentary along with very specific ideas on stock option purchases (Phil rarely holds actual stocks). Visit: Phil's Stock World (www.philstockworld.com)
© 2010 Copyright PhilStockWorld - All Rights Reserved Disclaimer: The above is a matter of opinion provided for general information purposes only and is not intended as investment advice. Information and analysis above are derived from sources and utilising methods believed to be reliable, but we cannot accept responsibility for any losses you may incur as a result of this analysis. Individuals should consult with their personal financial advisors.
© 2005-2019 http://www.MarketOracle.co.uk - The Market Oracle is a FREE Daily Financial Markets Analysis & Forecasting online publication.

Only logged in users are allowed to post comments.
Register/ Log in