Stock Market Tumultuous Tuesday, Is Mickey Mouse Missing Mortgage Payments?
Stock-Markets
/
Financial Markets 2010
Jun 01, 2010 - 10:08 AM GMT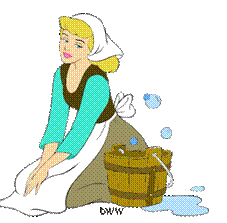 OK, now we're in trouble!

The Telegraph reports that Theme park operator Euro Disney is expected to breach its debt covenants for the next three years. Euro Disney runs the Disneyland Paris resort on the outskirts of Paris and it has been battered by the downturn as more holiday-makers have stayed at home and the pound has reached record lows against the euro. Euro Disney still has €1.9bn (£1.6bn) of the debt used to fund the park's construction on its books. The company made a €26.4m operating profit on revenue of €1.2bn in the year ending September 30 2009 but paying €89.2m of financial charges on the debt left it with a €63m net loss.
The outlook is not improving. Attendance plummeted 8% to 6.5m visitors in the six months to the end of March 2010. Revenues for the period decreased 7% to €519m and Euro Disney's net loss soared by €29m to €114m despite heavy cost-cutting. In December 2009, at one of the busiest times of the year, staff went on strike as part of a protest over a pay freeze. Since then, two Euro Disney employees have committed suicide. One was a chef who wrote on a suicide note that he did "not want to return to working for Mickey" and his relatives claimed he was depressed by staff cuts and a policy switch away from freshly-made food to frozen produce.
The other employee was also a cook who killed himself after what a trade union insists was "humiliating" treatment at work. The official Euro Disney management-employee delegate committee agreed earlier this month to conduct a social audit of working conditions and worker satisfaction. According to a union, the number of jobs in Euro Disney's restaurants and hotels has been slashed and fewer seasonal workers are being hired. It has led to staff working longer hours and culminated in the union with the widest support at Euro Disney recently writing a scathing open letter to the company's chief executive, Philippe Gas, which reportedly urged him to "wake up" and added that "Prozac factories will never go bankrupt given the incalculable number of your employees who use their products".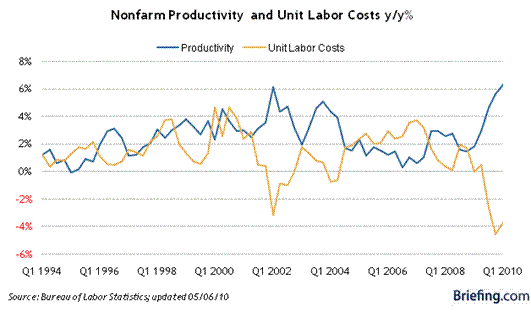 We talked about the AAPL factory suicides last week and I have warned you and warned you and warned you that this is how revolutions begin. The corporations react to a downturn by squeezing the already-stressed workers to protect their profits and the soulless Wall Street investors (yes, us!) cheer as productivity increases but there is a limit to how far you can push this game before you get blow-back. We are now in year two of relentlessly increasing productivity, decreasing benefits, eliminating jobs - literally putting our workers' (the bottom 95%) backs against the wall and there's a reason it's calls a "fight or flight" reflex.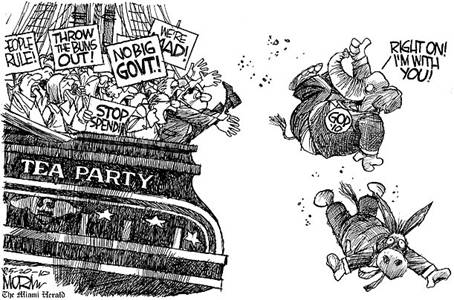 When you give the poor nowhere to run, you eventually get to a boiling point and we are rapidly reaching it and if they have one more global bailout for the banks while not rolling out a single work program I think I will be ready to do a little fighting of my own! Shame on Obama for letting things get this far - he had a chance to be Roosevelt and has instead turned into Carter, nothing more than a placeholder between one disastrous Republican administration and the next while he wastes 4 years trying to build "consensus."

In our Weekend Reading post we discussed how the Reykjavik mayoral election was won by a comedian who promised free towels to everyone and a new polar bear for the zoo. He was trying to make a point about how ridiculous politics had become but quickly gained support from the entertainment industry and now he's mayor! Couldn't happen in this country? How do you think the Terminator ended up governing California? We threw out the governor and Arnold beat out a porn star and 133 other candidates to become Governor of a state that was rapidly spinning out of control. It was Enron and their "rolling blackouts" game that pushed California voters over the edge - what will be the spark that ignites the broader revolution?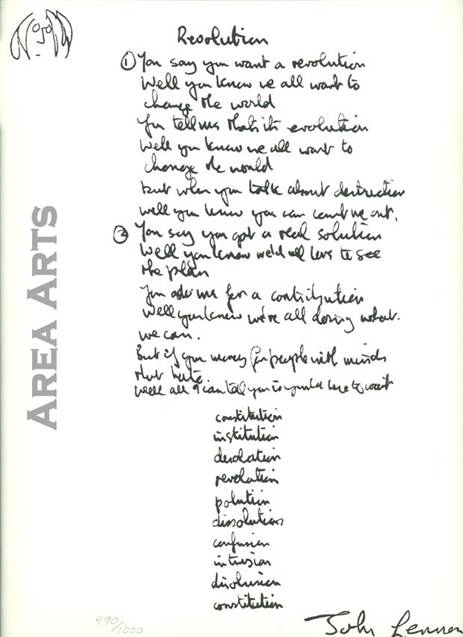 If you don't think we are sitting on a global powder-keg then you just aren't paying attention. Humans, by nature, will take a tremendous amount of crap for a surprisingly long period of time but there is always a breaking point. This is not a new concept. Aristotle said revolutions arise from inequalities and that, in all revolutions, the conditions which leads up to them is the desire of the many for equality, and the desire of the minority for effective superiority. The purposes with which they are set on foot are profit, honor, or avoidance of loss or dishonor. The inciting occasions are many; jealousy of those who have wealth and honor, official arrogance, fear of the law or of its abuse, personal rivalries, failure of the middle class to maintain a balance, race antagonisms, antagonism of localities, and others. Gosh - we've got all that going already!

What will be our "shot heard round the World?" Obama is not likely to say "Let them eat cake" but can you trust the rest of the world leaders not to spark a riot that spirals out of control? 20% of the people in Spain are unemployed and the reaction from the EU is to pressure Spain to cut their budget. How will this help the unemployed people get jobs? What is the logic of having a government that takes close to half your wages when you are working but then tells you they can do nothing to help you when you are not?

Is the US any better? Of course not, but we have more channels on television and very cheap beer so our unemployed are far less likely to gather en masse and demand social change, especially when so many of those channels are constantly telling our workers how "un-American" it is to protest the status quo. Being an American now means being a Capitalist, even if you yourself are actually a worker who is, by nature, exploited by the actual Capitalists, many of whom own the media outlets that tell you how to think "properly."

It's a brilliant system that has served us well since we first began using WWII propaganda techniques to control our own population in the 50s. Unfortunately, it seems to me, that the Capitalists have gotten too greedy and have used the current economic upheaval to put their boots to the throats of the workers (as you can see in the chart above), cracking the whips to drive productivity through the roof while DECREASING the wages - effectively getting much, much more for much, much less. Unless out top 1% wises up and takes a little pressure off, something is going to blow - mark my words…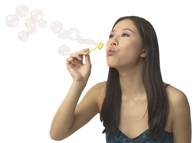 Something blew in Asia this morning as the Hang Seng fell a sharp 350 points from the 11am high and was down 268 at the close (1.4%). The Nikkei opened to a Yen at 91.25 at 3am but it rose quickly to 90.53 at 4:30 as European traders continued to scramble into "safer" currencies and the Nikkei finished down 0.6% for the day. The Shanghai lost another 1% and the BSE fell 2.2% as word spreads of an already Bursting Chinese Real Estate Bubble. Chinese Manufacturing was also slower than expected and, as I have long warned would happen, China is starting to use the massive stockpiles of materials they built up during their frenzied stimulus buying of last year. That sent copper down to $3.01 in Asian trading this morning, down a full 5% from Friday's open!

Europe is not faring much better with the sovereign debt crisis is making financial institutions reluctant to lend, threatening to choke off credit to the region's banks and consumers. "There is a problem with the real economy, because now credit is shortening completely," said Jose Maria Espirito Santo Ricciardi, head of the investment banking unit of Portugal's largest traded bank. "I will not say capital markets are completely closed, but it has been difficult, more for the banks than for sovereigns. Namely, the medium and small banks are having problems."

The fiscal crisis in Europe that prompted credit rating downgrades for Greece, Spain and Portugal pushed the three-month London interbank offered rate to 0.5384 percent on May 27, the highest in 10 months. Overnight deposits with the European Central Bank also reached a 10-month high of 315 billion euros ($387 billion) on May 10, signaling banks are wary of lending to each other on concern about exposure to high-deficit countries - shades of the 2008 crash again!

"Almost 40 percent of our overall bank is already business that is coming from outside Portugal and we are still growing in many parts of the world," Ricciardi said. "Until May it was very good, but I won't say I am not concerned. This is becoming again a worldwide problem if in Europe people can't have a strong and fast answer. The problem with Europeans is that they always come late and not with enough strong measures."

Euro-zone banks face $239Bn of write-downs between now and the end of 2011 and, just because the EU is willing to fill those holes doesn't mean they are not there. This is like giving constant blood transfusions to someone who is bleeding without ever treating the wound - as soon as you stop - he dies!

Europe is off about 1.5% this morning and we'll see if they can hold their critical lines before we worry about ours. Despite my long list of concerns this morning, I still can't find a better place to put money than US equities so we will continue to do a little bottom fishing but, ALWAYS keep in mind, that we are doing so with our downside Disaster Hedges firmly in place and we are READY, WILLING AND ABLE to ride out a 40% drop in the markets. If I felt that was a sure thing, I wouldn't be buying here. As I said a couple of weeks ago when I participated in a conference to address these problems - they ARE fixable, what is lacking is the will to make the changes that need to be made.

Hope springs eternal but do be careful out there!
By Phil
Philip R. Davis is a founder of Phil's Stock World (www.philstockworld.com), a stock and options trading site that teaches the art of options trading to newcomers and devises advanced strategies for expert traders. Mr. Davis is a serial entrepreneur, having founded software company Accu-Title, a real estate title insurance software solution, and is also the President of the Delphi Consulting Corp., an M&A consulting firm that helps large and small companies obtain funding and close deals. He was also the founder of Accu-Search, a property data corporation that was sold to DataTrace in 2004 and Personality Plus, a precursor to eHarmony.com. Phil was a former editor of a UMass/Amherst humor magazine and it shows in his writing -- which is filled with colorful commentary along with very specific ideas on stock option purchases (Phil rarely holds actual stocks). Visit: Phil's Stock World (www.philstockworld.com)
© 2010 Copyright PhilStockWorld - All Rights Reserved Disclaimer: The above is a matter of opinion provided for general information purposes only and is not intended as investment advice. Information and analysis above are derived from sources and utilising methods believed to be reliable, but we cannot accept responsibility for any losses you may incur as a result of this analysis. Individuals should consult with their personal financial advisors.
© 2005-2019 http://www.MarketOracle.co.uk - The Market Oracle is a FREE Daily Financial Markets Analysis & Forecasting online publication.

Only logged in users are allowed to post comments.
Register/ Log in