Stronger Chinese Yuan Investor Profit Opportunities
Currencies
/
China Currency Yuan
Jul 07, 2010 - 09:30 AM GMT


You probably had some Fourth of July celebrations on your mind last Friday, but there were some important developments for anybody invested in or thinking about getting into the Chinese stock market.
The Chinese yuan rose to a modern-era high against the U.S. dollar last week after the People's Bank of China set the dollar-yuan exchange rate at 6.7720 yuan per dollar, a record low since China permitted its currency to trade against other foreign currencies in 1980.
For the week, the yuan rose 0.28% against the dollar. That's on top of the 0.53% it rose the week before.
This has two very important implications to anybody investing in China.
China Profit Opportunity #1: Lots of catching up to do. The Chinese yuan is a very undervalued currency. How undervalued? I believe the yuan will appreciate by another 20% to 35%, but some organizations are even more bullish on the yuan.
According to the World Bank, the Chinese Yuan would need to rise 77% before it is truly at parity with the dollar.
And Senator Chris Dodd said, "You can't give your competitor, your adversary in this case, a 40% advantage in global economies."
WisdomTree Dreyfus Chinese Yuan Fund Fact Sheet
Index Tracked: Chinese Yuan
Description: WisdomTree Dreyfus Chinese Yuan Fund seeks to achieve total returns reflective of both money market rates in China available to foreign investors and changes in value of the Chinese Yuan relative to the U.S. dollar.
Inception Date: May 14, 2008
Even the Chairman of the People's Bank of China, Zhou Xiaochuan, admits that the current policy of keeping the yuan stable against the U.S. dollar needs to be withdrawn "sooner or later".
While nobody will agree on how much the yuan is undervalued, I think it is safe to say that the answer is "a lot."
The best way to profit from the appreciating yuan is to invest in a currency ETF that follows the yuan. My favorite is the WisdomTree Dreyfus Chinese Yuan ETF (NYSE:CYB). To be fair, I have to disclose that my Asia Stock Alert subscribers already own it.
China Profit Opportunity #2: China the consumer. In the past, China has built its fortune by exporting everything from shoes to toys to electronics to North America and Europe. That export-driven strategy has served China well, but that success has helped raise Chinese incomes and standard of livings to the point that its domestic consumption has skyrocketed.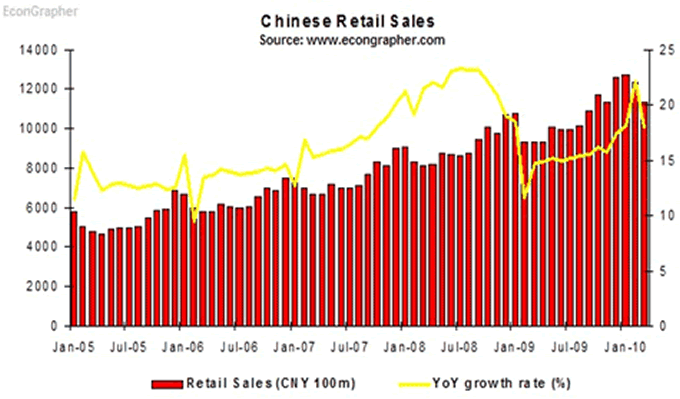 As China imports more goods, a stronger yuan will allow Chinese consumers to save money on their imported purchases. For example, it is more expensive to buy an iPhone in China than it is in the U.S. even after accounting for currency differences.
China is making a conscious, intentional decision to move their economy from being an export-dependent economy to a vibrant, consumer-driven economy.
The reason is simple: The more China's economy is based upon internal domestic consumption, the less dependent it is on what can be fickle orders from foreign customers. Like any country, China wants to control its own economic destiny.
This doesn't mean that China is going to turn its back on its strong manufacturing base. China doesn't want to kill its exporters so it will let its currency GRADULALY appreciate to give its manufacturers time to adjust as well as stay competitive.
It just means that its policies and emphasis will be on spurring domestic consumption going forward. The move to let the yuan appreciate is part of that policy.
As an investor, you can expect companies that sell into the Chinese market to see their business increase. For example, a pair of Nikes that cost $80 in China today could cost $48 if the yuan appreciates by 40%.
The same is true for an iPhone from Apple (Nasdaq:AAPL), a cup of Starbucks coffee (Nasdaq:SBUX), a pizza from Yum Brands (NYSE:YUM), a wedding ring from Tiffany (NYSE:TIF), or a shirt from Abercrombie & Fitch (NYSE:ANF).
All those brands, by the way, are EXTREMELY popular with Chinese consumers and will be some of the biggest beneficiaries of a rising yuan.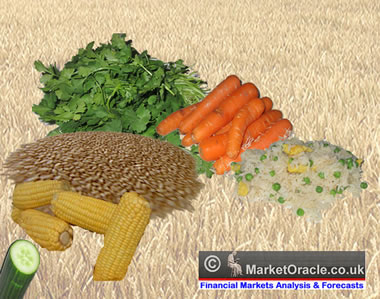 American brands are extremely popular with Chinese consumers and will benefit from a rising yuan.
But those are just the consumer brands. Lots of other non-consumer goods companies are doing BIG business in China.
Boeing just received a $1.4 billion order for 20 737s from Air China. Boeing sold $4.8 billion worth of jets to China in 2009, a 100% increase from the previous year.
Caterpillar just announced its plans to open another plant to increase its production capacity by 500% by 2014. Business is so good in China that Caterpillar raised its 2010 profit forecast in April because of its strong sales in Asia.
Freeport McMoRan is the world's largest publicly traded copper company and its sales to China are already up 8.2% so far in 2010.
Cummins makes diesel engines and China needs those engines to power all of its trucks. Cummins pulled in $1.7 billion of business from China in 2009, a number that will continue to grow.
If you are more of an ETF investor, you should take a look at Global X China Consumer exchange traded fund (Nasdaq:CHIQ).
CHIQ hits all the major sectors of the Chinese consumer market: retailing 28%, food 21%, consumer services 20%, autos 12%, and health care 8%. Its top holdings include Dongfeng Motor Group, Tsingtao Brewery, Air China, Li Ning, Wumart Stores, and China Foods.
Don't worry if you don't recognize any of those names. Chinese consumers know exactly who they are and that's what really matters. Right?
The China economic landscape is changing very rapidly and most of the big shots on Wall Street have no clue on the fundamental tidal wave of change going on in China. Just by reading this article you have a better big picture understanding of how to make money in China.
Use that knowledge. Don't delay. Get on the China bandwagon TODAY!
Best wishes,
Tony
This investment news is brought to you by Uncommon Wisdom. Uncommon Wisdom is a free daily investment newsletter from Weiss Research analysts offering the latest investing news and financial insights for the stock market, precious metals, natural resources, Asian and South American markets. From time to time, the authors of Uncommon Wisdom also cover other topics they feel can contribute to making you healthy, wealthy and wise. To view archives or subscribe, visit http://www.uncommonwisdomdaily.com.
© 2005-2019 http://www.MarketOracle.co.uk - The Market Oracle is a FREE Daily Financial Markets Analysis & Forecasting online publication.

Only logged in users are allowed to post comments.
Register/ Log in