Three Dividend Stealth Stocks
Companies
/
Dividends
Jul 23, 2010 - 07:27 AM GMT


If you're like me, you're getting more and more worried about where the economy and the stock market might go next. One consolation is investing in stocks that pay nice dividends. Why? I'll give you five powerful reasons …
1. Dividend stocks pay you. So if you're waiting for the market to find its feet and go up again, it's nice to be paid to wait. Dividends cushion losses during bear markets — potentially providing a source of revenue during bad times — and they add to returns when stocks go up again.
2. Dividends don't lie. Wall Street can lie about many things — just look at the latest headlines about the sleazy shenanigans of the bankster crowd. But a company can't fake a dividend. A company also can't fake a record of dividend growth. So, dividends are Wall Street's lie detectors.
3. Dividends are where the money is. Over the past 80 years, stocks have returned almost 10% annually. Here's the interesting part: Dividends accounted for approximately 40% of average annual returns.
4. Dividends beat inflation. Over that same 80-year time frame, inflation has averaged 3%. Dividend-paying stocks provide a nice inflation hedge since their revenues and net income should go up with overall prices.
5. Dividends can outperform in any kind of markets. Look at this data from Ned Davis Research, which shows what would happen to $100 invested in 1972 in a range of dividend payers, dividend growers, and non-dividend paying stocks in the S&P 500 index …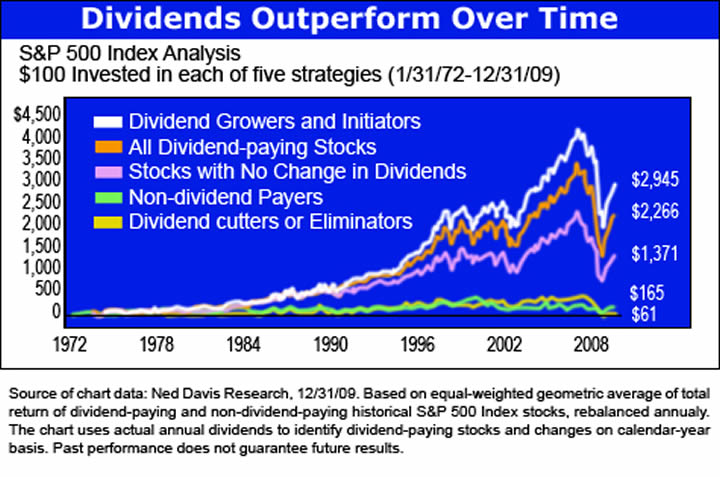 The best performers of all were companies GROWING their dividends. They turned $100 into $2,945 over the length of the study, while an investment in non-dividend payers turned into just $165. Still, the Ned Davis study also shows you have to be careful with dividends. An investment in companies that cut dividends ended up losing money.
These are all good reasons to invest in the right dividend-paying stocks — the kind of stocks we target in Crisis Profit Hunter. My Crisis Profit Hunter picks tend to be in natural resources, and they're doing well. Oil prices are rising. China just passed the U.S. as the world's biggest energy consumer, so the upward trend in energy prices should continue.
Today, I'm going to tell you about three stocks that should be on every dividend investor's watch-list. I've cast my net wide to find three picks that are "stealthy" dividend plays — providing value and opportunity that is hidden at first glance.
Pick #1: The Dividend Doubler
Walgreen Co (WAG) is the nation's largest drugstore chain, with more than 6,900 drugstores in all 50 states. It only has a dividend of 2.4% — so why would an investor want to pick it up for its dividend? Well, despite the low yield, Walgreen has a lot going for it:
The company has paid dividends for more than 76 years and consistently increased payments to common shareholders every year for 35 years.
On July 14, the company raised distributions by 27.3% (to 17.50 cents per share). The dividend is payable September 11 to shareholders of record August 19.
Now here's something really interesting. The company has also grown their dividend at a compound rate of 24.3% over the past six years. That means it is doubling its dividend every three years. Looking back at historical data to 1972, Walgreen has actually managed to double its dividend payment every six years on average. So, the pace of its dividend rises is increasing.
Not everything is rosy for this stock. Over the past 10 years, Walgreen's share price has gone down by 1%. But the fact that it is a dividend grower, it's in a business that should be recession proof, and it is trading at just 14.3 times trailing earnings and 12 times forward earnings makes it worth considering.
Pick #2: Betting on Overseas Growth
Air Products and Chemicals (APD) is a diversified company that provides industrial gasses, medical and specialty gases, chemicals, electronics and services to a customer base worldwide. It dishes up a dividend yield of only 2.8%. So why should it be on your radar? This company is making huge inroads into emerging markets, most recently India and the Middle East. If those regions of the world continue to grow while the U.S. stagnates — a definite possibility for the rest of 2010 and potentially 2011 — Air Products will deliver both price appreciation and dividend growth.
The market for industrial gas increases at double the rate of the global economy. The International Monetary Fund recently raised its forecast for global economic growth to 4.6%.
Air Products' dividend payments have increased by an average of 10.3% since 2000. A 10% growth in dividends translates to the dividend doubling every seven years. The company hiked its dividend by 8.9% in February, for the 28th year in a row.
Going forward, the company is expected to increase its dividend by 7.9% over the next three years.
The stock recently traded at 17.3 times trailing earnings and 12.6 times forward earnings.
Pick #3: Rising Dividend AND a Potential Boost from Energy Prices
Crude oil grabs all the headlines, so many people don't notice that natural gas is putting in a bottom, too. That should be a big boost for ONEOK (OKE), an integrated natural gas company that also has an energy marketing and trading business. The company distributes gas all over the Kansas and Oklahoma, as well as the Austin and El Paso areas of Texas. It also owns 42% of ONEOK Partners, a natural gas gathering, processing, storage and transportation company. And OKE recently paid a 4% dividend yield.
This month, the company raised its quarterly dividend by 2 cents to 46 cents a share. The dividend is payable August 13 to shareholders of record at the close of business July 30.
ONEOK's dividend is expected to keep growing by 8.55% over the next three years.
Rising natural gas prices should also boost the company's share price.
ONEOK recently traded at 14.4 times trailing earnings and 14.3 times forward earnings.
These are just three examples of the kind of stocks that should be on your dividend watch-list. Their dividends aren't huge, but they all have plenty of potential — immune to a recession while at the same time growing dividends rapidly (Walgreen) or leveraged to the booming overseas economies (Air Products) or leveraged to energy prices (ONEOK). Stealthy stocks like this can fly under the radar, and wise investors will pick them up for potential long-term price appreciation.
Yours for trading profits,
Sean
P.S. My newest issue of Crisis Profit Hunter comes out today, and its portfolio is packed with dividend picks that can help cushion you against the market's big dips — while dishing up extraordinary price potential over time. PLUS, with your subscription, you get FOUR bonus reports. And now, for a very short time, I'm offering a special subscription price — just $89 for one year. Get yours today!
This investment news is brought to you by Uncommon Wisdom. Uncommon Wisdom is a free daily investment newsletter from Weiss Research analysts offering the latest investing news and financial insights for the stock market, precious metals, natural resources, Asian and South American markets. From time to time, the authors of Uncommon Wisdom also cover other topics they feel can contribute to making you healthy, wealthy and wise. To view archives or subscribe, visit http://www.uncommonwisdomdaily.com.
© 2005-2019 http://www.MarketOracle.co.uk - The Market Oracle is a FREE Daily Financial Markets Analysis & Forecasting online publication.

Only logged in users are allowed to post comments.
Register/ Log in