Net Commericials and the FOMC Interest Rate Meeting
Interest-Rates
/
US Interest Rates
Sep 17, 2007 - 02:17 PM GMT

Everybody is anticipating next week's FOMC decision on federal funds target rate, due this Tuesday, Sept. 18. As of last Friday, according to the 30-day Federal Funds futures, there is a 42% probability of a 25-basis point rate decrease versus a 58% probability of a 50-basis point rate decrease. In other words, a rate-cut is priced into the market already. The only question is: will the Fed cut by 25-basis points or 50-basis points. From the Funds futures, we are leaning towards a 50-basis point cut, but only slightly.


(I will update the Funds futures probabilities in an e-mail bulletin on Monday)
The next question is: what are the charts telling us?
Price charts: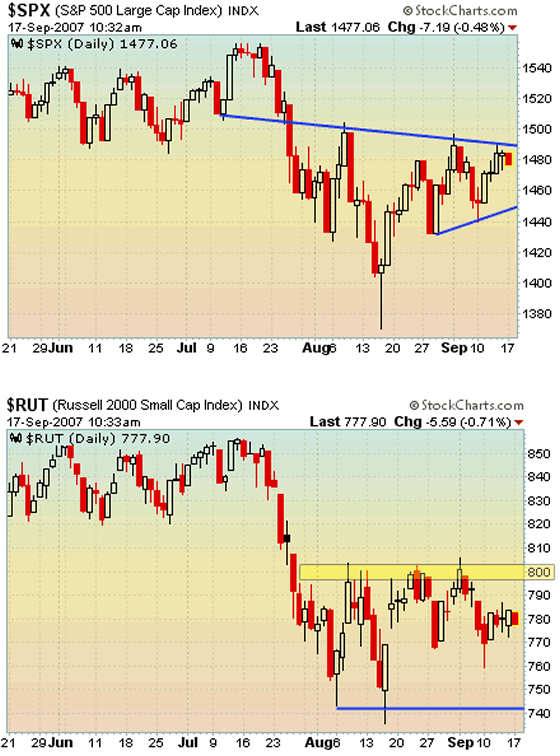 One of the best charts to follow right now is that of the S&P 500. Notice how we are seeing a symmetrical-triangle pattern forming on this index. Pending a breakout confirmation, this pattern is neutral. Now if we look at the Russell 2000 chart, the trend is again neutral: we are trading above key support at around 740- 750, and under key resistance at 800 even. The Dow Jones is sitting just underneath resistance at 13 500, well above its August reaction-low at around 12 600. And the Nasdaq-100, the most bullish looking index in terms of its price & COT chart, tested the 2025 level in early September, just shy of its June top at approx. 2050.

In conclusion, I would classify the current trend in the overall market as NEUTRAL. There are pockets of strength, but we need to see confirmation: on the upside I would pay close attention to the S&P 500 (above 1500) & Russell 2000 (above 800) before I become decisively bullish. Conversely, if the market indexes closed below their August reaction-lows (SPX-1380, RUT-740, INDU-12 600, NDX-1825) - that would be an extremely bearish turn of events for US equities.

COT charts:
As mentioned previously, the COT chart for the Nasdaq 100 looks bullish. Meanwhile, the COT chart for the Russell 2000 is finally starting to perk up; also notice how the large trader position decreased to new-lows, typically a bullish indicator. The Dow Jones COT chart continues to show no signs of life, but remains at historically bullish levels. From the S&P 500 COT chart, we see some commercial selling in the last two weeks, but if we look at the 3-year chart, once again this index remains at historically bullish levels in terms of its NET-commercial position.

VIX:
Commercials continue to be sellers of the VIX at the current levels. What I find interesting is that large-traders had their largest net-short position when that VIX was at yearly-highs above 30. Meanwhile commercials had a large net-long position at this exact same time. Were the large-traders right on this market, or were commercials simply hedging risk? From a classical COT setup this market looks bearish: commercials are sellers and large traders are buyers. Come Tuesday, we'll see for certain...

Ahead of the Fed meeting, various indicators are leaning towards a market rally from the current ranges, and not a breakdown. TREND, however, is still neutral. And while we may look at hundreds of signals and indicators, no matter how valid, TREND is by far the most significant in my mind. There are lots of fundamental-worries about the US economy, such as gold & oil trading near record-highs, the US Dollar breaking below critical support at 80, etc etc. But one can argue that an excess in fundamental negatives is a sign of extreme bearish sentiment which is in fact a bullish indicator.

Perhaps, but for me - I let the charts be my guide. And the charts are currently neutral with no bullish or bearish confirmation, yet. The key this coming week is not to PREDICT the markets, but instead to FOLLOW the markets and the new trend if one in fact develops.
Oil:
Crude oil continues to look very bullish. Critical support is at 69 and critical resistance is right around the current close, at 78-80. Notice how net-commercial position barely decreased, while oil put in an impressive rally over the last few weeks. This means that oil is looking bullish from a trend & cot perspective. We may be in need of a rest right around these levels, before we decisively breakout above 80. But as long as oil holds above its last reaction-low (weekly chart), at 69, breaking out above 80 is only a matter of time...
Gold:
Gold's price chart is very similar to oil's, in that they are both sitting just underneath record levels. The trend for gold is clearly bullish, as we broke above key resistance levels at approx. 689 & 699 and never looked back. Commercials are clearly selling into this rally, which is their typical behavior. But as long as gold holds above its support (689/699), we are either going to breakout above 730 near-term, or consolidate first & then breakout above 730. I think gold will consolidate first - before breaking out, but any-body's guess is as good as mine.

USD:
The US Dollar broke below critical support at 80. I previously wrote that from a COT & sentiment perspective the US dollar was painting a bullish picture. As of right now, trend is not confirming that 'picture'. There is nothing positive about this index while its under that critical 80 level. As long as we are trading under 80, one must respect the DOWN-TREND in this market. I will become neutral on the USD only if we closed above 80. A potential breakout above the upper trend-line resistance (3 year chart), at 81-81.5 would be very bullish.
By James West
© 2007 buythebottom.com. All rights reserved
Disclaimer - This article is not and should not be construed as an offer to sell or the solicitation of an offer to purchase or subscribe for any investment. No guarantee, representation or warranty and accepts no responsibility or liability as to its accuracy or completeness. Expressions of opinion are those of James West only and are subject to change without notice.
© 2005-2019 http://www.MarketOracle.co.uk - The Market Oracle is a FREE Daily Financial Markets Analysis & Forecasting online publication.

Only logged in users are allowed to post comments.
Register/ Log in