Rate Hike Rumblings Increasing in the Interest Rate Market
Interest-Rates
/
International Bond Market
Jan 28, 2011 - 07:55 AM GMT


Psst! I have a secret for you. Central bankers in developed markets may actually start raising interest rates some day!
Shocker, I know! But if you follow the latest market moves — and listen to some of the chatter coming out of places like Europe — that's the inevitable conclusion you arrive at.
The increasing possibility of more rate hikes is starting to drive market action in commodities, equities, and bonds. So that means we need to sit up and pay attention!
Eurodollar Moves Suggest Something's Afoot
Unless you follow the interest rate markets closely, chances are you don't know much about Eurodollar futures. But they're sending out important signals about the future direction of short-term rates. So today I'm going to get you up to speed.
First, Eurodollar futures have nothing to do with the euro zone or euro currency despite their name. Eurodollars are time deposits denominated in U.S. dollars but held outside the U.S. — kind of like certificates of deposit. Eurodollar futures contracts cover three-month deposits with a face value of $1 million.
The value of those contracts rises and falls with expectations about the future direction of short-term interest rates. If investors think the Federal Reserve is going to have to start hiking interest rates, they'll dump Eurodollar futures. And that will drive their prices down.
Now, Ben Bernanke and his buddies at the Fed have maintained for several quarters that they won't raise interest rates any time soon. Investors agreed with that assessment for a long time. But that's starting to change.
Take a look at this chart of the December 2012 Eurodollars futures contract: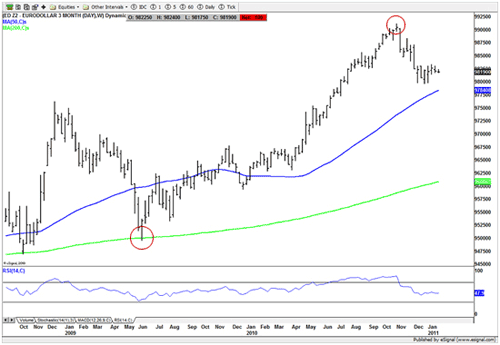 You can see that the value of this contract rose virtually nonstop from June 2009 through early November 2010. That reflected a belief that short-term rates would remain extremely low all the way through late 2012.
But then it began to fall … and it's been dropping ever since. The message from the markets: Bernanke may protest. But short-term rates need to rise — and they will!
Will the ECB Follow Emerging Market Policymakers and Hike?
The U.S. Fed may not be worried all that much about inflation. But the same can't be said for central banks in emerging markets …
The Reserve Bank of India, for instance, just raised interest rates for the seventh time to 6.5 percent.
The People's Bank of China has raised rates twice in the past few months, and is poised to do so again.
Other countries in Europe have also joined in …
Poland's central bank raised rates by a quarter-point to 3.75 percent last week, the first increase in almost three years.
Hungary just raised rates for the third straight month to 6 percent.
And now, even European Central Bank (ECB) president Jean-Claude Trichet is starting to sing from the same hymnal.
In an interview published in The Wall Street Journal on Sunday, Trichet boasted of the ECB's success in taming inflation. He noted that the
"solid anchoring of our inflation expectations" is "one of our major assets because it helps avoid second-round effects when we have oil-price increases in particular. Clearly, in particular on the side of energy and commodity prices, we have a number of developments that we will continue to monitor closely."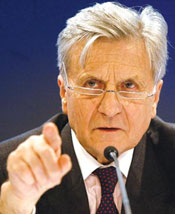 Trichet warned that inflation pressures in the euro zone must be watched closely.
That's tougher talk than we've gotten out of Trichet for a long while. He also dismissed the U.S. Fed's inane focus on "core" inflation, saying that
"All central banks, in periods like this where you have inflationary threats that are coming from commodities, have to go through the hump and be very careful that there are no second-round effects."
This isn't just idle chatter, and these Eurodollar moves aren't just something you can ignore. Both the talk and the trading action are impacting other markets.
Gold is getting whacked on the expectation higher rates will curb demand, while other commodities like energy look vulnerable to a pullback. Bonds are generally still losing value, and stocks are starting to look tired after a big run.
My advice: Now is a good time to pare back some risk, and to wait out this correction before buying the metals if you're a commodity bull. Fears of rising rates could keep the pressure on asset values for a while.
Until next time,
Mike
This investment news is brought to you by Money and Markets. Money and Markets is a free daily investment newsletter from Martin D. Weiss and Weiss Research analysts offering the latest investing news and financial insights for the stock market, including tips and advice on investing in gold, energy and oil. Dr. Weiss is a leader in the fields of investing, interest rates, financial safety and economic forecasting. To view archives or subscribe, visit http://www.moneyandmarkets.com.
© 2005-2019 http://www.MarketOracle.co.uk - The Market Oracle is a FREE Daily Financial Markets Analysis & Forecasting online publication.

Only logged in users are allowed to post comments.
Register/ Log in