What if QE3 Money Actually had to be Printed?
Politics
/
Quantitative Easing
Apr 14, 2013 - 04:00 PM GMT


Richard Moyer writes: As we speak, the US Federal Reserve, led by Ben Bernanke and his Raiders, is printing a not-too-shabby $85 billion a month.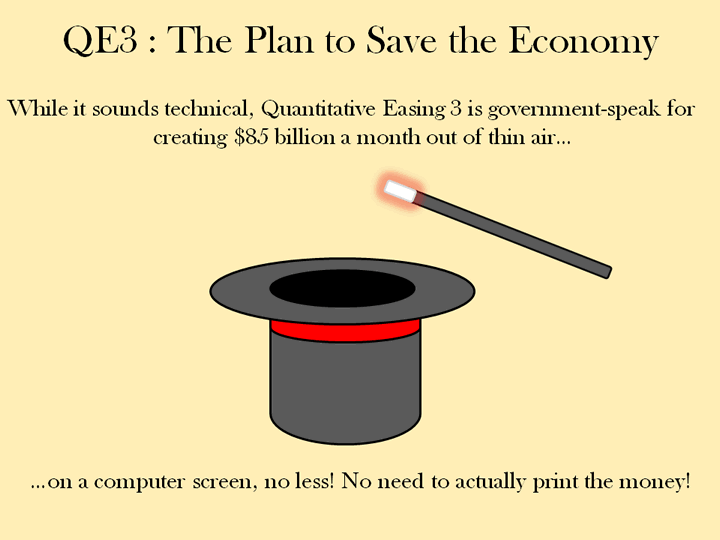 It's a hypothetical question, whether the Bureau of Engraving and printing could actually print enough money to keep up with the rate of Ben Bernanke's electronic printing press.
So, to figure out if it's physically possible, I'll make the following assumptions.
■The treasury only prints $100 bills, not replacing worn out $1, $5, $10, $20 and $50 bills.
■The presses run 350 days a year, 95% of the time, assuming (optimistically) that they can run like the best industrial operations in the world.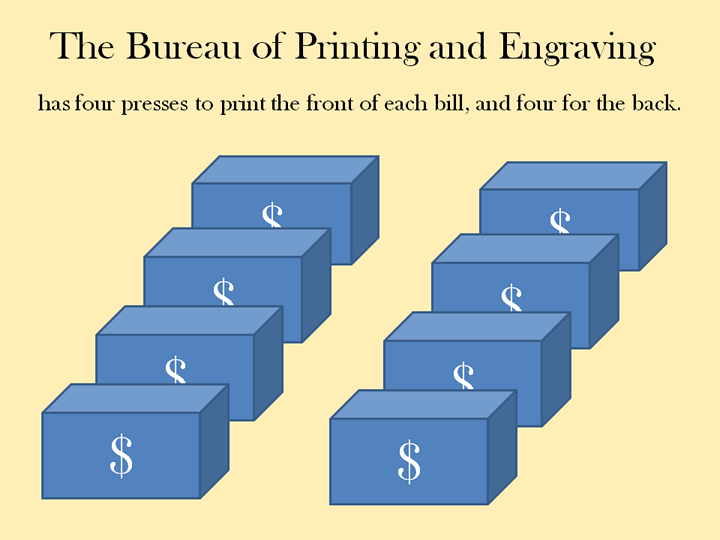 So, with these money machines, is it possible? Let's find out.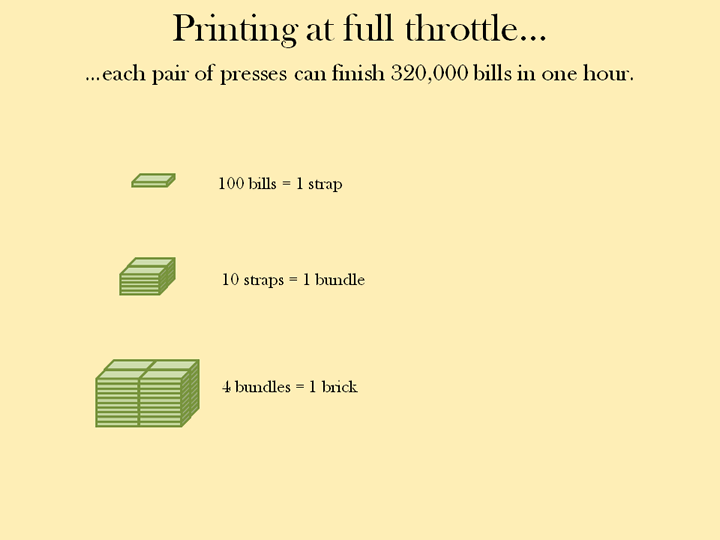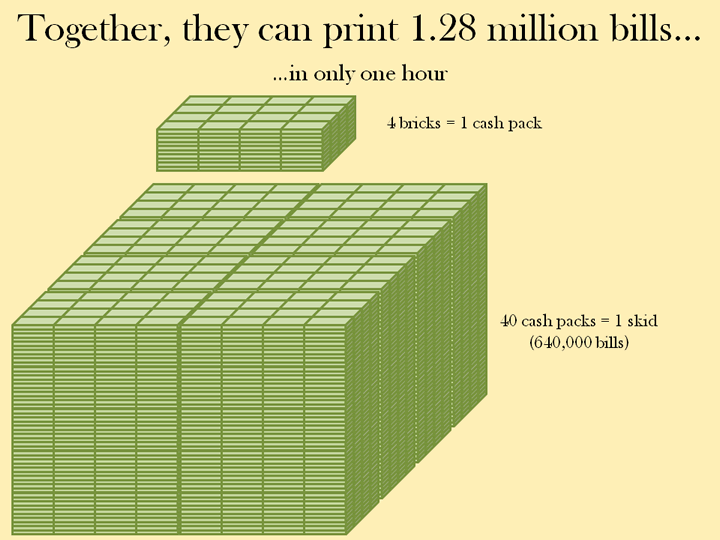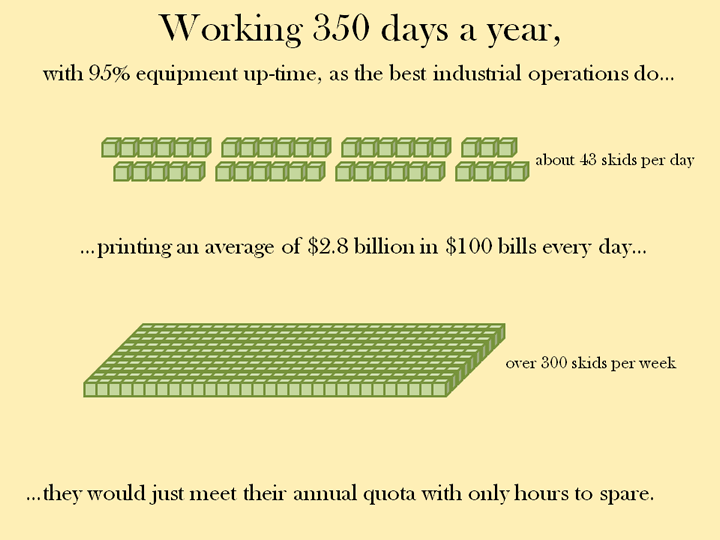 At the end of the year, on December 31st, the Bureau of Engraving and Printing would squeal across the finish line with only hours to spare, having printed over a trillion dollars in $100 bills. This money would weigh around 10000 tons.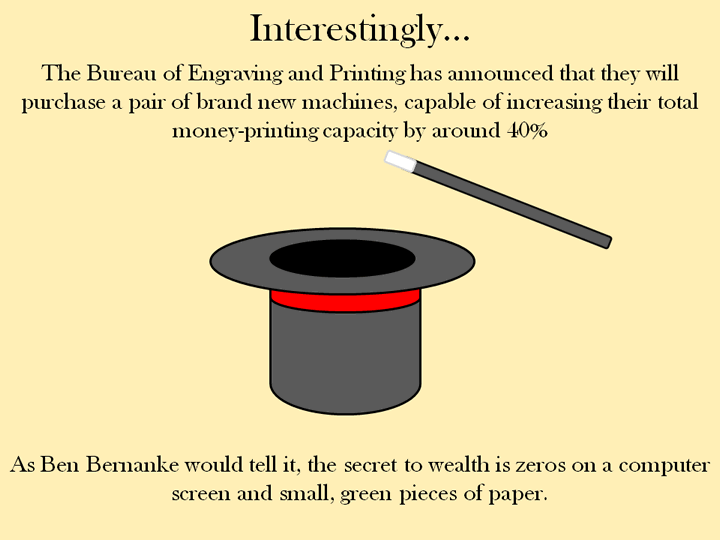 Just barely able to keep up with Bernanke's electronic printing press, the Bureau of Engraving and Printing is recognizing their money-guns may not be big enough for a future of hyperdrive money printing. Proudly, moneyfactory.gov (I'm not making URL up) has announced they will purchase two new machines capable of churning out half a million new bills every hour. They announce breathlessly:
"In the future, because of their 50-subject printing capability, they could increase productivity by 56% by increasing the notes printed per hour from 320,000 to 500,000!"
Mirroring this statement, during the dark days of Germany's hyperinflation in the 1920's where a loaf of bread might cost a billion marks, Rudolf Havenstein (their equivalent of Ben Bernanke) proudly announced:
"The Reichsbank today issues 20 trillion marks of new money daily, of which 5 trillion are in large denominations. In the next week, the bank will have increased this to 46 trillion daily, of which 18 trillion will be in large denominations. The total issue at present amounts to 63 trillion. In a few days, we shall therefore be able to issue in one day two-thirds of the total circulation."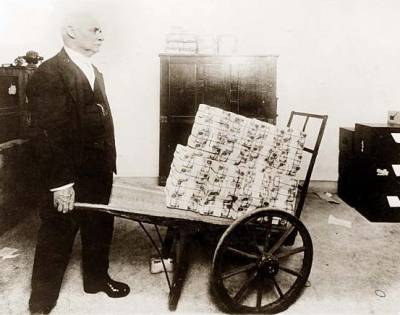 © Copyright Richard Moyer 2013
Disclaimer - The opinion expressed in this report is the opinion of the author. The information provided was researched carefully, but we cannot guarantee its total accuracy. The report is published for general information and does not address or have purpose or regard to advise specific investments to anyone in the general public. It does not recommend any specific investment advice to anyone.
© 2005-2019 http://www.MarketOracle.co.uk - The Market Oracle is a FREE Daily Financial Markets Analysis & Forecasting online publication.

Only logged in users are allowed to post comments.
Register/ Log in