US Housing Crisis and the Last Days of Cheap Resources
Housing-Market
/
Stagflation
May 21, 2008 - 02:13 PM GMT


Is the housing crisis over? Or even close to reaching its peak? Not according to the experts. It seems we have a way to go before all the dirt settles to the bottom. Which is another way of saying that we really do not know what the long term effects of this housing mess will bring. Many commentators are trying to put a happy face on this crisis and report that only a small number are being hurt by foreclosures, but the entire housing industry is already suffering with the downturn.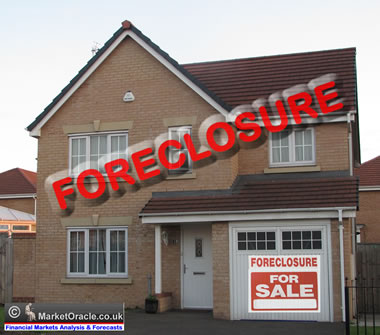 "On a brisk day last fall in Prineville , Ore. , Raymond and Deanna Donaca faced the unthinkable: They were losing their home to foreclosure and had days to move out. For more than two decades, the couple had lived in their three-level house, where the elms outside blazed with yellow shades of fall and their four golden retrievers slept in the yard. The town had always been home, with a lazy river and rolling hills dotted by gnarled juniper trees." "Yet just before lunch on Oct. 23, the Donacas closed all their home's doors except the one to the garage and left their 1981 Cadillac Eldorado running. Toxic fumes filled the home. When sheriff's deputies arrived at about 1 p.m., they found the body of Raymond, 71, on the second floor along with three dead dogs. The body of Deanna, 69, was in an upstairs bedroom, close to another dead retriever." "It is believed that the Dona as committed suicide after attempts to save their home following a foreclosure notice left them believing they had few options," the Crook County Sheriff's Office said in a report." "Before, their houses were like ATMs," as they rose in value. "Now, they feel trapped like a rat in a corner." USA Today
I hate to break the bad news, but even though many analysts are reporting the subprime mess over it still has a long way to go. New data is pointing to the facts that the subprime scandal is merely a symptom of a much greater credit problem which is just now coming home to roost. The whole key to this easy credit was continued growth and easy financing terms. Now the growth has come to a stop and the easy credit terms are no longer available. This has affected everyone that borrows money down to the humble college student attempting to finance his or her education.
"In a sign that the mortgage collapse is getting worse, not better, foreclosure filings surged 65% in April from April 2007, leading some analysts to warn that the crisis might not end before 2010." "It will almost certainly get worse," Rick Sharga of RealtyTrac says of the foreclosure filings. "Unless the government does something, we'll probably see this go on. We would expect a spike (in filings) in the third and fourth quarter" of 2008." "Joel Naroff of Naroff Economic Advisors says he thinks foreclosures could persist at a high rate into 2010."Prices are dropping and will continue to fall throughout the year," Naroff says. "People want to buy, but they can't get financing." USA Today
Simply put the average homeowner has taken on too much debt. And now those previous refinancing terms are no longer available. Debtors are finding themselves trapped with fewer and fewer options. Actually no options if the debt train has come to a halt. The number of new home sales continues to fall…along with their price. And the developers and speculators who attempted to play this market are now finding themselves under water.
"…home prices in her neighborhood are off about 25% over the past two years, making it less likely she can rely on her home equity to supplement her retirement income." "…many financial analysts are predicting a prolonged period of below-average returns on both stocks and home equity." "If they're right, Americans need to face a sobering fact: They're not likely to have as much money for retirement as they'd projected. Which means that many of us will have to save more, expect less and work longer than we'd planned." "Some economists believe the economy is headed for a period that will more closely resemble the bearish 1970s than the vibrant 1980s and '90s. And for investors, the '70s were quite bleak."
"During the height of the recent housing boom, Americans saw their homes appreciate much faster than the mutual funds in their 401(k) accounts. That led many to assume they'd naturally be able to supplement their retirement savings by selling their homes, downsizing and pocketing the difference." "But the collapse of the housing market has wiped out billions of dollars in home equity." "Nearly 9 million homeowners are "upside down," which means they owe more on their mortgages than their homes are worth, according to Moody's Economy.com." USA Today, 5-17-2008
Really, all debt across the board is begging to reach a level that is hurting the average consumer. And it is getting more and more difficult to finance this suffocating debt. Want to know how bad it is? Listen to Dave Ramsey's talk show in the afternoon to get a good picture of the suffering being experienced across our nation now. Even humble credit card payments are becoming more difficult to keep paid up. Probably the best thing you can do for yourself now is to pay off all that debt you own even if sacrifices are called for. Of course these concerns all ways lead us back to the question of what investments are still actually safe and will continue to be safe in the coming years. Gold of course fits that bill and its present price near 900 is holding up very well.
"Gold futures topped $900 an ounce Friday for the first time in over three weeks as prices for oil futures rallied toward $128 a barrel. June gold was last up $23 at $903 an ounce in New York ." Marketwatch, 5-16-2008
Already a growing number of analysts are stating that a recession has begun or is soon on its way. Housing remains in a sharp decline and credit costs are rising. These events could last longer than anyone anticipates. The banking sector is seeing larger write-offs and greater losses. Again, as I stated before get out of debt now while you have the opportunity.
Observe carefully and you will notice the entire credit sector across the board is weakening and there is less and less money to lend period. Do you ever wonder how the Soviet Union so effectively crumbled literally overnight? Their empire was dying and not one individual within the empire had the creativity to try to salvage part of what remained of the Union . For years their was no creativity, no individual thinking, no individual problem solving. And when the end came the people and government were baffled and did not know what to do.
They had lived with one type of totalitarian system of government for over 50 years and the people had lost their ability for creative thinking and an empire fell. I cannot make a perfect comparison with the American Empire today, but I do know the ability for creative thinking within our government is drying up on the vine. The one answer relied on for the past 20 years in every problem has been to feed the flame with more money and easier credit. And now that credit line has begun to dry up.
I am not sure what the future will bring, but already I see the destruction of so many institutions of higher learning that has been the mainstay of our cultural stability for a century. Anything today goes and there is no consistency. But one thing is for certain and that is the economic freedom we enjoyed even 20 years ago is no longer. Asia today holds the reigns of our future as it holds the power over our debt and economic future.
It's not too late to invest in gold related equities to take advantage of their wealth generating attributes. We are living in the last days of cheap resources and cheap commodities. Gold Letter, Inc. reviews undervalued gold stocks poised to rise in this time of increasing demand.
Click here to order Gold Letter
Don't forget to email.
By David Vaughn
Gold Letter, Inc.
David4054@charter.net
© Copyright 2008, Gold Letter Inc.
"The Worldwatch Institute, an organization that focuses on environmental, social and economic trends, says the current rate of global demand for resources is unsustainable."
The publisher and its affiliates, officers, directors and owner may actively trade in investments discussed in this newsletter. They may have positions in the securities recommended and may increase or decrease such positions without notice. The publisher is not a registered investment advisor. Subscribers should not view this publication as offering personalized legal, tax, accounting or investment-related advice. The news and editorial viewpoints, and other information on the investments discussed herein are obtained from sources deemed reliable, but their accuracy is not guaranteed. © Copyright 2008, Gold Letter Inc.
© 2005-2019 http://www.MarketOracle.co.uk - The Market Oracle is a FREE Daily Financial Markets Analysis & Forecasting online publication.

Only logged in users are allowed to post comments.
Register/ Log in