China Stock Market Primed for Red Hot Mergers & Acquisitions Boom
Stock-Markets
/
Chinese Stock Market
Jul 01, 2008 - 11:34 AM GMT


Tony Sagami writes: One of the first books I read as an economics major at the University of Washington was Adam Smith's Wealth of Nations. It was then that I first learned about what he called the 'invisible hand of capitalism.'
Smith believed that an individual pursuing his or her own self-interest tends also to promote the good of their community as a whole. To paraphrase Gordon Gecko, it's the notion that "Greed is good."
China of all places has actually embraced many of those same core capitalist principles. The controlling Communist Party also believes, however, in the not-so-invisible hand of Big Brother (government).
Today, I want to tell you how that unbridled capitalist greed, when combined with some moves by Beijing, could lead to a frenzy of mergers and acquisitions, along with a major rally in the Chinese markets.
Let's start with a simple fact ...
The Chinese Economy Is Still Rocking and Rolling, And Big Brother Is Going to Keep It That Way!
Beijing is going to do everything in its power to ensure that China's economy keeps booming. In fact, I see at least four separate ways that it is doing so right now ...
Not-so-invisible hand #1: The Chinese government is very fond of using big public works projects to keep the economy humming and promoting full employment. In just the last week, four new government infrastructure projects for the western, undeveloped rural interior were announced. These projects include:
New railroads connecting Guiyang and Guangzhou, Lanzhou and Chongqing, Kashgar and Hotan.
Highways between Wanyuan and Dazhou in Sichuan Province, Shuikou and Duyun in Guizhou Province.
Major airport expansion projects in Chengdu, Chongqing and Xi'an.
Hydropower stations, coal mines, gas and oil transmission tube lines throughout western China.
Olympic Boom: Since the International Olympic Committee awarded the 2008 Olympic Games to Beijing eight years ago, China has gone on an unprecedented spending spree.
And these projects come on the heels of China's $25-billion Three Gorges Dam project and $31-billion Beijing-Shanghai Express Railway.
Not-so-invisible hand #2: The Chinese government understands how crucial domestic consumption is to the long-term health of its economy. Is it any wonder that retail sales in China jumped by 21.6% in May from the same period the previous year? I think not! What's more, Big Brother will do everything in its power to ensure that this trend continues.
Effective July 1, the minimum salary for government employees will jump from 730 yuan (U.S. $106) to 800 yuan. That probably doesn't sound like much, but it works out to a 9.6% increase and more importantly, even a couple bucks make a huge difference when you're starting from such a low wage base.
The monthly allowance for families living under the poverty line, the Chinese equivalent of what we call welfare, will climb 60 yuan to 390 yuan, a huge percentage increase and the sharpest in the past nine years.
Not-so-invisible hand #3: Last week, I explained how the Chinese government is aggressively hiking fuel prices. And while the 17% increase in gas prices will only have a mild effect on the Chinese who ride bikes, buses, and subways, it will certainly affect some more than others.
That is why the Ministry of Finance isn't taking any chances. The announcement came from Beijing last week that the government plans to spend 19.8 billion yuan ($2.8 billion) to subsidize groups and sectors that could be adversely affected by rising fuel prices.
For example, the fares for public transportation (trains, buses, and taxis) will stay the same. Also, farmers, fertilizer producers, and residents of quake-hit provinces of Sichuan, Shaanxi and Gansu are all exempted from the higher fuel prices.
Not-so-invisible hand #4: The most important government action of all was the recent vow from Shang Fulin, the Chairman of the China Securities Regulatory Commission (CSRC), to boost regulation in order to promote a stable and healthy development of capital markets.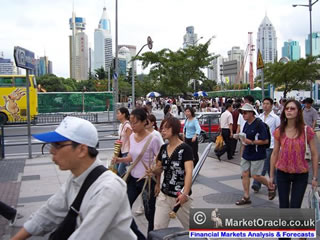 Once hailed as the Paris of the Orient and East Asia's undisputed hub of finance, Shanghai has largely succeeded in reclaiming its glorious past.
You know what 'stable and healthy capital markets' really means? I'll tell you what it means — the Shanghai Composite Index has fallen by 54% from its November peak and Big Brother is NOT going to allow it to fall anymore!
The Chinese government has cut the stock trading tax, and suggested it may permit margin trading. The biggest stimulus of all is the decision to release more of its state-owned shares in China's biggest publicly traded companies, like China Mobile and China Life Insurance. These shares in state-controlled industries were not previously traded but amounted to two-thirds of companies' existing market capitalization.
The effect of converting these non-tradable shares into tradable shares (called G-shares) will make it possible for those Chinese corporate giants to use the new shares as currency to fund new mergers and acquisitions.
What would you do if you were a CEO sitting on billions of new dollars and saw the stock price of your competitors 50% cheaper than they were at the beginning of the year? Would you be tempted to buy some of those companies with your new currency?
I sure would! That's why ...
I Believe the Chinese Market Could Soon Embark on a Long-Term M&A Boom! What to Do About It ...
Once the M&A feeding frenzy begins there is no telling how high the Chinese stock market will go. So, what can you do about it?
The one thing you should NOT do is invest in the most popular Chinese exchange traded fund, iShares FTSE/Xinhua China 25 Index (FXI). I say that because its portfolio is dominated by State Owned Enterprises who are going to do all the buying.
To maximize your profit potential, you want to own the prey — not the hunter.
So I suggest looking for smaller, fast-growing companies that are run by the new breed of tireless Chinese entrepreneurs working 20-hour days to grow sales and revenues. I'm talking about companies with incredible growth stories like New Oriental Education (EDU), Ctrip.com (CTRP), China BAK Battery (CBAK), Mindray Medical (MR), and E-House (EJ) to name a few.
And please don't make the mistake of assuming the negative fundamentals of the U.S. economy are going to drag the Chinese economy down, too. Heck, the World Bank just upped its 2008 forecast for the Chinese economy from 9.6% to 9.8%!
Bottom line: The Chinese government is determined to stoke their already red-hot economy through further intervention. And what the Communist Party wants ... the Communist Party gets. Investors should sit up and take note!
Best wishes,
Tony
This investment news is brought to you by Money and Markets . Money and Markets is a free daily investment newsletter from Martin D. Weiss and Weiss Research analysts offering the latest investing news and financial insights for the stock market, including tips and advice on investing in gold, energy and oil. Dr. Weiss is a leader in the fields of investing, interest rates, financial safety and economic forecasting. To view archives or subscribe, visit http://www.moneyandmarkets.com .
© 2005-2019 http://www.MarketOracle.co.uk - The Market Oracle is a FREE Daily Financial Markets Analysis & Forecasting online publication.

Only logged in users are allowed to post comments.
Register/ Log in