Resource Stock Investment Secrets
Commodities
/
Gold & Silver Stocks
Jan 29, 2009 - 04:50 AM GMT


Sean Brodrick writes: 'It was the best of times, it was the worst of times, it was the age of wisdom, it was the age of foolishness, it was the epoch of belief, it was the epoch of incredulity, it was the season of Light, it was the season of Darkness, it was the spring of hope, it was the winter of despair, we had everything before us, we had nothing before us, we were all going direct to Heaven, we were all going direct the other way.' — Charles Dickens, 'A Tale of Two Cities'


Greetings from the 2009 Vancouver Resource Investment Conference. As I type this in the wee hours of a cold Canadian morning, thinking back on what I have seen and learned here, I can't help but be reminded of those famous lines from Dickens.
Never have I been to a conference where despair among people I respect is so tangible. In the last 18 months, their portfolios have been bloodied … their egos have been battered.
At the same time, though, never have I been to a conference where the opportunities are laying around waiting to be picked up like diamonds at your feet.
As Louis James of Casey Research pointed out: For the cost of a Christmas toy, you can buy a hundred shares of any of a number of companies. And those shares could return your investment many times over if you have some patience.
Things Will Get Worse Before They Get Better
This doesn't mean I've turned super-bullish on stocks or the global economy. Heck no. If anything, what I've heard confirmed a lot of my fears.
First of all, I'm avoiding base metal miners. I'm sure those miners would vehemently disagree. But I don't think those stocks will see much upside in 2009 … and if we're really unlucky, it may even be longer.
Hey, I'd be glad for the global economy to recover more quickly than that. But consider:
U.S. builders broke ground on the lowest number of houses in December since record-keeping began in 1959 …
Unemployment is rising …
And some of the world's largest banks are technically insolvent.
That's not all … growth in China is falling off a cliff!
Nouriel Roubini, the New York University professor who predicted last year's financial crisis, points out that if you take out the government's fudge factor, China's economic growth in the most recent quarter was near zero.
China is one of the world's biggest markets for iron ore, for coal, zinc, lead, and more. So with next to no growth, you can see why prices of nickel, zinc and lead are way down and could even go lower.
Therefore, I'm suggesting you stay clear of base metals miners right now.
Investors Are Fleeing Risk and Loading Up On Cash and Gold
The derailing of the global growth engine is scaring global investors out of most stocks and into cash; hence, the U.S. dollar has done well. But another point of worry is the fact that our leaders in Washington are cranking up the printing presses to an eye-blurring speed.
Yes, a chunk of the money they're creating is swallowed up as leverage unwinds and banks paper over the holes in their balance sheets. But Washington is creating money in a desperate attempt to restabilize the global financial system.
THAT is really worrying. And that's why we're seeing something extraordinary: even as the U.S. dollar goes higher — gold prices are climbing, too!
In fact, gold set off "buy" signals all over the world on Friday as it broke out higher from a months-long compression. I would not be surprised to see gold pull back a bit to test new support this week or next. And that could be the best buying opportunity you'll see in gold for the rest of this year.
That brings me to gold stocks …
I released my "Golden Parachute for 2009″ report a few months ago. Investors who bought that report (and my Red-Hot Global Small-Caps subscribers who got it free as part of their membership) are grinning ear to ear, because the recommendations in that report are kicking butt and taking names!
They should have already booked half gains on the portfolio. And as of Monday, the remaining positions were showing open gains of 23% … 49% … 64% … 130%!
I'm mentioning those positions to make a point: The "Golden Parachute for 2009″ portfolio was designed to ride a rally in big-cap precious metals miners.
And now …
The Time is Coming Around For Smaller-Cap Miners —
These are EXACTLY the kind of stocks that are on display here at the Vancouver Resource Investment Conference.
Smaller mining stocks have been beaten down mercilessly, even as gold and silver prices have risen. So now is the time to invest … That's how to make money.
These stocks have been beaten down mercilessly. And while the larger-cap gold and silver miners recovered with the price of gold and silver, smaller- and micro-cap stocks have not bounced nearly as much.
They will, though. Lawrence Roulston of Resource Opportunities laid out some of the reasons why in his presentation on Sunday.
"Now, when prices are down, is the time to invest in this market," he said. "It takes a lot of courage to invest against popular opinion — but that's how you make money."
Some of Roulston's other points …
There is less risk buying natural resource stocks now than a year ago, when most were much more expensive.
There are companies out there trading at less than the value of their cash in the bank.
It may be a while before gold makes a BIG move higher. The problem is that gold jewelry demand (the biggest source of demand for gold) is falling even as investment demand rises. The SPDR Gold Trust, the largest exchange-traded fund backed by bullion, just expanded its holdings to a record 832.88 metric tonnes. Gold holdings at SPDR are now more than 50 tons higher than a month ago. This battle of forces could slow gold's rise for some time. So look for companies that can add value while you wait for the gold price to go up.
On top of that … gold production has been falling since 2001 even though the price of gold has tripled — in other words, higher prices are not bringing on more supply. There's a good reason for that: Although the money spent on gold exploration hit $5 billion last year — up from $1 billion in 2001 — very few big new deposits are being found.
So what is the easiest way for big gold miners to add to their resources? Buy them from smaller-cap miner/explorers. And I believe that companies making new discoveries will be richly rewarded. And those sitting on existing deposits will become much more valuable.
You may have heard that companies are finding it difficult to get new credit. That's true for most companies. But there is an exception: Precious metals miners.
In fact, I learned directly from one CEO after another that they have banks and funds showing up at their doorsteps offering them credit to expand their operations or buy new properties. And these are the small guys — imagine the offers that the big companies have on the table.
This tells me we could see an explosion of mergers and acquisitions in the precious metals sector this year.
History Is on Small-Caps' Side
Bear markets are horrible to go through. But there is an upside. And that's because bear markets create enormous opportunities for investors!
Although past performance is no guarantee of future results, historically, periods following bear-market bottoms have been very strong for equity investors, particularly small cap investors .
And the smaller the cap, the better the performance …
The median gain for large-caps in the year after the end of a bear market is 38.7%, while the median for small-caps is 41.4%. Micro-caps (really small stocks) show a 43.4% median advance. So while large-cap stocks can do well, smaller-cap stocks have the potential to do even better.
Part of this is that small-capitalization stocks — typically those whose outstanding shares are worth less than $2 billion — are the most heavily shorted stocks. So when it comes time to cover those short positions, small-caps can soar.
These facts are well-known by savvy investors. And that means the positioning in small-cap stocks will take place in advance of an upturn in the broader stock market, which in turn will take place in advance of an economic recovery. In fact, after a bear market, most of the gains that small-caps make in their first year come in the first six months.
I think I've laid out some good reasons here why the next bull market in precious metals stocks could come sooner rather than later.
Now the big question is …
Am I Finding Bargains in Vancouver?
And the answer is an undeniable:
Yes!
Actually, I'm finding too many bargains to count. Here are a few examples …
A gold explorer hard at work in Northern Canada that recently announced "bonanza-grade" drill results. It should release new resources estimates soon — results that could send its share price catapulting higher.
Another Canada-based gold explorer that is bringing a high-grade resource in Africa from resource to mine. It should start production next year. Due to its African location, its costs are very low — about one-fourth of development costs in the U.S. And the grade of its ore is very high.
A Canadian miner with a working mine in Mexico that trades at pennies to the dollar based on the value of its resource. What's more, it has an ambitious drilling program that should expand the size of its known resource, making this stock even more valuable.
A miner that is working rapidly to bring its project in Quebec from resource to mine. An active drilling program should make this resource big enough to attract the attention of big miners — giving this stock explosive potential in a takeover. The big fish won't bite before results of a feasibility study are in, so you can get in ahead of them. There is risk with this as with any mining stock in the development stage. But the potential upside is extraordinary.
Those are just four off the top of my head — there are many more. My three top picks will wind up in a special report, Three Red-Hot Picks from Vancouver, that I'm sending exclusively to my Red-Hot Global Small-Caps subscribers on Thursday.
And if you do your own digging — and make sure to do your due diligence — you can find bargains on your own. Just be careful. As Mark Twain famously said, "A gold mine is a hole in the ground with a liar on top of it."
Finally, some good news for U.S. investors: The market is giving you a discount! The junior mining companies that are based in Canada are traded and priced in Canadian dollars. Since the Canadian dollar is currently valued at less than 83 U.S. cents — these stocks can become even more of a bargain for you.
If you don't want to buy individual stocks, you can always buy an exchange-traded fund (ETF) …
The iShares Canadian S&P/TSX Global Gold Index Fund (XGD on the TSX) tracks the S&P/TSX Gold Index, and is priced in Canadian dollars.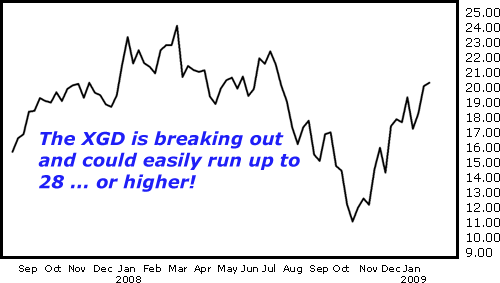 In the U.S., the Market Vectors Gold Miners ETF (GDX) tracks the AMEX Gold Miners Index and is priced in U.S. dollars. Both should do well if gold goes higher, as I think it will.
Yours for trading profits,
Sean
P.S. Tomorrow, I'm pressing the "send" key and delivering my special report, Three Red-Hot Picks from Vancouver, to my Red-Hot Global Small-Caps subscribers. I'm talking about companies with pounds in the ground — or even with production — that are way undervalued compared to bigger companies.
The good news: There is still time for you to get onboard!
These three stocks are too small for a recommendation in Money and Markets . So this report will only be available to a select, elite group of subscribers … subscribers to my Red-Hot Global Small-Caps .
If you want to get in on the ground floor of three of tomorrow's superstars, call 1-800-898-0819 or click here . And my team will make sure you're all squared away so you can act on these recommendations IMMEDIATELY as soon as my report comes out!
This investment news is brought to you by Money and Markets . Money and Markets is a free daily investment newsletter from Martin D. Weiss and Weiss Research analysts offering the latest investing news and financial insights for the stock market, including tips and advice on investing in gold, energy and oil. Dr. Weiss is a leader in the fields of investing, interest rates, financial safety and economic forecasting. To view archives or subscribe, visit http://www.moneyandmarkets.com .
© 2005-2019 http://www.MarketOracle.co.uk - The Market Oracle is a FREE Daily Financial Markets Analysis & Forecasting online publication.

Only logged in users are allowed to post comments.
Register/ Log in