Junior Precious Metal Investors Nightmare Ends
Commodities
/
Gold & Silver Stocks
Jan 29, 2009 - 08:14 AM GMT


Dark Side of the Dream - The last several months have been a nightmare for many investors in all markets of the world but perhaps no severe than those of us investors in the natural resource stocks. Frequently we would think it could not get worst only to realize that within another day or a week the natural resource stocks were still being pounded to the downside. It seems like 'someone' had decided to drive all of the smaller natural stocks down to zero. Some of the shares actually went to one penny. A true bloodbath which wiped out enormous paper profits for all investors.


While it would not have been unusual to experience a pullback in the markets, virtually no one, professional or individual investor, expected what occurred. The Dark Side of the Dream, our dream and perhaps your dream, of becoming rich in the bull market in the commodity stocks was either over or greatly delayed. So which is it?
Throughout the darkest hours of the last several months, we never lost the vision of our dream. The reasons for us investing in the natural resource shares over the last few years, particularly the gold shares and our position in gold and silver bullion and coins, never changed. All of the reasons for investing in this sector are even more compelling today than ever. The massive printing of monies by the FED will we believe lead to incredible inflation, if not hyperinflation.
The markets never play out the same way from one bull market to another. This interruption in the bull market in the natural resource sector will become one of the greatest head fakes of our time. A great shakeout so extreme that many investors have been so badly shaken they may never return to buy shares or long term warrants in the resource sector again. Or will they?
Emotions and investing are rarely compatible bedfellows. Strangely, investors, frequently, at the worst of times will sell out their positions because of fear, ignoring all facts, all reason, and will perhaps greatly regret their decisions. These same investors will once again enter the markets but not until they can no longer stand it as the markets are approaching their peaks. The emotions of these same investors will allow them to overstay their welcome and ride the markets down into the depths once again.
Recent market action has favored gold and silver but the juniors are still greatly lagging in price. This miserable looking chart with soon look much different as the junior start to out pace gold in the weeks and months ahead.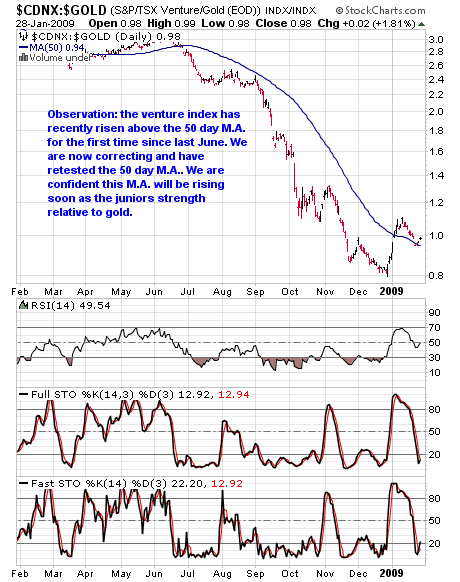 We expect to fulfill the culmination of our dream within the next 3 years and we frequently recall the words of one of the legendary analyst in the resource sector of "the day when there will be no resources stocks selling for less than $5.00". Yes, we can wait, as we have learned that patience is a required skill in the art of investing.
For the investors with their eyes still open, we suggest the accumulation of the junior mining shares and selected long-term warrants in this sector while they are still available at ridiculously low prices. Time is fast running out so you must make a decision very soon. We see only three choices for investors: 1) Those that will never buy another share in the resource sector, 2) those that will just wait and see what happens for now (meaning to us, buying at substantially higher prices) and 3) those that recognize the opportunity of a lifetime and are buying now. Your Choice.
For those readers interested in learning more about warrants we encourage you to visit our website .
Dudley Pierce Baker
Guadalajara/Ajijic, México
Email: info@preciousmetalswarrants.com
Website: PreciousMetalsWarrants
Dudley Baker is the owner/editor of Precious Metals Warrants, a market data service which provides you with the details on all mining & energy companies with warrants trading on the U. S. and Canadian Exchanges. As new warrants are listed for trading we alert you via an e-mail blast. You are provided with links to the companies' websites, links to quotes and charts, tips for placing orders and much, much more. We do not make any specific recommendations in our service. We do the work for you and provide you with the knowledge, trading tips and the confidence in placing your orders.
Disclaimer/Disclosure Statement:PreciousMetalsWarrants.com is not an investment advisor and any reference to specific securities does not constitute a recommendation thereof. The opinions expressed herein are the express personal opinions of Dudley Baker. Neither the information, nor the opinions expressed should be construed as a solicitation to buy any securities mentioned in this Service. Examples given are only intended to make investors aware of the potential rewards of investing in Warrants. Investors are recommended to obtain the advice of a qualified investment advisor before entering into any transactions involving stocks or Warrants.
© 2005-2019 http://www.MarketOracle.co.uk - The Market Oracle is a FREE Daily Financial Markets Analysis & Forecasting online publication.

Only logged in users are allowed to post comments.
Register/ Log in