Stocks & Commodity Markets Analysis - Never Fade Our Friend Fibonacci
Stock-Markets
/
Financial Markets
May 07, 2007 - 10:01 AM GMT

The markets continue to add on points as the S&P gets closer to its destined target of at least 1556. This week closed above the round number of 1500, leaving us just 50 points away, and I'd bet there are plenty of investors who liquidated their stocks along the 2000-2002 decline and are now wondering why they did such a silly thing as that. The buy and hold strategy that got them into that mess now seems to be working perfectly, now that they're no longer in game.


Don't get me wrong, I'm not saying an investor in garbage stocks from the bubble is anywhere near breaking even, but a well run portfolio would be at least even or worth much more than it was in 2000. It's just that the market is fickle and convinced many to get out at the 2002 /2003 lows, right at the beginning a 5-year run back up to the old highs – and potentially much higher.
Now we sit 50 points below those highs and at a Turn date mentioned weeks ago. Inching up into the 1520 area and exploding north to ring that bell next week is a real possibility. What is that investor that sold everything at the low supposed to do now? They've watched a rising market while hearing that the massive appreciation in real estate is a bubble not unlike the one that burst on them five years ago. Many sold their losing portfolios only to chase a new runaway market. Is this really the way to make money investing?
Our unbiased strategy, on the other hand, has kept us in this rally since 1360, even though last week I started to show concern for the near future. I stated:
"So, now we want to step back on the long side a bit and look for a confirmation of a turn. I must say that sentiment readings aren't anywhere I'd like to see, but then again I'm also not short yet. We'll continue to trade both sides on the intraday while watching for a turn in the larger picture . We have two main themes to work with, one of them looking for a bit more upside over several weeks if it finds support on any small drop in the short term. Members already know the key pivots that need to be taken out."
That drop on Monday in the S&P which found support going into Tuesday was a gift. That setup is what I call the "triangle trap", where the market forms a triangle that seems to point up but the breakout is to the downside. We had the signal to go short once as the SPX dropped under 1493. Trading continued down all day as traders got trapped in bullish positions.
Wednesday, the S&P continued to trade lower and set the stage for us. TTC coming to the rescue with the chart of the day and week! I posted the Dow chart below at 1:26 , showing that we could have a C = .618 x A in place. That idea fell into place since we knew that the ending diagonal shown on the chart was only ending a smaller degree 5 th wave.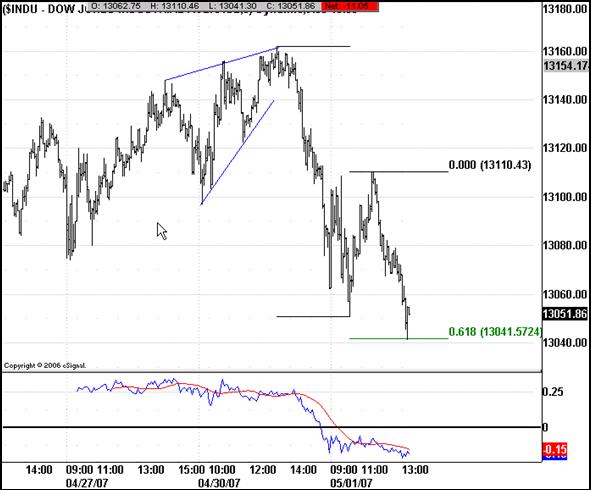 With the SPX at 1477 and our support numbers in the SPX 1475 area, we knew that the opportunity in this chart was a trade we had to take. The result was yet another bear trap door we avoided and left for others. Once it was clear that price took off from our exact low, a repeating theme suggested itself once again. "Never fade our friend Fibonacci", affirms our conviction that Elliott wave patterns unfold through the markets' attempts to reach inevitable price-extension targets.
Hearing a member say on Wednesday, "I'm long and want to get out but the trend charts won't let me" was a joy to hear. My proprietary trend charts did what they were built to do off those lows, get us in the long trade with confidence. It was nice to see many members find out how relaxed trading can be using the system. The Dow managed to close the week 220 points off its lows, meaning one single mini-Dow futures contract produced over $1000 in gains. More importantly, you weren't trading against the trend.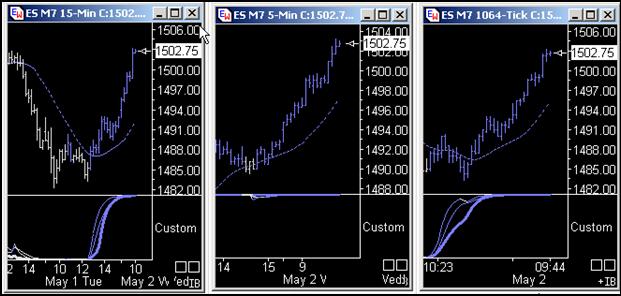 A target of 1510 had been placed on a chart that was posted minutes after the March lows and Friday's high was 1510.34! On Wednesday I expressed that the market continued to be strong, but "I would sell 1516 if I had the chance." Of course 1516 was Friday's high and we took 2 winning trades against that on Friday, one was in the morning globex hours. Below is the set of trend charts clearly showing the start of something more than a scalp.
These charts are being used on the intraday for the SPX, DAX, gold, and oil. Daily and weekly time frames are available on a few other markets and I plan on getting them for most other markets in the near future. Stop by and spend a month with us and see if we can improve your trading. After all, its still only 1 ES point! ($50 a month*). Read below about the coming price increase.
So, we'd been looking for a low only 2 points below this week's low, and then new highs. Knowing where we were in the structure, with timing help from the trend charts, triggered several successful buy signals and helped us achieve the plans laid out last week. Additional confidence came from the chart posted last weekend by our good friend at Chartsedge.com. Mike posts some unbelievable charts from time to time, and this week was definitely one of them. His chart, below on the left, outlines his projection for the week. On the right is a 5min S&P chart of last week's actual market action. The similarities are outright scary! Mike is one of many Market Advisory members that continue to support our work, share his own efforts, and enjoy trading with our community.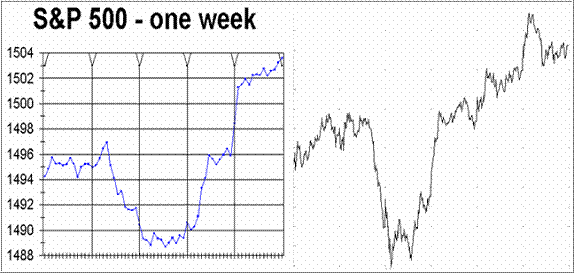 This week's low was also validated by an Andrews' fork drawn from the start of this rally – a simple tool that, placed correctly, picked off the high and low of the last two swings right to the tick! And they say technical analysis doesn't work! Draw this fork on your charts as it is working and it might just give you a short entry.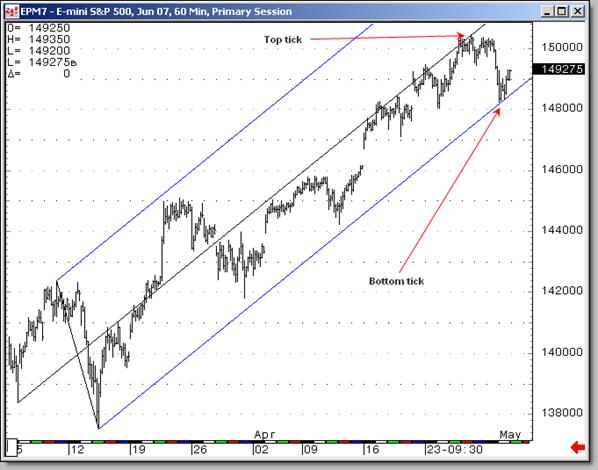 Next at bat is the Fed as it announces its decision on interest rates on Wednesday. Last weeks update stated:
"and now await the May 9th turn along with the Fed meeting. We might need to pull back a bit and consolidate prior to the Fed. My gut tells me this meeting might be one we remember. "
We got the pullback and are now ready for Bernanke. But, for many reasons, the direction from here will not be discussed in this update. First, anyone who thinks projecting the market forward is easy work needs to think twice. We'll still be getting ready for the Fed meeting over the days ahead, in fact, right up to the announcement. In our real time chatroom, as well as the forum, I'll be posting the pattern we're in and monitoring the trend charts, just to name a couple of things.
But the big moves aren't likely to reveal themselves far in advance of the announcement. Therefore, giving readers specific ideas this weekend will probably only work to keep them from listening to the market and make them biased to a specific camp on Wednesday. As you know, we won't do that.
The big deal about this meeting is that it comes at a time when we're so close to all-time highs, with the Fed possibly starting to hint at a change in direction. Anything can happen, a spike, a selloff, maybe even both. Last week's update expressed my small but growing concern about the maturity of this market, particularly as compared to the sentiment of many on Wall Street. I'll be looking for a turn soon, but the big question is from where. Soon we'll have a target above and a line in the sand below to give us our signal, and it wouldn't surprise me at all if we're just hours away, or even that the top has already happened. It might have, and confirmation is all that's needed now.
Frequent readers know how well we've navigated the last few turns. New readers should be aware that we don't make calls and just hope to be correct. We've been long this last swing from the 1360 and an important update was presented on Friday about the market structure as price moved exactly into the target posted back in March. The most important thing now is to get our confirmation. Going short before that is not wise in front of a blowoff. Also, what degree would this turn be if we see it this week? Without giving away membership privileges, don't be comfortable with any positions until a certain area is above us.
If you haven't made good profits this year, its time to really think about what you're doing wrong. Or should I say if you've watched from the sidelines as the markets screamed higher or if shorted a rally from the 2002 lows only to watch the S&P recover all but 50 points of the initial decline – it's time to try something new! If this is you, join now, become part of TTC, and get to understand why you are trading a certain side of the market and learn how to find the money. It's also a perfect time as we will be having a fee increase before the summer. Read below for details.

Europe
The Dax is certainly an index on our radar screen as it's been pulling us along on its explosive ride the last few weeks. We think we have the area it's targeting, as shown in the chart below. Here too, we are waiting for confirmation but we don't have it yet. If this is something you want to pay attention to, our members now have the trend charts on the Dax to use for their intraday trading. And trust me, these charts have saved many traders that were always quick on the sell button. The Dax forum has been growing nicely, we would love to have traders around the world join in and trade together in our great technical community. You can also take advantage of our chatroom, open 24/7.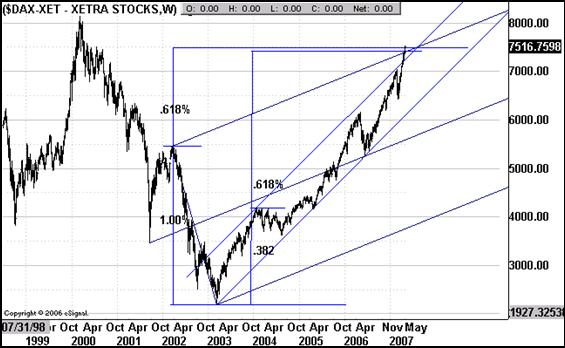 Softs
OJ gave us a perfect selloff from the top. We were expecting a bounce which has started, Stay tuned.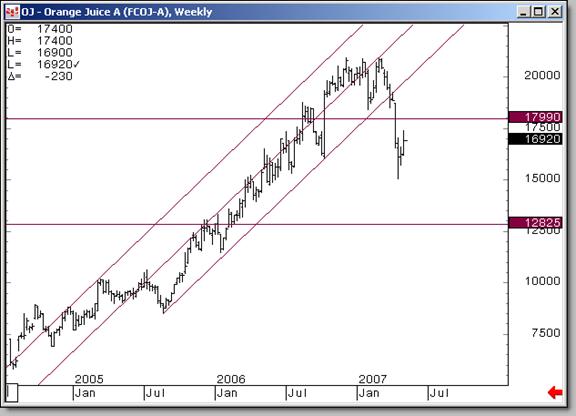 Become a member and find out our next commodity find. We await a reversal any day that will become a nice swing trade. Having a problem trading the ES? Of course you are, its one of the hardest markets to trade but no one tells you that part. I find so many other markets easy as there aren't thousands of traders scrambling in them all day long. You might want to think about other markets as there is easier money to be made in many of them.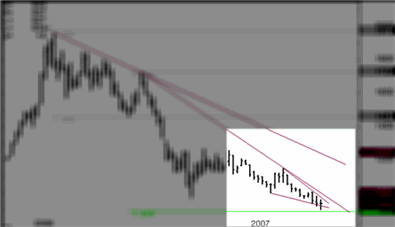 Gold
Gold survived the week's selling pressure and has come out on top of an old multi-year trendline, and the trend charts have nailed every move. Read Joe's Precious Points for a closer look at what's in store for the yellow metal next week and beyond.
Members only
Another great week as we were able to buy the lows of the week and get to the exact target on our friend Fibbo's chart, posted back in March. As you should know, that chart was posted on Friday with two important updates on it. I will repost it on Saturday, so make sure you understand what we are saying there. Also make sure to see where we stand in all the markets with all the weekend chart updates. If we are correct, we have some nice weeks to look forward before heading off for the beaches right after Memorial Day.
Be sure to also pick up a free PDF that Fibbo put together for us. It's an Elliott wave tutorial to get you started on your path to classic "unbiased" Elliott Wave.
TTC's Quick View

Also make sure you are aware of TTC's new addition to help many keep an eye on the Forum updates without needing to constantly login to check. We made this neat feature that you open to your desktop and you will be able to see when someone posts, and who is posting. There are some handy links there as well as a small time frame trend chart. I'm sure I'll find other things to add to it. You can open the Quick View by using the tab on top of the website.
*To Current and Prospective Members:
TTC will be increasing it monthly subscription fee sometime before this summer. The increase has become inevitable due to our ongoing expansion of the Website, computer and software upgrades, and the addition of services such as trend cycle charts. Current members and anyone that joins before the increase takes effect will not be subject to the new price, and will continue paying the current $50 subscription fee on a month-to-month basis. So if you have been thinking of joining, this might be a great time.
Thank you for your attention to these changes. If there are any questions, please direct your email to admin@tradingthecharts.com .
Have a profitable and safe week trading, and remember:
"Unbiased Elliott Wave works!"
By Dominick
For real-time analysis, become a member for only $50
If you've enjoyed this article, signup for Market Updates , our monthly newsletter, and, for more immediate analysis and market reaction, view my work and the charts exchanged between our seasoned traders in TradingtheCharts forum . Continued success has inspired expansion of the "open access to non subscribers" forums, and our Market Advisory members and I have agreed to post our work in these forums periodically. Explore services from Wall Street's best, including Jim Curry, Tim Ords, Glen Neely, Richard Rhodes, Andre Gratian, Bob Carver, Eric Hadik, Chartsedge, Elliott today, Stock Barometer, Harry Boxer, Mike Paulenoff and others. Try them all, subscribe to the ones that suit your style, and accelerate your trading profits! These forums are on the top of the homepage at Trading the Charts. Market analysts are always welcome to contribute to the Forum or newsletter. Email me @ Dominick@tradingthecharts.com if you have any interest.
This update is provided as general information and is not an investment recommendation. TTC accepts no liability whatsoever for any losses resulting from action taken based on the contents of its charts, commentaries, or price data. Securities and commodities markets involve inherent risk and not all positions are suitable for each individual. Check with your licensed financial advisor or broker prior to taking any action.
© 2005-2019 http://www.MarketOracle.co.uk - The Market Oracle is a FREE Daily Financial Markets Analysis & Forecasting online publication.

Only logged in users are allowed to post comments.
Register/ Log in