Global Warming, CO2 and Carbon Communism
Politics
/
Climate Change
Mar 22, 2009 - 04:28 AM GMT

Gregory Fegel writes: I think that the CO2-caused Global Warming theory is false and unproven junk science.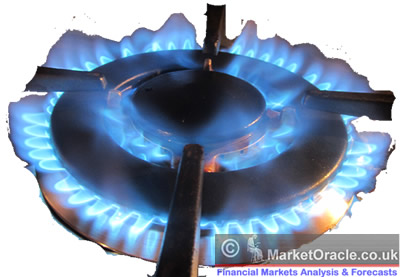 But let's suppose for a moment that the CO2 equals Global Warming equation is real. The wealthy elitists James Hansen, Al Gore, Tony Blair, Barack Obama, and the other high-profile cheerleaders for CO2 reduction are asking the poor and middle classes to suffer the consequences of a radical shutdown of global commerce and energy production in order to 'save the planet' from Global Warming. They want to make serfs of the masses of working people, while a privileged elite will be permitted to continue living in high style with a much larger 'carbon footprint' than the un-entitled lower classes.
We should never let that happen. The only way that 'carbon rationing' should be allowed is by assigning the exact same carbon limit to all people everywhere. Al Gore, Barack Obama, a London cabbie, and a Kalahari Bushman should all be assigned exactly the same number of 'carbon credits', period. Let them trade their credits with each other, but everyone should be restricted to the same limited 'carbon credit' allowance. The long-term ultimate effect of this would be an economic leveling of society; essentially global Communism. Under such a system, no one would be able to accumulate an excess of personal property or wealth because they could never accumulate enough 'carbon credits' to do so.
When Hansen, Gore, Blair, and Obama give up their patrician incomes and lifestyles and restrict their own 'carbon footprint' to the level of the common labourer or office worker, I will begin to believe that they are sincere about preventing Global Warming. Their obvious unwillingness to do what they are asking the rest of us to do proves that they are not sincere. They want the common people to sacrifice their lives to prevent Global Warming, while the wealthy retain their high-carbon consuming and producing privileges.
We cannot permit a privileged elite to enjoy a 'high-carbon' lifestyle while the poor are restricted by law to a 'low-carbon' lifestyle. Any effort by any government to impose carbon rationing with preferential treatment to any class of people should be seen as sufficient reason for an all-out French-style revolution in which the majority population dispossess the elitists of their wealth, their positions of power, and their privilege. In a world that is constantly threatened by Global Warming, we cannot allow a greedy few to consume or produce in excess of the average 'carbon footprint' of the world's population as a whole.
Barack Obama keeps the temperature at 78 degrees Fahrenheit in the Oval Office while telling the rest of us to turn our thermostats down. James Hansen has received grants amounting to hundreds of thousands of dollars to promote the Global Warming theory. Al Gore has invested heavily in the 'carbon trading' brokerage business . All of these men jet around the world, live in oversized houses, and ride in limousines. If the common people are to be required by law to reduce our 'carbon footprint', we need to demand that our leaders and the wealthy elite be restricted to exactly the same carbon allowance as everyone else.
We are not all together in the fight against Global Warming unless everyone is required to make the same sacrifices by sharing an equal 'carbon footprint' and an equal 'carbon ration', which should be assigned equally to every living person in the entire world. We need to hold the elitists' feet to the fire and require them to make exactly the same sacrifices as the rest of humanity.
Individual carbon limits and carbon rationing? Bring them on. Viva la Revolucion!
Gregory Fegel
Disclaimer: The above is a matter of opinion provided for general information purposes only and is not intended as investment advice. Information and analysis above are derived from sources and utilising methods believed to be reliable, but we cannot accept responsibility for any losses you may incur as a result of this analysis. Individuals should consult with their personal financial advisors.
© 2005-2019 http://www.MarketOracle.co.uk - The Market Oracle is a FREE Daily Financial Markets Analysis & Forecasting online publication.
Comments
Christian
22 Mar 09, 09:00
well said


The painful thing for some to question is wether there Honest and good intentions to make the world a cleaner and healthier place to live in is not simply JUST LEVERAGE to get POPULISM behind the latest Capitalist plan to ....well...make $$$$. (because people who care about the "enviornment" realize that GW is to big of an issue to NOT HAVE on their side....

Since the securitization mkt collapsed and took the economy down a couple rungs...(and slowed debt growth i.e bank profits) there is great demand to game another adventure...and they have the political power and media ready to lap up anything they sell them....enter Global warming as a national security threat....enter the enviornmentalist who's good intententions (and strong emotion) will help market the plan for them combined with the lapdog media.....

I did none the less enjoy your article because you realize the emotional nature of this matter makes it like hitting your head against the wall talking with people who beleive in GW so you really had to show just how unfair this whole plan is......even if it wasn't just a marketing ploy with politica leverage to make money for a struggling financial system......



O
22 Mar 09, 09:58
Global Cooling Problem


One of many valid counter arguments to global warming is found in the following link. It is a reasonably short read with solid proof information.

http://my.auburnjournal.com/detail/108731.html

Appearantly there is no correlation between atm CO2 and climate. Our politicians have had it wrong for many years and they are now trying to culminate with a very destructive cap and trade legislation. This will be one of the nails in our economic coffin.

Sorry for such a grim analogy and that for all of us we got all of the wrong changes regarding climate happening in Washington.




Only logged in users are allowed to post comments.
Register/ Log in