Category: Investment Funds
The analysis published under this category are as follows.

Thursday, January 27, 2022
Understand this, it is highly probable that 90% of RETAIL INVESTORs in ARK Funds have LOST MONEY!
LOOK at the volume on the ARKK chart and that tells you when the retail investors were FOMO-ing, then buying the DIPS in ARKK!
Read full article...

Read full article...
---

Friday, March 26, 2021
Why hire a fund manager? Should you hire someone to manage your money? Those are two simple questions but critical when dealing with money. You want a working and successful investment plan, a major reason for hiring a fund manager. Many are times; we are torn between winning or losing decisions while investing; a fund manager will assist in financial decisions.
A fund manager helps you make progress in your investments; they eliminate stagnation in your investments. At some point, you will need someone to help make sober decisions and execute them at the right time. A busy investor schedule may hinder deciding on the right investment channels; therefore, it is necessary for a professional fund manager.
A fund manager commentary like that of
fund manager February commentary - Lowland investment Company
summaries the market performance and activities.
Managing our investment may look all that easy, but you need to hire a fund manager at the end of the day. Below are simple tips for hiring a fund manager:
Read full article...

Read full article...
---

Tuesday, August 06, 2013

We've recently written a couple articles on ETFs—exchange traded funds—to help investors understand the difference between them and mutual funds and to show how for nearly every mutual fund you can find an nearly identical ETF that charges much less in fees. And each time we come out with a new article we get even more questions from readers.
Read full article...

Read full article...
---

Monday, June 14, 2010

A Closed End Fund (CEF) is a publicly traded investment company that invests in a variety of securities such as stocks, bonds, preferred stocks, real estate, mortgages, oil and gas royalties, etc. The variety of sectors, classifications, and geographical representation is every bit as confusing as it is with traditional funds, but the advantages are easy to understand.
Read full article...

Read full article...
---

Monday, June 01, 2009

The two of us just sat there eating some leftovers from KD's Bar BQ, drinking from sweaty bottles of water, watching it.
The numbers on the rusty old meter just kept rolling over. One…by one…by one.
Read full article...

Read full article...
---

Friday, February 15, 2008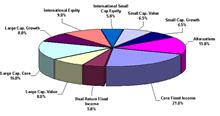 Foundations, Endowments and other Not-for-Profit organizations come in all shapes and sizes. The assets that they control and manage for the benefit of countless projects, charities, and causes is staggering in total and it has become a primary market for the vast array of investment products developed by Wall Street financial institutions. One can only speculate about how much "Bubble Paper" finds its way into the these portfolios, but nearly all of them are managed by the major brokerage firms, and all such firms bonus their brokers on the basis of product sales. It is not uncommon for Wall Street to re-write the syllabus for Investments 101, redefining Quality, Diversification, and Income to suit its own dark purposes…
Read full article...

Read full article...
---