Haynesville Shale Creates Opportunities in the Energy Sector
Commodities
/
Crude Oil
Jun 27, 2009 - 05:36 PM GMT


Last month investment advisor Marc Faber in a Bloomberg interview noted that "natural gas is the most undervalued commodity in the world right now." He also said he was a believer in 'peak oil' to the extent we have developed most of the cheap and easily recoverable high quality reserves globally, but that the world would move onto other sources of energy as economics dictates. Faber sees energy prices rising over time and also much higher inflation in the U.S. — which will be good for commodities and for small cap stocks.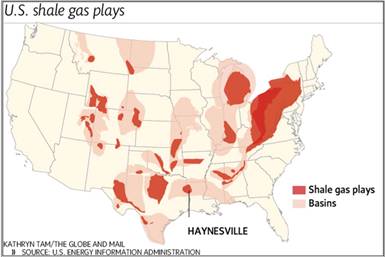 In addition, last month energy investment banker Matthew Simmons discussed a disturbing trend we have mentioned – the plunging U.S. natural gas drilling rig count since last summer.
Simmons claims that at current drilling levels we could easily see natural gas production in the U.S. decline by 25% in the next 24 months. This is an incredibly steep decline in production. Simmons also noted that at current market prices most unconventional shale wells are not economic to drill and develop.
EnCana held a conference call late in the month on the Haynesville and Bossier shale prospects in East Texas and Louisiana – potentially a 'massive natural gas resource' for the U.S.
The Bossier formation lies just above the Haynesville formation - presenting a driller with two target shale formations at one drilling location in this basin. In the call EnCana stated they thought the Haynesville prospect would be as productive and profitable as the prolific Barnett field here in central Texas.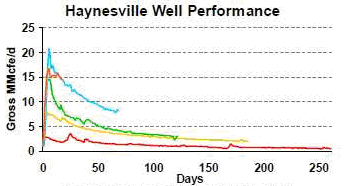 A quick summary of the details from the EnCana call, and recent disclosures by other firms operating in the area, include the following:
· The average initial production test for Bossier wells have been roughly 15-20 million cubic feet per day (MMcf/day). For a Haynesville well the average initial production test is around 10-15 MMcf/day.
These are very young and emerging plays, in the early stages of development. These initial production rates are incredibly high, but production declines quickly. The decline curve at right for early Haynesville wells indicate the extent of decline.
· Estimated ultimate reserves are roughly nine to eleven billion cubit feet (Bcf) per well, characterized by high initial production, quick production of reserves, and high returns on investment due to the quick monetization of reserves. Few wells have more than 6 months worth of production so long term estimates of gas recoveries are still uncertain.
· Costs are roughly $9 million per well in Louisiana, possibly $1 million less in Texas due to the shallower wells and lower pressures in the Texas side of the play. Costs will decline to $8 million per well as firms move along the learning curve. Louisiana has seen most of the development to date.
· Initial completion attempts used 8 frac stages, now most use 12 stages. The amount of proppant used per well has been tripled. Initial production correlates closely with the amount of proppant used. Lateral portions of the wells are roughly 3,000 to 4,000 feet in length.
Earlier this week Charles Maxwell, Senior Energy Analyst at Weeden & Co., was interviewed by Bloomberg Radio. He has been an analyst in the industry for 36 years. In his opinion we will see natural gas prices bottom in the U.S. in late October or early November, which will be the bottom of this pricing cycle. Domestic natural gas storage will be full, in fact most likely at record levels, and prices will be depressed.
Maxwell claims the massive decline of natural gas drilling activity we have seen over the last year will insure that natural gas supply and demand in the U.S. become more balanced. Maxwell sees natural gas prices increasing throughout the upcoming winter and through 2010—it takes quite a bit of time to 'ramp up' drilling activity to reverse natural gas deliverability declines once they start.
The long term implications for investors in the natural gas sector are significant, especially as prices begin increasing this fall and continue increasing throughout 2010. As we have noted, many projects that are not profitable at $4 a mcf gas will be extremely profitable at $7 a mcf or more—and this profitability will be reflected in share prices.
By Joseph Dancy,
Adjunct Professor: Oil & Gas Law, SMU School of Law
Advisor, LSGI Market Letter
Email: jdancy@REMOVEsmu.edu
Copyright © 2009 Joseph Dancy - All Rights Reserved
Joseph R. Dancy, is manager of the LSGI Technology Venture Fund LP, a private mutual fund for SEC accredited investors formed to focus on the most inefficient part of the equity market. The goal of the LSGI Fund is to utilize applied financial theory to substantially outperform all the major market indexes over time.
He is a Trustee on the Michigan Tech Foundation, and is on the Finance Committee which oversees the management of that institutions endowment funds. He is also employed as an Adjunct Professor of Law by Southern Methodist University School of Law in Dallas, Texas, teaching Oil & Gas Law, Oil & Gas Environmental Law, and Environmental Law, and coaches ice hockey in the Junior Dallas Stars organization.
He has a B.S. in Metallurgical Engineering from Michigan Technological University, a MBA from the University of Michigan, and a J.D. from Oklahoma City University School of Law. Oklahoma City University named him and his wife as Distinguished Alumni.
© 2005-2019 http://www.MarketOracle.co.uk - The Market Oracle is a FREE Daily Financial Markets Analysis & Forecasting online publication.

Only logged in users are allowed to post comments.
Register/ Log in