China Stock Market Crash Changes Nothing
Stock-Markets
/
Chinese Stock Market
Jun 05, 2007 - 11:03 AM GMT

Tony here, with an important update on China. Shanghai's stock market tumbled 8.3% on Monday … and that fall came on top of the 6.5% one-day drop we saw last Wednesday.
The reason for the slide: The Chinese Ministry of Finance decided to raise the stamp duty on stock transactions from 0.1% to 0.3%.
Now, when the market dipped last week, I was in Singapore, CNBC Asia's home base. It was fortunate timing — the channel's producers asked me to appear on "Squawk Box" with anchors Martin Soong and Amanda Drury.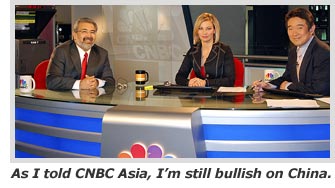 The hosts, like most international investors, wanted to know if this was the start of a new painful bear market for Chinese stocks. My answer? Absolutely not.
And even though we saw another wave of selling yesterday, I still believe that this is not the end of the boom in the Chinese economy or the Chinese stock market. Today, I want to tell you why.
Three Reasons That Shanghai's Drop Is Just a Bump in the Road
First, the increase from 0.1% to 0.3% is peanuts. I doubt that an extra two-tenths of a percent is going to have any significant long-term impact.
Heck, the Chinese government has been imposing a stamp duty on stock trades since 1990. In the beginning it was 0.6%. Since then, the rate has been adjusted up and down several times. For example, in 2005 it was halved from 0.2% to 0.1% to boost the then-depressed market. My how times have changed!
The only thing this new inconsequential tax will do — if anything — is increase the period Chinese investors hold on to stocks. It certainly won't chase them out of the market.
Hey, I'm jealous of that 0.3% stamp duty and you should be, too. Wouldn't you rather pay a 0.3% transaction cost instead of the 20% capital gains tax that we pay when we close out a profitable trade?
In my view, the increase to 0.3% will be as effective at dampening the red-hot Chinese stock market as a pair of chopsticks would be at damming the mighty Yangtze River.
Second, you should put Shanghai's recent correction in the proper context. Prior to last Wednesday's drop, China's market had surged about 62% for the year on top of a 130% gain in 2006. Any market that has moved that far is not only entitled to, but desperately needs, a profit-taking breather.
In fact, this might have been the most anticipated correction I can ever recall. For the last few months, all the major media and headline-hungry pundits have been talking about the Chinese "bubble."
Even Alan Greenspan chimed in with a strong warning. Of the Chinese stock market, he said, "It is clearly unsustainable. There's going to be a dramatic contraction at some point."
Then again, Easy Al wouldn't know a bubble if he saw one. I mean, he's the guy who pushed interest rates down to almost zero, helped fund our dot-com bubble, and ignored the onset of frenetic condo flipping.
As I've said before, the time to really get worried about a market is not when everybody is yelling "fire," but when everybody expects stocks to rise in a straight line.
Oh, and did I mention that even after both big-drop days, the Shanghai Composite was still up 37% for the year?
Third, unlike February when the last China correction sparked a global sell-off, markets around the world have shrugged off the latest drops in Shanghai.
After last Wednesday's Shanghai correction, the Dow Jones Industrial Average lost some ground then went on a "what-me-worry" rally of 111 points to a new all-time high.
And yesterday, even though Shanghai was dropping, markets in Japan and Hong Kong finished in positive territory. U.S. markets were barely changed.
So, China may have sneezed, but the rest of the world doesn't seem to be catching a cold.
Bottom line: I just wrapped up a 22-day trip around Asia and everything I saw told me that the great economic boom is still happening. In fact, I'm as enthusiastic than ever.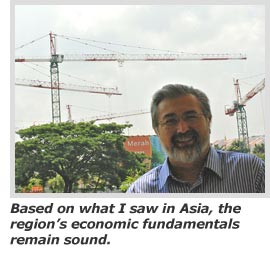 But hey, don't take my word for it …
Other Major Agencies Agree That China Still Looks Strong
On the same day that I appeared on CNBC Asia, the World Bank and Moody's Investors Service both gave stamps of approval on China …
The World Bank raised its 2007 forecast for Chinese economic growth from 9.6% to 10.4%, which would be the fourth straight year that China's gross domestic product rises faster than 10%.
In a statement, the World Bank said,
"With export growth to the European Union and the developing world surging, the trade surplus continued to rise, and foreign reserves soared further in the first quarter."
Meanwhile, Moody's Investors Service put its A2 rating on Chinese government bonds on credit watch for a possible upgrade. The ratings agency praised China's strong external payments position, continued success in reform, and favorable fiscal trends.
See, that's what happens to countries that spend less than they make. If only our politicians could grasp this simple concept!
Ways to Invest in Asia
The last time Chinese stocks got clobbered, I said it was a great buying opportunity. And I feel the same way about this most recent correction.
If you want to add some Asian spice to your portfolio, you have a lot of ways to do it. For example, if your broker offers you the ability to buy and sell stocks on foreign exchanges, I see at least three attractive areas …
H-Shares: There are more than 100 mainland-China-based companies that are listed on the Hong Kong stock exchange. Many of these H-shares are selling at what I consider to be low valuations. That means you're getting a ton of bang for your investment buck.
S-Shares: Most investors don't realize it, but there are roughly 50 mainland-China-based stocks listed on the Singapore stock exchange. And like the H-shares, many of these stocks are trading at nice discounts to their Shanghai-listed counterparts.
China's neighbors: China isn't the only booming economy in Asia. In fact, some of the very best growth stories are found in neighboring countries. Right now, I am especially impressed with Singapore, Taiwan, India, and South Korea … and I find myself salivating over some of the tremendous bargains to be found in Japan.
Of course, you don't need to trade Asian stocks on foreign exchanges, either. Many of them can be bought and sold in the U.S. as American Depositary Receipts (ADRs).
Plus, you have the option of using exchange-traded funds, too. They're a great way to get a diversified stake in some of Asia's fastest-growing economies.
Best wishes,
Tony Sagami
This investment news is brought to you by Money and Markets . Money and Markets is a free daily investment newsletter from Martin D. Weiss and Weiss Research analysts offering the latest investing news and financial insights for the stock market, including tips and advice on investing in gold, energy and oil. Dr. Weiss is a leader in the fields of investing, interest rates, financial safety and economic forecasting. To view archives or subscribe, visit http://www.moneyandmarkets.com .
© 2005-2019 http://www.MarketOracle.co.uk - The Market Oracle is a FREE Daily Financial Markets Analysis & Forecasting online publication.

Only logged in users are allowed to post comments.
Register/ Log in