Palladium the Rodney Dangerfield of Metals
Commodities
/
Palladium
Jun 20, 2007 - 12:53 PM GMT

Sean Brodrick writes: I call palladium the Rodney Dangerfield of metals because it gets no respect, I tell ya, no respect at all. It's like the forgotten stepsister in the platinum group of metals — platinum commands princely prices and investor interest, while palladium toils away in silence.
But what if I told you that palladium looks ready to stage a rally this year … a rally so strong that it would be the equivalent of gold going as high as $900 or even $1,000 an ounce? In other words, palladium might be on the verge of getting some respect.
It wouldn't be the first time the metal has soared to nosebleed levels. Palladium topped $1,000 per ounce in January 2001, when Russia temporarily stopped exporting the metal. Russia produces about half the world's palladium, so it can really affect the metal's price.
By 2003, palladium prices had fallen back to a low of about $150 an ounce. The reasons were everything from a slump in demand to platinum substitution (because platinum prices also fell). The metal then spent a long time backing and filling. Now, it is trading at around $370 per ounce — more than twice its lows.
Looking at a chart of the performance of various metals over the past 12 months, you can see that palladium has done quite well, gaining 16.8%.
The question now is whether there are fundamental forces in place that could kick palladium into overdrive. I believe there are!
Palladium Supplies Are Stubbornly Tight …
Palladium may not be as rare as platinum, but it isn't exactly common, either.
The world's largest known palladium deposits are located above the Arctic Circle in northern Siberia. Almost all of the world's reserves lie in Russia, South Africa, Finland, and Zimbabwe, with just small deposits in the U.S., China and Canada.
Russia produced about 3.9 million ounces of palladium last year, easily beating out the 2.95 million ounces produced by South Africa. North America supplied 985,000 ounces and Zimbabwe produced 142,000 ounces.
I've already shown you how much of an impact Russia can have on palladium prices. So it's important that you understand that despite the fact that it was the world's biggest palladium exporter last year, Russia's shipments were 33% below their 1998 peak.
There are a bunch of junior miners scrambling to fill the gap, and many of them could do quite well for themselves (and investors!). However, it takes time to get a mine up and running. And that lag could be palladium's chance to soar to higher price levels.
Especially because …
Palladium Demand Could Rise for Many Reasons
Palladium demand is expected to rise 6.5% this year, according to precious metals consultant CPM Group.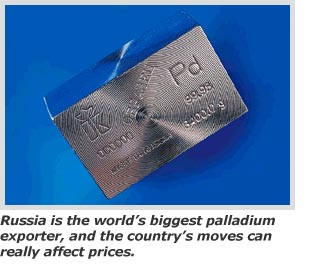 Driving those sales is soaring use of palladium in automotive exhaust systems (catalytic converters). Over the past five years, car manufacturers increased their use of palladium in car exhaust systems by 32%. Last year alone, use of palladium in catalytic converters surged to 4.02 million ounces from 3.87 million ounces in 2005.
For a long time, platinum was really the only metal used for catalytic converters in diesel engines. But that technological barrier has now been hurdled, with palladium being partially substituted for platinum in diesel applications. Remember, diesels get much better fuel efficiency (up to 40% more) than gasoline engines. So given the rising price of gas, diesel is getting very popular.
With platinum prices also rising, palladium use in all car exhaust systems could really take off. I don't think that's been priced into the current palladium prices.
Plus, as much as palladium is used in cars now, it could be used even more down the road. Reason: More and more cars will be powered by fuel cells.
Fuel cells produce energy efficiently without directly adding to greenhouse gases in the atmosphere. Their external source of fuel can also be quickly replaced in comparison to batteries, which require time to recharge.
Up until recently, platinum was the metal of choice for fuel cells. However, scientists at the University of Texas have had success using cheaper palladium alloy that matches platinum for its ability to produce electricity.
The most important advantage of palladium in fuel cell technology would be cost savings. Right now, platinum is three and a half times more expensive than palladium. That means palladium fuel cells could help solve America's dependence on foreign oil, be good for the environment and cut costs.
And the automotive industry is just one source of palladium demand.
For example, palladium has also been used in limited amounts of jewelry for years. What's more, we're starting to see a real surge in palladium jewelry. North American jewelers doubled their use of the metal last year to 40,000 ounces. One reason: Palladium wedding bands are becoming popular with price-conscious brides and grooms.
Where Could Palladium Prices Go?
Some experts are saying palladium could hit $500 an ounce by the end of the year. As I mentioned earlier, a similar rally in gold would take it to $900 per ounce. So I think palladium is packed with potential.
There are risks to this rosy forecast, of course. Russia is sitting on a stockpile of palladium — probably between 5 million and 10 million ounces. Swiss banks hold another stockpile of six million to eight million ounces (which might also be controlled by the Russians).
If the Russians start to sell their stockpiles, that could take the air out of palladium's balloon. However, higher prices only benefit Russia, so I don't think Moscow will want to stand in the way of a serious palladium rally.
The technical picture also looks decidedly bullish. Just look at this chart and you'll see that palladium looks ready to break out now …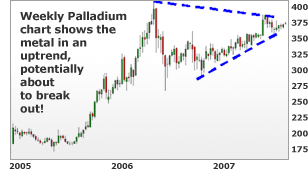 How to Play a Possible Price Rise in Palladium
Unfortunately, U.S. investors don't have a lot of choices when it comes to palladium investments.
Although there is a Swiss palladium ETF (the ZKB Palladium ETF, which trades in Zurich) … no such investment vehicle exists in the States yet. Could there be one down the road? I think so — and that would be another force driving palladium prices higher.
In the meantime, you could always take a look at Stillwater Mining (SWC). The company produces palladium and platinum from two underground mines in Montana. It's undergoing a restructuring and reported a loss in the first quarter, but the firm is increasing its reserves and the shares trade at just two times book value. That's pretty cheap, especially when you consider the potential going forward for palladium.
Fund buyers take note — Stillwater is one of the components of the SPDR S&P Metals and Mining ETF (XME). And I like that ETF anyway because it gives you exposure to everything from gold to aluminum to coal.
Yours for trading profits,
By Sean Brodrick
P.S. If you want to get that special Japanese flash alert … join Asia Stock Alert now!
This investment news is brought to you by Money and Markets . Money and Markets is a free daily investment newsletter from Martin D. Weiss and Weiss Research analysts offering the latest investing news and financial insights for the stock market, including tips and advice on investing in gold, energy and oil. Dr. Weiss is a leader in the fields of investing, interest rates, financial safety and economic forecasting. To view archives or subscribe, visit http://www.moneyandmarkets.com .
© 2005-2019 http://www.MarketOracle.co.uk - The Market Oracle is a FREE Daily Financial Markets Analysis & Forecasting online publication.

Only logged in users are allowed to post comments.
Register/ Log in