Four Reasons Why UK House Prices Will Keep Falling
Housing-Market
/
UK Housing
Sep 09, 2009 - 06:23 AM GMT


Yesterday saw another sign that Britain's housing market is bottoming out. Or so you'd have thought from some of the media coverage.
But on a closer look, the latest residential lettings survey from the Royal Institution of Chartered Surveyors (RICS) wasn't really that upbeat at all. And it certainly hasn't changed our view that house prices in the UK still have some way to fall.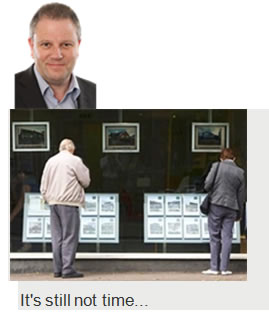 But for the US, it might be a different story…
UK house prices aren't in recovery
The way most pundits talk about Britain's property market, you could be forgiven for thinking that the drop in house prices over the past two years was a mere blip, and that there's nothing much to worry about for the foreseeable future.
Take yesterday's RICS survey. "Letting survey sign of recovery" was the way one headline reported it. That sounds good.
But not when you look at the actual figures. In fact, the supply of rental properties hitting the market was still rising during the three months through July. It was just doing so at a slower pace than in the previous three months, mainly because "accidental landlords" – owner-occupiers who'd moved house but chosen to let rather than sell their old property – are now planning to sell up instead.
In other words, tenants still have an increasing choice of properties, and remain in a "relatively strong" position compared with two years ago, says Simon Rubenstein of RICS. Rents might be falling at a slower pace then they were, but that's hardly a recovery, particularly with more houses threatening to come onto the market.
Expect UK home values to fall again soon
Meanwhile, there are several reasons to expect UK house prices to turning down again soon.
Firstly, with the benchmark base rate at a record low 0.5%, the next move in interest rates is bound to be up. It might not happen for some time, but when it does, the borrowers who've been surviving on the back of low loan rates will run into trouble again.
Add in more job losses, which are likely to rise even if the economy is technically emerging from recession, and another increase in repossessions and forced selling is on the cards. That will add more supply to the market - and help to push prices down again.
Further, although there's been a big brouhaha about the latest HSBC 1.99% home loan offer, don't expect many other lenders to follow suit. A lot of lending power has now left the market for good. Almost £300bn of UK mortgage debt was securitised, i.e. packaged up and sold off from bank balance sheets onto the bond markets, between 2005 and 2007.
Special FREE report from MoneyWeek magazine: When will house prices bottom out - and how will you know?
Why UK property prices are going to fall 50%
When it will be time to get back in and buy up half price property
"That represents more than 90% of the growth in mortgage debt over that period", says CreditSights. And "the world isn't exactly clamouring for British securitised mortgages anymore, and won't be for a long time", says Matthew Lynn on Bloomberg. "With less money coming into the market, there won't be the same kind of demand for houses".
Yet a Rightmove survey at the end of August gave the "encouraging" signal that 78% of respondents reckoned UK house prices won't fall any further this year. And also that "the UK property industry is now seeing a virtuous circle of confidence building upon confidence".
Why's this another worry? Well, as Fidelity's Anthony Bolton explained in the weekend's FT about the stock market, "if everyone is positioned for the market to rise, it means these bullish expectations are already discounted" – i.e. factored into the price. As a result, "the market often moves to make the majority wrong and does the unexpected… so at turning points especially, the correct is the minority view".
And while there are plenty of differences between shares and houses, the principles of crowd behaviour are the same for every asset class. When almost everyone is bullish, get ready for a price fall. The near-8.5% bounce in property prices within the last six months (using Nationwide's figures at least) now looks ripe for a reversal.
Have US property prices hit the bottom?
In a nutshell, we're not keen on buying houses in Britain right now. But what about in the US? That's not quite so cut and dried. There are many reasons to be negative – lots of supply, as we pointed out in Money Morning recently (Don't believe the bulls - US house prices will take years to recover), high and rising unemployment, and an underlying economy that isn't too healthy. But compared to British property, US home prices don't look overvalued.
That's when prices can start looking interesting. Over the long-term, values tend to revert to the mean level. So as long as you're patient, if you buy something when it's historically cheap, you're likely to make money. If you buy something when it's historically expensive, you have to believe you're much smarter than everyone else, and can somehow get out before the market tops out. You might be able to do it, but it's a much more stressful form of investing.
Right now, I'd prefer to keep my money in more liquid investments than houses. But if you've been eager to snap up that second home in Florida, or are just looking at international property investment opportunities, you won't want to miss our cover story in this Friday's issue. Respected US expert Dr Steve Sjuggerud and our own James Ferguson go head-to-head in making their cases for, and against, investing in US property.
By David Stevenson for Money Morning , the free daily investment email from MoneyWeek magazine .
© 2009 Copyright Money Week - All Rights Reserved
Disclaimer: The above is a matter of opinion provided for general information purposes only and is not intended as investment advice. Information and analysis above are derived from sources and utilising methods believed to be reliable, but we cannot accept responsibility for any losses you may incur as a result of this analysis. Individuals should consult with their personal financial advisors.
© 2005-2019 http://www.MarketOracle.co.uk - The Market Oracle is a FREE Daily Financial Markets Analysis & Forecasting online publication.

Only logged in users are allowed to post comments.
Register/ Log in