The Real Threat of Government Gold Confiscation
Commodities
/
Gold & Silver 2009
Sep 12, 2009 - 06:36 AM GMT

As the fifth part of this series we now look at this question: "How will Gold Confiscation affect the citizens of other countries, in the event their Central Bank takes their gold?"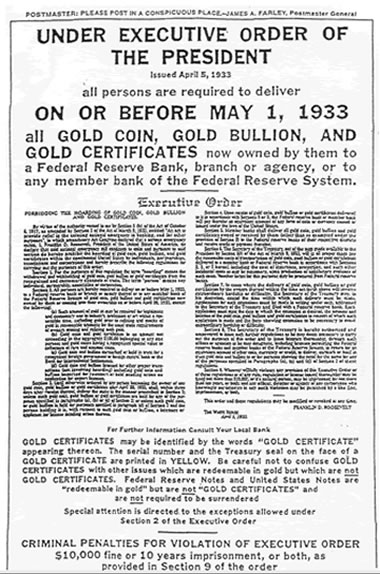 Does the U.S. have rights in other countries, over their [U.S.] citizen's wealth?
The latest story to hit the headlines in this regard is the matter of U.B.S. I'm sure all of you have read the details there, so I won't describe the entire story. The pertinent point is that the U.S. Taxman asked for confirmation of the names of 52,000 account holders and has received 4,500 only. Why?
The Swiss government relies on its banking services for a considerable percentage of the nation's income. For three hundred years they have provided a home for foreign owned assets and monies. The have, still firmly in place, Bank Secrecy Laws that ensure that nobody can expose account holders at banks unless they have evidence of criminal activity on the part of account holders. They have stated clearly in the past that Tax Evasion is not considered a crime. Illegal exports of wealth that involve a crime [such as diamond smuggling] would lead to the Swiss authorities turning over an account holder's name. So, 4,500 out of 52,000, implies that criminal activities were allegedly perpetrated by these account holders and 47,500 were not associated with crimes. This despite the U.S. Taxman's objections to U.S. owned money being held in Swiss banks without disclosure to the U.S. Taxman. Bear in mind that this is continuing!
Will the U.S. Taxman have any chance of exposing the 47,500 account holders? The agreement made between the Swiss and U.S. Authorities clearly tells us NO! This defines for us, the extent of "financial sovereignty". Without Swiss government support, the U.S. Taxman cannot overrule Swiss Banking Secrecy Laws. All that is left to the U.S. Taxman is prosecute suspicions at home and attack locally [U.S.] owned assets by U.S. citizens, but then he needs proof positive to be able to do so. This does not appear to be available in the case of 47,500 secret Swiss Bank Accounts. So the solid conclusion we can draw is that Jurisdiction rules!
Having said that, please know that gold holding companies [At home and abroad], which have U.S.-owned gold, have agreed to disclose account holders to the U.S. Authorities and will not go against the U.S. Authorities. So generally now, Swiss Banks will not entertain new U.S. account holders. For instance, Julius Baer holds gold in its physical fund only for non-U.S. citizens. So just holding gold overseas is clearly not enough!
[We are working on a solution to this problem right now!]
For citizens of other countries.
Citizens in other lands face the same governmental claims on their income and capital. The main difference is that, should you leave that country to live elsewhere, your local taxman considers only the income and capital you leave at home to be under his Jurisdiction. So long as you reside in that country [usually for more than 3 years] your worldwide wealth is under his Jurisdiction.
There have been attempts by governments to force the repatriation of foreign assets, but this has often pushed citizens to leave the country and abandon their home nationality. The developed world has, in the past, exerted a more efficient grip on its citizen's wealth, but all nations do their best not to be too draconian, except in the dark days of extreme money conditions. When these have persisted, they have gone to any lengths to control citizen's wealth, even to the extent of taking ownership control of assets left behind by departing residents. i.e. You have to ask their permission to use your own money even at home, while you live elsewhere.
Don't think for a moment that such moves cannot happen again. To remove the possibility of the seizure of gold, the world must be a far different place to the one we see now. There will have to be complete governmental and citizens acceptance that global interests override national ones. Likely? If you see this, you will likely see a squadron of pigs circling the White House at the same time.
That is why the gold Exchange Traded Fund, The Ultimate Gold Fund has been designed to accommodate U.S. gold owners, holding their gold in Switzerland, in a manner that is intended to prevent their gold from being confiscated!
The Final Part will be next week : -
Make sure you follow this series and other fundamental gold matters in the: -
Gold Forecaster regularly covers all fundamental and Technical aspects of the gold price in the weekly newsletter. To subscribe, please visit www.GoldForecaster.com

By Julian D. W. Phillips
Gold-Authentic Money
Copyright 2009 Authentic Money. All Rights Reserved.
Julian Phillips - was receiving his qualifications to join the London Stock Exchange. He was already deeply immersed in the currency turmoil engulfing world in 1970 and the Institutional Gold Markets, and writing for magazines such as "Accountancy" and the "International Currency Review" He still writes for the ICR.
What is Gold-Authentic Money all about ? Our business is GOLD! Whether it be trends, charts, reports or other factors that have bearing on the price of gold, our aim is to enable you to understand and profit from the Gold Market.
Disclaimer - This document is not and should not be construed as an offer to sell or the solicitation of an offer to purchase or subscribe for any investment. Gold-Authentic Money / Julian D. W. Phillips, have based this document on information obtained from sources it believes to be reliable but which it has not independently verified; Gold-Authentic Money / Julian D. W. Phillips make no guarantee, representation or warranty and accepts no responsibility or liability as to its accuracy or completeness. Expressions of opinion are those of Gold-Authentic Money / Julian D. W. Phillips only and are subject to change without notice.
© 2005-2019 http://www.MarketOracle.co.uk - The Market Oracle is a FREE Daily Financial Markets Analysis & Forecasting online publication.

Only logged in users are allowed to post comments.
Register/ Log in