Gold Major and Junior Stocks Update
Commodities
/
Gold & Silver Stocks
Dec 04, 2009 - 09:50 AM GMT


With the Gold market hitting the point of recognition, and Silver soon to follow, investors should now spend their energy focusing on the companies. In fact, that is why we started a newsletter dedicated to tracking as many of the companies and as frequently as possible. This weeks issue, updated nearly 55 gold and silver stocks. The majority of those stocks look like they can gain a bit more before they run into resistance.
Looking at the gold stocks by themselves is not a good way to judge their true value. In order to value a market or asset in a world with 0% interest rates and rampant inflationary policy, one must compare it with other asset classes and markets. The gold stocks as evidenced by the GDM, XAU and HUI indices are closing in on their 2008 highs. Does that mean they are expensive?
In our opinion, the gold stocks won't truly be expensive until they are hitting repeated all time highs against other stock groups. Below we compare the GDM index of gold stocks to commodity stocks, emerging markets, world stocks and the Nasdaq. As you can see, the gold stocks aren't even close to 15-20 year highs when valued against these various stock groups.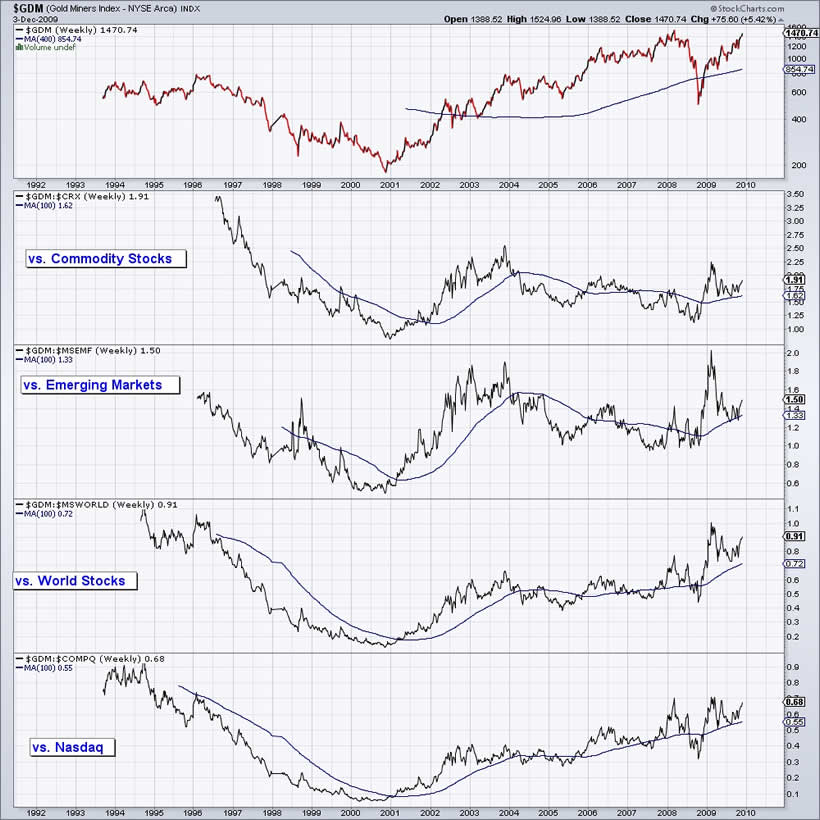 Why is this important? Look at these ratios carefully. They tell us that money is only starting to flow from common stocks to gold stocks. When gold stocks have been hitting major highs against these stock groups, for more than a year, then we will know that a bubble is in the early stages.
Next we show our proprietary junior gold index divided against Gold. The JRGold/Gold ratio fell about 71%. The ratio has only recovered 40% of that loss. Keep in mind our various Gold ratio charts in updates past. Those charts have indicated improving margins for gold companies. In other words, while the seniors and intermediates are capturing some leverage, the juniors have only captured a fraction of it.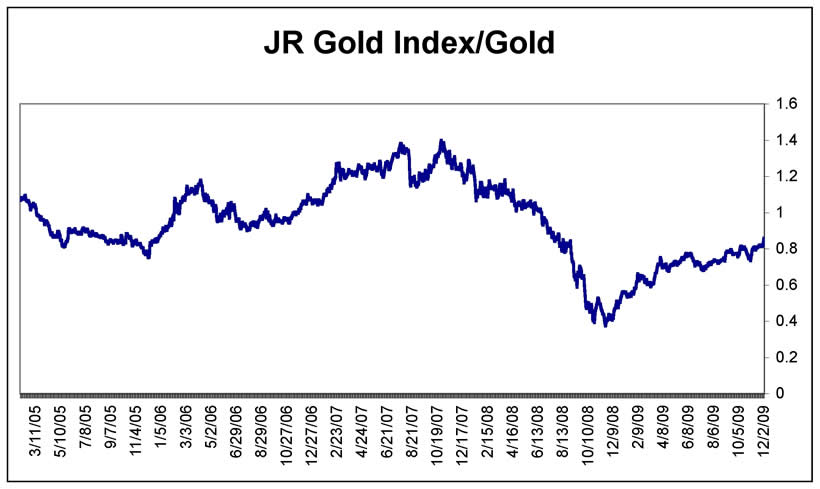 This is the most interesting chart. One can see that the HUI index has outperformed our JR index since 2004. However, that looks to be coming to an end. Look for the junior golds to strongly outperform the unhedged larger gold stocks.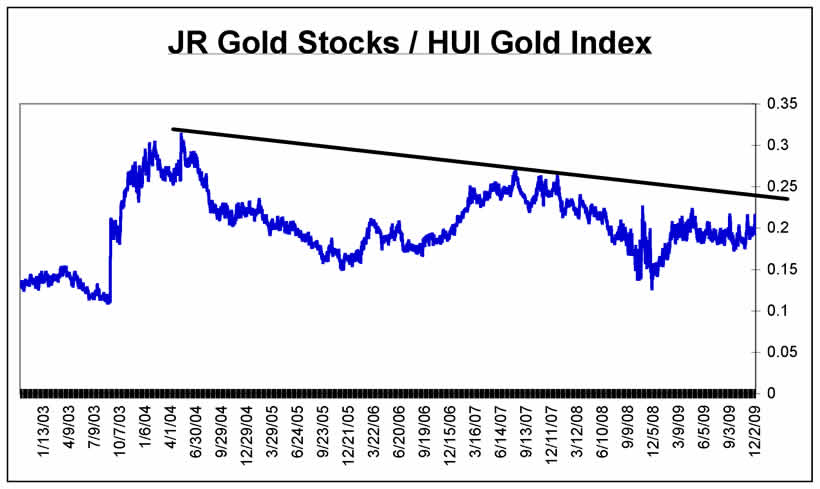 The shape of our Junior Gold index looks very similar to the HUI. In particular, we are referring to the 2008 crash and 2009 recovery. The index is about 12% from the 2007-2008 highs. The index is composed of 20 stocks, most of which have a market cap from $200-$500 million.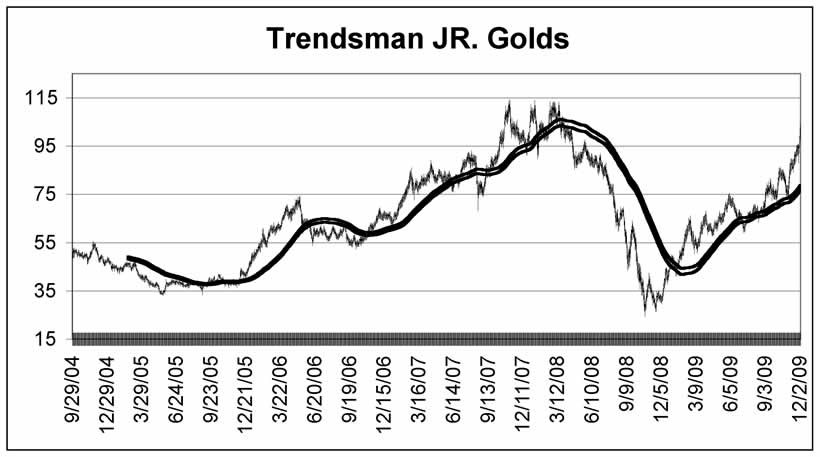 On November 19, we added one stock from the index to our recommended list (which includes silver stocks). The company has ample cash, and the potential for two producing mines in the next 18-24 months. At the time, it was trading at near $20/oz of gold in the ground. We wrote: "At present, we like the valuation and we like the technicals. With $1000 a floor for Gold, its only a matter of time before stocks like these catch a bid." Since then, the stock rose as high as 60%. It is currently up 36%. Most important, we highlighted the stock when risk was low.
Good Luck and Good Trading!
For more information on our Gold/Silver stock newsletter and examples of accurate real time sentiment analysis, please visit: http://www.trendsman.com/Newsletter/GSletter.htm
Jordan Roy-Byrne, CMT
http://www.trendsman.com
http://www.thedailygold.com
trendsmanresearch@gmail.com
Trendsman" is an affiliate member of the Market Technicians Association (MTA) and is enrolled in their CMT Program, which certifies professionals in the field of technical analysis. He will be taking the final exam in Spring 07. Trendsman focuses on technical analysis but analyzes fundamentals and investor psychology in tandem with the charts. He credits his success to an immense love of the markets and an insatiable thirst for knowledge and profits.
© 2005-2019 http://www.MarketOracle.co.uk - The Market Oracle is a FREE Daily Financial Markets Analysis & Forecasting online publication.

Only logged in users are allowed to post comments.
Register/ Log in