The Hypocrisy of Imperialism, Charlie Don't Surf
Politics
/
US Politics
Feb 10, 2010 - 06:46 AM GMT


"I've seen horrors... horrors that you've seen. But you have no right to call me a murderer. You have a right to kill me. You have a right to do that... but you have no right to judge me. It's impossible for words to describe what is necessary to those who do not know what horror means. Horror... Horror has a face... and you must make a friend of horror. Horror and moral terror are your friends. If they are not, then they are enemies to be feared. They are truly enemies! I remember when I was with Special Forces... seems a thousand centuries ago. We went into a camp to inoculate some children.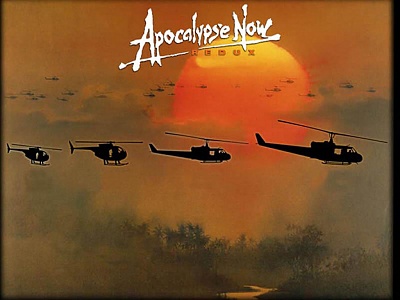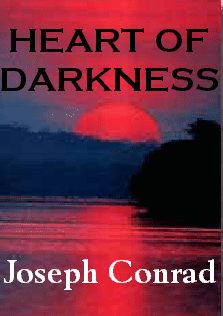 We left the camp after we had inoculated the children for polio, and this old man came running after us and he was crying. He couldn't see. We went back there, and they had come and hacked off every inoculated arm. There they were in a pile. A pile of little arms. And I remember... I... I... I cried, I wept like some grandmother. I wanted to tear my teeth out; I didn't know what I wanted to do! And I want to remember it. I never want to forget it... I never want to forget. And then I realized... like I was shot... like I was shot with a diamond... a diamond bullet right through my forehead. And I thought, my God... the genius of that! The genius! The will to do that! Perfect, genuine, complete, crystalline, pure. And then I realized they were stronger than we, because they could stand that these were not monsters, these were men... trained cadres. These men who fought with their hearts, who had families, who had children, who were filled with love... but they had the strength... the strength... to do that. If I had ten divisions of those men, our troubles here would be over very quickly. You have to have men who are moral... and at the same time who are able to utilize their primordial instincts to kill without feeling... without passion... without judgment... without judgment! Because it's judgment that defeats us." - Marlon Brando portraying Colonel Walter E. Kurtz in Apocalypse Now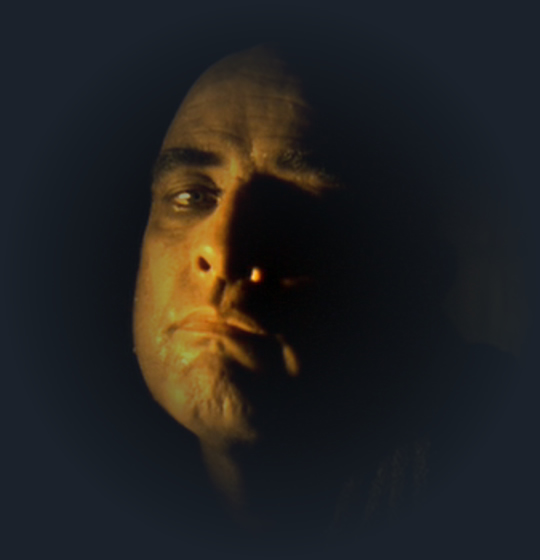 Colonel Kurtz was once considered a model officer, on track to become a general. The military brass concluded that Kurtz had gone insane. He had gone rogue. He commanded his own troops of natives deep in the jungles of Cambodia. They worshipped him like a god. The military brass dispatch Captain Benjamin Willard to terminate Kurtz' command, with extreme prejudice. Kurtz was a symbol of American imperialism. American leaders decided the way to stop communism was to dispatch 553,000 American men to a godforsaken hell on earth in order to spread democracy. This pointless effort cost American families over 58,000 dead boys and another 150,000 wounded. Kurtz was right. The North Vietnamese lost 1.2 million dead and 600,000 wounded, but their willingness to do anything to drive out the imperialist invader led to ultimate victory. Colonel Kurtz understood that severe brutality and lack of moral qualms is the only way to confront an enemy defending its homeland. Reason, humanity, and morality would insure defeat.
Francis Ford Coppola's epic Vietnam War film Apocalypse Now is a parable of imperialism, evil, madness and human darkness. Coppola's script was based upon Joseph Conrad's 1899 novella Heart of Darkness. The book and the movie follow a world weary, skeptical, cynical character in his search for the truth about Kurtz, an evil genius. A long slow boat ride through dangerous dark jungles represents a path from civilization to madness. The book explores European colonial imperialism in the Congo, while the movie explores U.S. interventionist imperialism in Vietnam. The themes of hypocrisy, imperialism, evil, and human madness were pertinent in the 1800s, the 1960s, and today. In the book, the main characters work for a Belgian trading company who conquer the "savages" of Africa to "harvest" ivory and rubber for sale in "civilized" Europe. Native laborers who failed to meet rubber collection quotas were often punished by having their hands cut off by their Belgian saviors. In the movie, the main characters work for the U.S. military, who conquer the "savages" of Vietnam to "save" them from communism and "civilize" the jungles by napalming them. Today, the neo-cons who have captured the foreign policy of the U.S. are conquering the "savages" of the Middle East in order to secure oil while making their countries "safe" for democracy. The book is considered a masterpiece. The movie is considered a near masterpiece. The lessons from both are applicable today.
The Hypocrisy of Imperialism
"The belief in a supernatural source of evil is not necessary; men alone are quite capable of every wickedness." – Joseph Conrad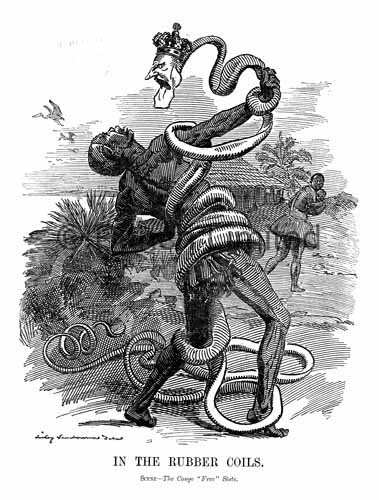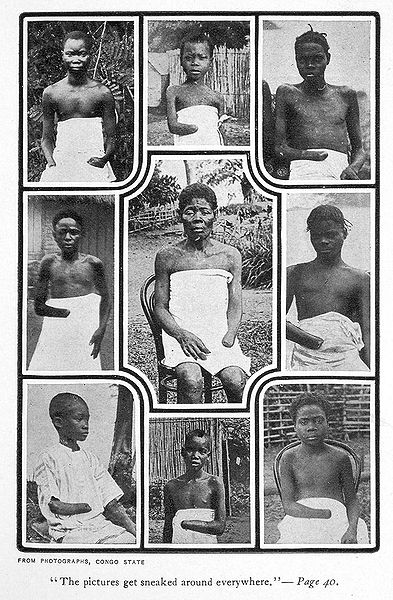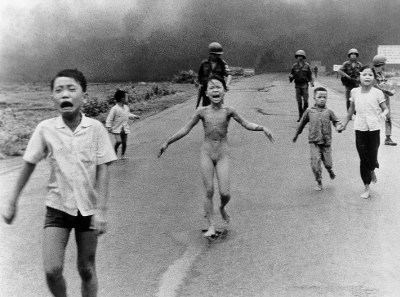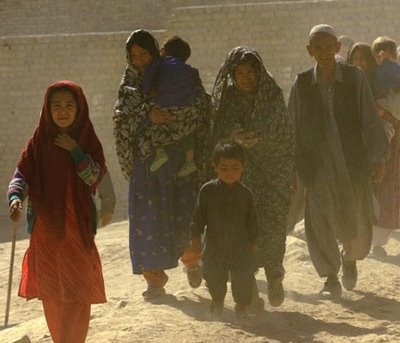 "In fourteen years Leopold has deliberately destroyed more lives than have suffered death on all the battlefields of this planet for the past thousand years. In this vast statement I am well within the mark, several millions of lives with the mark. It is curious that the most advanced and most enlightened century of all the centuries the sun has looked upon should have the ghastly distinction of having produced this moldy and peity-mouthing hypocrite, this bloody monster whose mate is not findable in human history anywhere, and whose personality will surely shame hell itself when he arrives there--which will be soon, let us hope and trust." – Mark Twain
" Let every nation know, whether it wishes us well or ill, that we shall pay any price, bear any burden, meet any hardship, support any friend, oppose any foe, in order to assure the survival and the success of liberty." – John F. Kennedy
"It is an enduring American principle that this duty obligates the government to anticipate and counter threats, using all elements of national power, before the threats can do grave damage. To forestall or prevent such hostile acts by our adversaries, the United States will, if necessary, act preemptively in exercising our inherent right of self-defense." – George W. Bush
The rhetoric used in the 1800s to justify imperialism was inherently racist. In Conrad's novel, the men who work for the Company describe what they do as "trade," and their treatment of native Africans is part of a benevolent project of "civilization". The hypocrisy of the "civilized" Europeans is clear from their acts of torture, cruelty, and near-slavery inflicted upon the natives in the name of enlightening them. Heart of Darkness opens with Marlow on a boat on the Thames River in London as the day turns from dusk to darkness, telling the story of his adventure up the Congo River in search of the mysterious Kurtz. He begins by comparing how the Roman Empire must have treated the uncivilized British savages in ancient times exactly like the Belgians were treating the uncivilized African savages in the Congo. Imperialistic extension of power by emperors, kings, presidents, and generals has been a policy extending across centuries. As he winds his way up the Congo River on his steamship, Marlow witnesses native inhabitants of the territory being compelled into the Company's service, and they experience unbearable ill treatment at the hands of the Company's agents. The cruelty and squalor of imperial enterprise contrasts harshly with the impassive and magnificent jungle that engulfs the white man's colonies, making them appear to be small islands amid an immense darkness.
King Leopold II of Belgium systematically raped and pillaged the Congo, stealing their rubber and ivory in the late 1800s. In 1891, Leopold issued a decree giving him absolute power over the rubber and ivory trade. The decree imposed a tax on Leopold's Congo subjects requiring local chiefs to supply men to gather rubber. It obliged inhabitants to supply these products without compensation. The genocide scholar Adam Jones comments that "the result was one of the most brutal and all-encompassing corveé institutions the world has known...Male rubber tappers and porters were mercilessly exploited and driven to death." Leopold's agents held the wives and children of these men hostage until they returned with their rubber quota. Those who refused or failed to supply enough rubber had their villages burned down, children murdered, and hands cut off. Conrad notes the hypocrisy of this brutality by portraying the Company men describing their task as benevolence towards the natives. In truth, the Africans were just objects to be used by Europeans in their quest for booty. The novel essentially dehumanizes a whole race, treating them as less significant than the white man
Francis Ford Coppola captured the essence of Conrad's novel and also encapsulated the spirit of the country in 1979. The movie was filmed at the very end of the 2nd Turning Awakening period as the enthusiasm of the 1960s had waned and had left the old cultural regime fully discredited, internal enemies identified, comity shattered, and institutions delegitimized. The Vietnam War was being reassessed with a dose of brutal realism as other anti-war films like The Deer Hunter and Coming Home were released in 1978. The movie opens with Captain Willard (the Marlow character) being dispatched by the Army brass up the Nung River to find Colonel Kurtz and terminate his command. The American military had dispatched over 500,000 young men into the jungles of Vietnam and Cambodia in their game of communist containment with the Soviet Union and Communist China. Making the world safe for Democracy was the cause employed to rationalize slaughtering millions of inhabitants in Southeast Asia. The war to liberate Southeast Asia from communism resulted in the deaths of 3.5 million Vietnamese, 2 million Laotians & Cambodians, and 58,000 Americans. Rather than raping and pillaging the lands for its resources, the American military napalmed its jungles, carpet bombed its cities, defoliated the jungles with 20 million gallons of herbicides (including Agent Orange) and slaughtered women and children (My Lai Massacre). It was easy to rationalize these acts when referring to the inhabitants as gooks, dinks, tunnel rats, and Uncle Ben's boys. Racism makes it easy to treat human beings as objects and dehumanize your acts of horror. Coppola's movie addresses the absurdity of the war by highlighting that ordinary everyday life of the United States, symbolized by the picnic settings in a war zone and surfing in the midst of a battle, is incongruous with the atrocities that the war creates.
The current imperialistic ventures of the U.S. Empire are centered in the Middle East. The rationale for the current occupation of Iraq and Afghanistan, used to sell the American public, is the war on terror. We are making the Middle East safe for Democracy, just like Vietnam. The accurate nature of the conflict revolves around oil, the lifeblood of American suburban sprawl culture. The truth is that the imperial rulers of the empire have ignored America's imminent energy crisis for decades and must now secure the precious barrels of lifeblood from the Middle East. While "liberating" the Iraqi people with cruise missiles, tanks, and B1 bombers they have managed to kill at least 250,000 Iraqi natives in their own country. The neo-cons who launched this war of choice view dead Iraqi women and children as collateral damage in their imperial quest to secure their black gold. This is easy to do when you treat those you are liberating in a racist manner. When you refer to people as dirty Arabs, box-cutters, terrorists and sand niggers, it is effortless to dehumanize them. The hypocrisy of spreading democracy by invading a sovereign country under false pretenses seems to not bother a vast swath of the American public.
The Kurtz character in both the novel and the movie goes "mad" according to those in command. The idea of company man turned savage, of a brilliant and successful team-player, being groomed by "the Company" or "the U.S. Army Special Forces" for greater things, suddenly gone native, match exactly. Kurtz' madness is only relative, that in the context of the Company insanity is difficult to define. As Marlow and Willard meandered their way up river it became apparent that madness reined across Africa and Vietnam. Nothing makes sense. Right and wrong are bathed in shades of gray. Kurtz had gone farther than the Company or U.S. Military was willing to venture. He had gone past the grayness into darkness. Madness, in Heart of Darkness, is the result of being removed from one's social context and allowed to be the sole arbiter of one's own actions. Madness is thus linked not only to absolute power and a kind of moral genius but to man's fundamental fallibility: Kurtz has no authority to whom he answers but himself, and this is more than any one man can bear. Apocalypse Now shows that absolute corruption is partnered with absolute power. Coppola portrayed the American army as the force with absolute power with its subsequent corruption. This is in parallel with Conrad's Company and Kurtz, who both control less powerful people. The slaughter of natives on a massive scale in the name of acquiring ivory or stopping the spread of communism is pure madness. Kurtz was too successful in his slaughter efforts, therefore he was "mad".
We train young men to drop fire on people, but their commanders won't allow them to write "*****" on their airplanes because it's obscene! – Colonel Kurtz
The U.S. imperial policy, in effect since 9/11, has created Kurtz's across the globe. Absolute power leads to acts of madness because there are no social mores to restrict the behavior of normally law abiding citizens. There is potential madness within everyone. In the wrong circumstances human fallibility can lead to unthinkable atrocities. The German people were cultured, educated and law abiding as the 1930s dawned. By 1945, they had started a World War leading to 65 million deaths and systematically exterminated 6 million Jews. Absolute power led to madness on the part of an entire population. Examples of absolute power leading to the mistreatment, torture, and murder of local inhabitants by Americans in the last nine years are numerous. American soldiers at Abu Ghraib prison in Iraq committed unspeakable acts against Iraqi prisoners. The photos are despicable and inhuman. The U.S. Military had absolute power over prisoners at Guantanamo Bay. In the name of protecting America, these soldiers have been given free rein to water-board, commit other acts of torture and brutality, and even murder all in the name of democracy. Our CIA has been given complete authority to use predator drone missiles against anyone they suspect is a terrorist in Afghanistan. If a few women and children are killed, they are just "sand niggers", so no major concern. That is pure madness. We've unleashed Kurtz's all across the Middle East.
The Absurdity of Evil
"When the white man turns tyrant it is his own freedom that he destroys." – George Orwell – Shooting an Elephant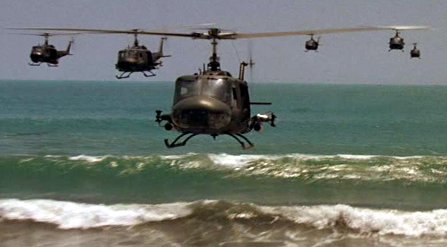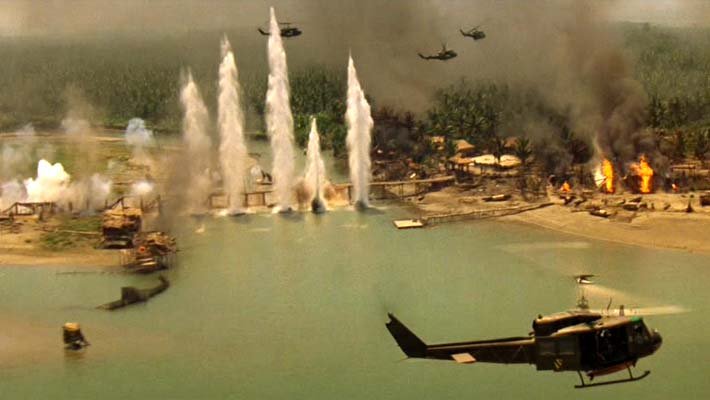 Kilgore: You can either surf, or you can fight!
Willard: Are you crazy, Goddammit? Don't you think it's a little risky for some R&R? Kilgore: If I say it's safe to surf this beach, Captain, then it's safe to surf this beach! I mean, I'm not afraid to surf this place, I'll surf this whole ***** place!
Kilgore: Charlie don't surf!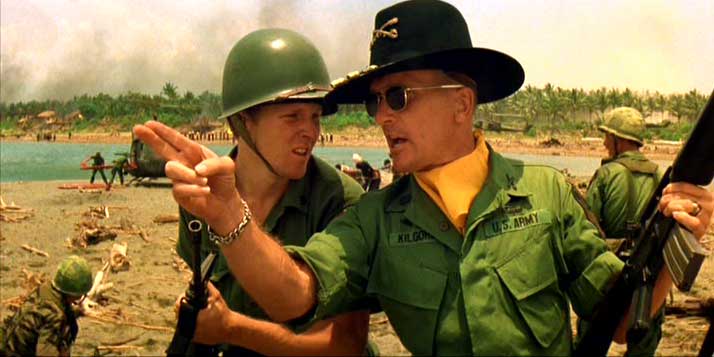 There is no scene in any movie more majestic and more absurd than the attack on a Viet Cong village at the mouth of the Nung River. Captain Willard and his crew rendezvous with the 1st Air Cavalry Division led by Lieutenant Colonel Bill Kilgore, played with panache by Robert Duvall. He is a strange twisted psycho. Kilgore refuses to transport them to the Nung River until he finds out that one of the crew members is a professional surfer and the waves at the mouth of the Nung River are perfect for surfing. Riding high above the coast in a fleet of Hueys accompanied by OH-6As, Kilgore launches his attack on the beach with Richard Wagner's Ride of the Valkyries blaring over loud speakers. Kilgore explains to Willard that, "we use Wagner. It scares the shit out of the slopes. My boys love it!"The surreal scene ends with the soldiers surfing the barely-secured beach amidst skirmishes between infantry and the Viet Cong. After helicopters swoop over the village and demolish all visible signs of resistance, a giant napalm strike in the nearby jungle dramatically marks the climax of the battle. The absurdity is that Kilgore is considered sane, while Willard is supposed to assassinate the insane Kurtz.
Kilgore: Smell that? You smell that? Lance: What? Kilgore: Napalm, son. Nothing else in the world smells like that. [kneels] Kilgore: I love the smell of napalm in the morning. You know, one time we had a hill bombed, for 12 hours. When it was all over, I walked up. We didn't find one of 'em, not one stinkin' dink body. The smell, you know that gasoline smell, the whole hill. Smelled like [sniffing, pondering] Kilgore: victory. Someday this war's gonna end... [suddenly walks off]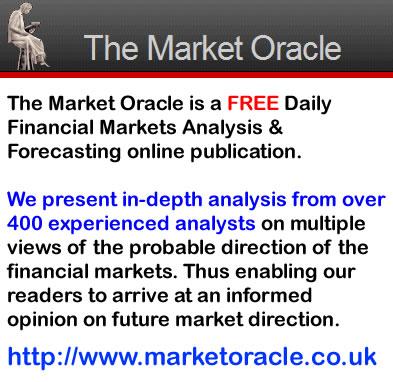 Conrad's novel and Coppola's movie are explorations of hypocrisy, ambiguity, and moral confusion. Right versus wrong; good versus evil; saving versus defeating; humanity versus savagery; white versus black or yellow; winning versus losing; all are blurred in a haze of mystification. Can insanity exist in a world that has already gone insane? Is Kurtz really insane or was he just put into an insane situation which brings out the darkness and evil that exists within every human heart? Marlow snakes his way up the Congo River slowly as the river flows against his progress. He starts his journey from the Outer Station, reaches the Central Station, and eventually reaches the Inner Station. The atmosphere gets darker, more confusing, and more absurd as he gets closer to Kurtz. Willard starts his mission in daylight. The lighting and mood darken as the boat navigates upstream and Willard's silent obsession with Kurtz deepens. The snaking passageway from lightness to darkness is a reflection of the dual nature of the human soul.
The madness, ludicrousness and senseless violence of the Vietnam War are all on display as the patrol boat proceeds up river. They are attacked by a tiger in the Jungle, witness a riot during a Playboy Bunny performance for the troops, and observe the chaos at Do Long bridge as leaderless panicked soldiers scramble to live another day. The moral ambiguity of the war is brought into clear view when the captain spots a sampan and orders an inspection over the objections of Willard. Initially reluctant to board the boat, Chef hostilely searches it and one of the civilians makes a sudden movement towards a barrel, prompting Clean to open fire, killing nearly all the crew. The one concerned about the barrel, a young woman, lies dying. Chef discovers that the barrel contained the woman's pet puppy. Phillips insists on taking the survivor to receive medical attention, however, Willard ends the debate by shooting the survivor, calmly stating "I told you not to stop."
American leaders have sent our military into harm's way in countries halfway around the world without a clear mission. The initial mission was to defeat the Taliban and capture or kill Osama bin Laden. Within weeks, the Taliban government had collapsed and bin Laden was trapped at Tora Bora. Inexplicably, the U.S. military allowed bin Laden to escape. Now, nine years later bin Laden is still making audio tapes, the Taliban is stronger than ever, and we can't distinguish the enemy from the good guys. The war has crossed the border into Pakistan. CIA officials are blown up by double agents. Corrupt officials and secret police can't be trusted. Afghanistan is a quagmire where America has wasted a quarter of a trillion dollars, 984 American lives, thousands wounded, and untold numbers of Afghans killed and misplaced. The mission now is to build a new democratic country, just like we tried in Vietnam.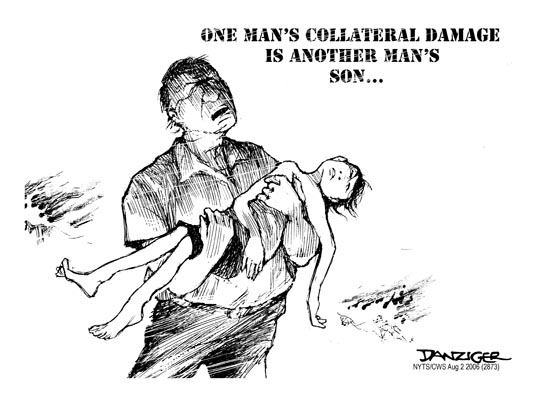 The absolute folly of American imperialism is perfectly reflected in the pre-emptive invasion of a sovereign country that posed no risk to our safety and security. Faulty and/ or fake intelligence regarding weapons of mass destruction was used as the basis to launch a pre-emptive attack on Iraq. President Bush and his neo-con advisors obscured the War on Terror, created false links to 9/11 and al Qaeda, declared the certainty of weapons of mass destruction, and promoted visions of mushroom clouds over U.S. cities to railroad the American public into a war of choice. The irrationality of this war is evident by the launching of 800 cruise missiles from ships at sea to destroy key infrastructure, power plants, and bridges in a public relations TV display of Shock & Awe geared for the 52 inch boob tube mesmerized American public. As President Bush declared Mission Accomplished after a month of combat operations the United States was left with the task of spending billions, borrowed from the Chinese, to rebuild the infrastructure and bridges that we had just destroyed. Meanwhile, bridges in the U.S. were collapsing with commuters being killed. The hypocrisy and madness of U.S. leadership is exasperating. After combat operations the American imperial ruler in Iraq Paul Bremer inexplicably disbanded the Iraqi military. These trained killers then joined the insurgency, killing thousands of American soldiers and innocent Iraqi citizens. The American "Surge", four years after the mission had been "accomplished", succeeded because the American military handed out wads of cash to the insurgent Sunnis who were killing American soldiers. The hypocrisy and irony of borrowing money from the Chinese to pay foreigners to not kill us in their country that we invaded under false pretenses, seems to have been lost on the neo-con hardliners like Dick Cheney.
Heart of Darkness
"I watched a snail crawl along the edge of a strait razor. That's my dream. It's my nightmare. Crawling, slithering along the edge of a strait razor... and surviving... But we must kill them. We must incinerate them. Pig after pig. Cow after cow. Village after village. Army after army. And they call me an assassin. What do you call it when the assassins accuse the assassin? They lie. They lie, and we have to be merciful for those who lie. Those nabobs. I hate them; I do hate them." – Colonel Kurtz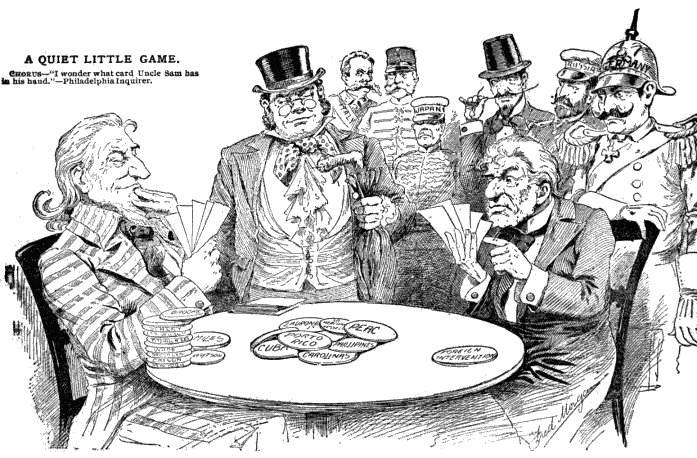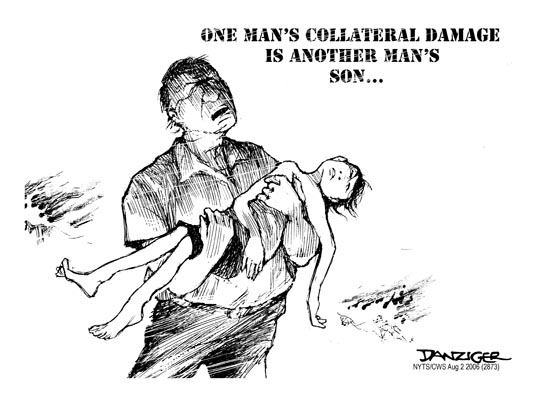 Imperialism, colonialism, and empire building have existed for as long as man could exert coercive influence upon weaker men. Humans are fallible, vain, ambitious, and have capacity for good and evil. Rulers throughout history have allowed hubris, wealth seeking, and resource acquisition to influence their actions towards other nations. Imperialism is inherently evil as a more powerful nation imposes its power over a frail people. The symbolism of rivers winding their way through Africa and Vietnam like a snake is tied to the biblical association with temptation and sin. On the river both Marlow and Willard come to the realization that Christian virtues preached by their societies are a farce as they witness the inhumane and corrupt treatment of the native inhabitants. Coppola's choice of title reflects the hypocrisy of the Christian belief that the Vietnam War was necessary to defeat the anti-Christian communists. "Apocalypse" refers to the expectation of an imminent cosmic cataclysm in which God destroys the ruling powers of evil and raises the righteous to life. The ruling powers of evil in the movie are the U.S. Military. Killing the natives in order to save them from communism is not Christian or moral behavior.
History is replete with examples of nations possessing a superiority of wealth and power exercising a policy of invasion to "aid" developing nations and their native inhabitants. The occupation of these countries is always framed in the context of civilizing the natives and bringing progress to a less developed society. But, absolute coercive power over another race always leads to atrocities, corruption and misery for the local populace. The Casement Report, issued in 1904, detailed the grim tales of killings, mutilation, kidnapping and cruel beatings of the native African population by soldiers of the Congo Administration of King Leopold II. This led to the arrest and punishment of officials who had been responsible for murders during a rubber-collection expedition in 1903, including one Belgian national who was given a five year sentence for causing the shooting of at least 122 Congolese natives. General Maxwell Taylor, one of the principal architects of the Vietnam War, noted "first, we didn't know ourselves. We thought that we were going into another Korean War, but this was a different country. Secondly, we didn't know our South Vietnamese allies... And we knew less about North Vietnam. Who was Ho Chi Minh? Nobody really knew. So, until we know the enemy and know our allies and know ourselves, we'd better keep out of this kind of dirty business. It's very dangerous."
The North Vietnamese and their tenacity as both nationalists and communists were formidable. Ho Chi Minh was quoted as saying, "You can kill ten of my men for every one I kill of yours…But even at these odds you will lose and I will win." Between 1965 and 1975, the United States spent $111 billion on the war ($686 billion in FY2008 dollars). More than 3 million Americans served in Vietnam. By war's end, 58,193 American soldiers were killed, more than 150,000 were wounded, and at least 21,000 were permanently disabled. Approximately 830,000 Vietnam veterans suffered symptoms of post-traumatic stress disorder. America's imperialist venture ended in failure, disillusionment, and millions of native casualties.
The paradigm of both societies that are in question is of the predominance of ordinary citizens to trust the government or greater power to do right by less dominant people. The self-righteousness that is associated with powerful governments and people is turned upside down in the novel and movie. Imperialism, defined by The Dictionary of Human Geography, is "the creation and maintenance of an unequal economic, cultural and territorial relationship, usually between states and often in the form of an empire, based on domination and subordination." The racist nature of imperialism is seen in J.A. Hobson's justification: "It is desirable that the earth should be peopled, governed, and developed, as far as possible, by the races which can do this work best, i.e. by the races of highest 'social efficiency'." The fact is that the European colonialists of the 19th Century saw Africans as an inferior race and that belief led to unspeakable brutality and dehumanization of an entire Continent. The Christian anti-communists in America saw the Vietnamese as a sub-human race of God-less savages. This opened the door to napalming villages, slaughtering women and children and carpet bombing their cities.
Today, the War on Terror is code for subjugating the Muslims of the Middle East. Americans view the natives occupying Iraq, Afghanistan, Pakistan, and Iran as no better than dirty uneducated street people who worship an evil god and hate our way of life. This view permits the use of overwhelming firepower against people living in huts and caves. When another human life is considered not as valuable as your own, it is easy to call the deaths of women and children – collateral damage. The United States "liberation" of Iraq has left 5 million orphans out of 12 million children under 18. The insanity of the civilized versus savages plot is when both Marlow's and Willard's boats are attacked by villagers with spears and arrows. The Chief is killed, but the overwhelming firepower is too much for the villagers. This same insanity can be seen in Iraq & Afghanistan as the natives use homemade explosives versus the U.S. military's vast array of high tech weapons that cost millions. The few thousand terrorists in the world have already won. On 9/11 the terrorists committed the greatest act of terror in history and murdered 3,000 innocent Americans. They killed .001% of the American population. They could not do permanent or long lasting damage to our country. We've done it for them. George Bush's imperialist response to an act of terror was to double the national debt, start two wars, sacrifice thousands of young Americans, killing hundreds of thousands of people in their own countries and taking away freedoms and liberties of US citizens.
Imperialism will always be framed by those in power as beneficial to those being "civilized". The most evil atrocities will be committed in the name of advancement. The human impact of imperialism is madness. The hubristic delusions of emperors, kings, generals and presidents ultimately put average men into morally ambiguous circumstances. Kurtz represents all men who have been commanded to commit crimes against humanity in the name of an organization or country. Every man has the capacity to hand themselves over to evil if put into a chaotic, dangerous, vague situation for a long period of time. Any man could degenerate into a Kurtz when moral and physical restraints are taken away, because when no one is watching, the darkness of the human heart can escape from its deepest recesses. The acts of barbarism committed in the Congo, Vietnam, Iraq, and Afghanistan by seemingly ordinary men were the result of madness. Some committed murder, others torture, but the majority internalized their inner ordeal resulting in post-traumatic stress disorder. When men know their mission is not morally legitimate, their souls become tormented. There is vagueness to our existence that we may never fathom – a real heart of darkness.
"All ambitions are lawful except those which climb upward on the miseries or credulities of mankind." – Joseph Conrad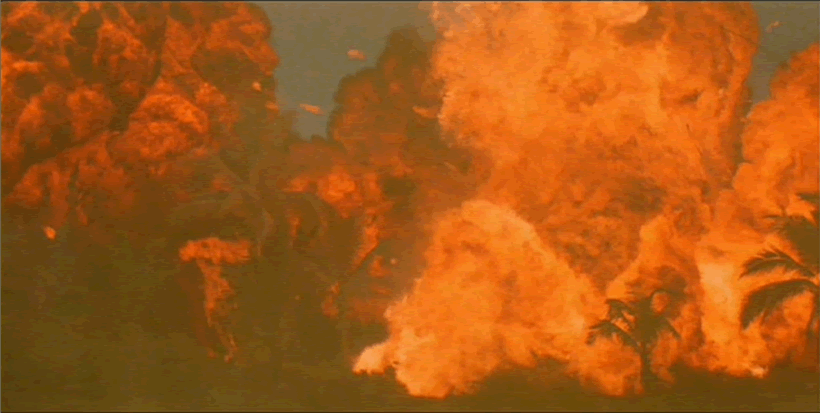 Kurtz's final words are a description of his own inner darkness, a darkness that exists within all men.
"The horror, the horror."
As long as imperialism is practiced by empire builders, men will be driven mad by these ambitions. Those who get pushed over the edge will pray for the end. It will be their only friend. Empires always collapse under the weight of their imperialistic ventures. The cost of imperial overreach and the moral descent into a heart of darkness ultimately mark the end of an empire. The American empire is on this path. The only question is whether it will end in a whimper or in a blaze of fire which brings the entire world to an end.
Kill, kill, kill, kill, kill, kill This is the end Beautiful friend This is the end My only friend, the end
It hurts to set you free But you'll never follow me The end of laughter and soft lies The end of nights we tried to die This is the end
The Doors – The End
Join me at www.TheBurningPlatform.com to discuss truth and the future of our country.
By James Quinn
James Quinn is a senior director of strategic planning for a major university. James has held financial positions with a retailer, homebuilder and university in his 22-year career. Those positions included treasurer, controller, and head of strategic planning. He is married with three boys and is writing these articles because he cares about their future. He earned a BS in accounting from Drexel University and an MBA from Villanova University. He is a certified public accountant and a certified cash manager.
These articles reflect the personal views of James Quinn. They do not necessarily represent the views of his employer, and are not sponsored or endorsed by his employer.
© 2010 Copyright James Quinn - All Rights Reserved
Disclaimer: The above is a matter of opinion provided for general information purposes only and is not intended as investment advice. Information and analysis above are derived from sources and utilising methods believed to be reliable, but we cannot accept responsibility for any losses you may incur as a result of this analysis. Individuals should consult with their personal financial advisors.
© 2005-2019 http://www.MarketOracle.co.uk - The Market Oracle is a FREE Daily Financial Markets Analysis & Forecasting online publication.
Comments
Anga2010
22 Feb 10, 12:25
Mission Accomplished


Just a slight error in your article, President Bush never declared "Mission Accomplished," rather what he actually said was "Our mission continues. Al-Qaida is wounded, not destroyed."




Only logged in users are allowed to post comments.
Register/ Log in