China Wins the Battle of the Brains
Politics
/
Social Issues
Feb 25, 2010 - 08:00 AM GMT


Quick, name the top American colleges. Most Americans would tick off names like Harvard, Stanford, M.I.T., Rice, Vassar, Duke, University of California at Berkley, and our fantastic military academies.
How about foreign colleges? Oxford, Cambridge, McGill, The Sorbonne, University of Tokyo, University of Copenhagen, University of Zurich, Hebrew University of Israel, and Peking University are considered some of the best in the world.
My apologies to graduates and faculty of other fine colleges that I left out, but there is one school that I doubt anybody — American or otherwise — would name: Shanghai Jiao Tong University in China.
Students from 103 of the world's top universities gathered last week in Harbin, China to compete in the Battle of the Brains, which is hosted by the Association for Computing Machinery (ACM-ICPC) and sponsored by IBM.
Teams of three students worked together with a single computer to tackle 11 real-world problems, such as creating software systems to do things such as breaking password codes. The contest was to solve as many problems as possible in five hours. The contest has been described as cramming a whole semester's work into one day.
Who won this year's Battle of the Brains? Yup, Shanghai Jiao Tong University.
Hey, this isn't any fluke, either. This is the third victory for a Chinese college following wins in 2002 and 2005.
The students at Shanghai Jiao Tong University are just the top of the computer nerd iceberg in China. I say that because China is creating world class computer nerds at an amazing pace and some of the top computer minds in the world live there.
Even the students at China's vocational schools (these are the kids that didn't get into China's top colleges) are amazing. Example: The students at Lanxiang Vocational School in Shandong Province have been identified as the source of the cyber attack on Google in order to steal software and hack into email accounts of suspected dissidents.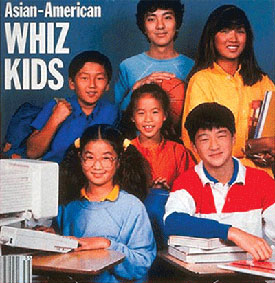 Chinese students are some of the most motivated in the world.
A bunch of VOCATIONAL SCHOOL students were able to penetrate the security of one of the world's most sophisticated technology giants. A VOCATIONAL SCHOOL!!!
All this academic success isn't an accident, either. Chinese (and all other Asians for that matter) place a great emphasis on education. Believe me, I know!
In 1957, my parents got divorced, and my 20-year-old Japanese mother suddenly found herself living in a strange country with no family, friends, money, food, or place to live. Yet instead of returning to Japan where her family and friends were, she scratched, rummaged, and scavenged enough to make a new life for us in America. Why?
I was about a year old at the time, and my mother knew that a half-Japanese, half-American child had limited opportunities in Japan. It wasn't like it is today — the wounds from World War II were too fresh. I would have never gone to a top university or landed a top job.
Even though my mother barely spoke English and seldom had more than two nickels to rub together, she held fiercely to the idea of the American dream. "In America, anybody can get rich if they work hard," she told me.
My mother ordered me to sit in the front row right in front of the teacher's desk, gave me almost daily lectures of the importance of education, and punished me severely if I brought home anything less than an A. My parents were firm believers in corporal punishment!
There is a way to profit — PROFIT HANDSOMELY — from the Asian obsession with education: A Chinese company called New Oriental Education (NYSE:EDU).
New Oriental Education was started by a former English professor at Beijing University that helps Chinese students for college entrance exams. And get this — EDU has a government authorized monopoly on the administration of that entrance exam.
Talk about an economic moat!
Now, the test prep and test administration is a great business by itself, but what really excites me is EDU's English language courses.
Asians Are Flocking To America's Shores
The number of Asians living in the United States has reached 14 million, according to the latest U.S. Census Bureau estimates.
Millions of Asians are flocking to the U.S. in search of the American Dream.
Why are they coming to the U.S.? They grew up watching Lifestyles of the Rich and Famous … have seen Yao Ming play for the Houston Rockets … and heard about other family members landing jobs with U.S. firms. In short, they want the same thing my mother wanted for me: A piece of the American dream.
Interestingly, a significant number of the Asians coming over here already have a great head start — almost half hold at least a bachelor's degree. And a particularly large number have science and engineering backgrounds.
In fact, a quarter of all college-educated workers in the science and engineering fields — and 40% of those with doctorates — were born overseas. Among all doctorate holders that live in America, a majority in computer science (57%), electrical engineering (57%), civil engineering (54%), and mechanical engineering (52%) come from abroad.
However, there's still one big barrier to entry that even highly-educated Asians have to hurdle: Before they can enroll in U.S. colleges or take high-paying jobs with American companies, they need to speak English and they need to pass the TOEFL (Test of English as a Foreign Language test).
Yup, EDU offers those English classes, test preparation classes, and has the monopoly to administer the TOEFL in China.
That is why I consider New Oriental Education to be my number one, table-pounding top stock pick in the world. In fact, I think it is the best stock that I've ever found in my almost 30-year investment career.
That doesn't mean you should rush out and buy New Oriental Education today. Like life … timing is everything and you should wait until it goes on sale before you buy, but EDU is definitely a stock that I believe belongs in everyone's portfolio.
Best wishes,
Tony
This investment news is brought to you by Uncommon Wisdom. Uncommon Wisdom is a free daily investment newsletter from Weiss Research analysts offering the latest investing news and financial insights for the stock market, precious metals, natural resources, Asian and South American markets. From time to time, the authors of Uncommon Wisdom also cover other topics they feel can contribute to making you healthy, wealthy and wise. To view archives or subscribe, visit http://www.uncommonwisdomdaily.com.
© 2005-2019 http://www.MarketOracle.co.uk - The Market Oracle is a FREE Daily Financial Markets Analysis & Forecasting online publication.

Only logged in users are allowed to post comments.
Register/ Log in