Dow Jones Stock Market forecast for 2007
Stock-Markets
/
Forecasts & Technical Analysis
Dec 26, 2006 - 10:15 PM GMT

Dow Jones forecast for 2007 - If you have followed my last article on the Dow Jones (17th December 06), you will be aware that I am expecting a sharp drop in the stock markets starting January 2007. As the year draws to an end, I am able to further clarify the scenario that the Dow Jones is expected to play out during 2007.
The rally to new highs in the Dow jones and new five year highs in other indices has not been followed by confirmation in the Dow Transports, whilst the rallies have also been accompanied by record low VIX readings, suggesting investor complacency.
Now in the run upto the new year, the media seems to be filling up with stories of how well the stock markets are expected to perform during 2007. Supporting evidence such as soft landing of the US economy, and that 2007 is expected to be the strongest in the presidential cycle. Unfortunately as my article of 22nd October pointed out, the Dow Jones has decided to make ADJUSTMENTS to the presidential cycle, which has significantly negated its overall effect in terms of trend. We basically have enjoyed much of the expected PLUS that's expected during 2007 already in the latter part of 2006 !, So this implies a much weaker 2007.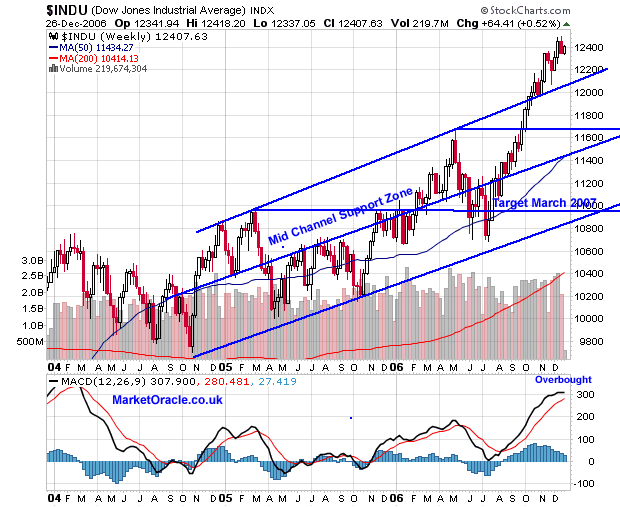 Technical Analysis of the Dow Jones
Trendines - The Dow Jones has broken above the upper channel trend line, which suggests an overbought state and a retracement to back below the upper channel line. The lower channel line is at 10,800 and rising to 11,000 by March 2007..
Support - Immediate support is the up channel line at 12,050, secondary support is at 11,640, major support lies along Dow Jones 11,000,
MACD - Is overbought and suggests a cross is likely in the coming weeks, this supports the view that prices are due to decline sharply during January 07. Though not to be ignored is the fact that the MACD is suggesting the decline could be corrective in nature, thus support at 11,640 may hold.
50% Retracement's- The key 50% retracement levels of the up trend to date are - 11,540, 11,300, 11,000
Current Trend forecast for the Dow Jones Jan to March 07
The Dow Jones looks set to be supported going into the New year, after which I expect a decline to start in January and continue into March 07, several technical indicators suggest the Dow is targeting 11,000 by late March 2007. On the way to 11,000 the Dow will find support at 12,000 and then the tough support area of 11,600/500 would need to be breached, so expect significant 'corrective' action to the upside around these levels. At worst I'm looking for a short bear market taking the Dow Jones off about 12% from its high to 11,000. I will be paying special attention to the Dow's behavior around 11,640 and will post articles on where we stand by that time.
Forecast for the Dow Jones - April to Aug 07 ....
This is where things get much, much more difficult !. IF a decline occurs as forecast into March 2007, then this should be followed by a corrective rally into early May 2007. This trend should be followed by a further decline into July 2007, which may result in a higher or double bottom chart pattern. I expect 11,000 to hold as a low, the rally perhaps will coincide with a rate cut by the Fed in July 07 or some other good economic news. The presidential cycle should start to reassert itself by forcing the Dow Jones higher. It is far too early to say whether this rally would be corrective in nature, or able be able to retrace the whole of the decline to that point, but things should become clearer as the year progresses as to what degree the Dow Jones follows this forecast. Going out on a limb, my guess at this time is that the Dow Jones will end 2007 at a new all time high.
by Nadeem Walayat
Disclaimer - This Analysis / Forecast is provided for general information purposes only and not a solicitation or recommendation to enter into any market position, and you are reminded to seek independent professional advice before entering into any investments or trading positions.
Attention editors and publishers ! This article can be republished. Republished articles MUST include attribution to the author and the following short paragraph:
The Market Oracle is a FREE Financial Markets Forecasting & Analysis online publication. We aim to cut through the noise cluttering traditional sources of market analysis and get to the key points of where the markets are at and where they are expected to move to next ! To view articles, visit http://www.marketoracle.co.uk
© 2005-2019 http://www.MarketOracle.co.uk - The Market Oracle is a FREE Daily Financial Markets Analysis & Forecasting online publication.

Only logged in users are allowed to post comments.
Register/ Log in