SABINA SILVER CORP (TSXV: SBB) Emerging Precious Metals Stock Analysis
Companies
/
Gold & Silver Stocks
Apr 21, 2010 - 09:29 AM GMT


CREATING PRECIOUS METALS OPPORTUNITES IN THE CANADIAN NORTH
Business Summary - Sabina Gold & Silver Corp. is an emerging precious metals company.
The Company owns a highly prospective land package in one of the world's newest and most politically stable mining jurisdictions - Nunavut, Canada.
Sabina's holdings comprise the Wishbone Greenstone Belt which includes the world class Hackett River project and is adjacent to the Company's advanced staged Back River Gold Project.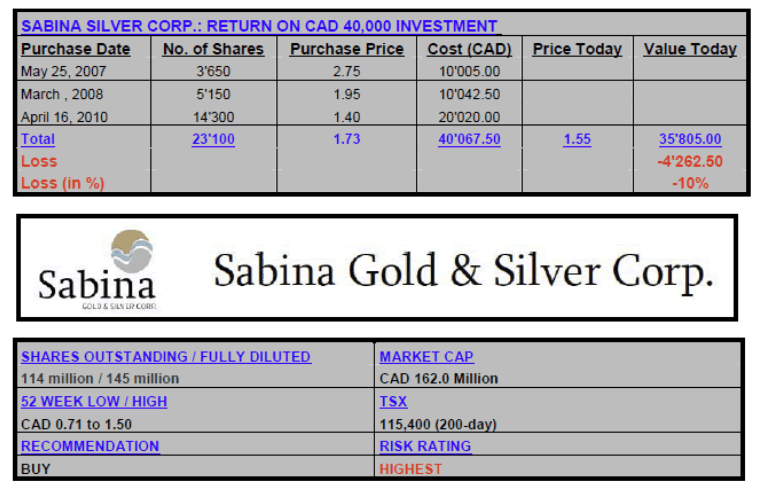 The Project: Nunavut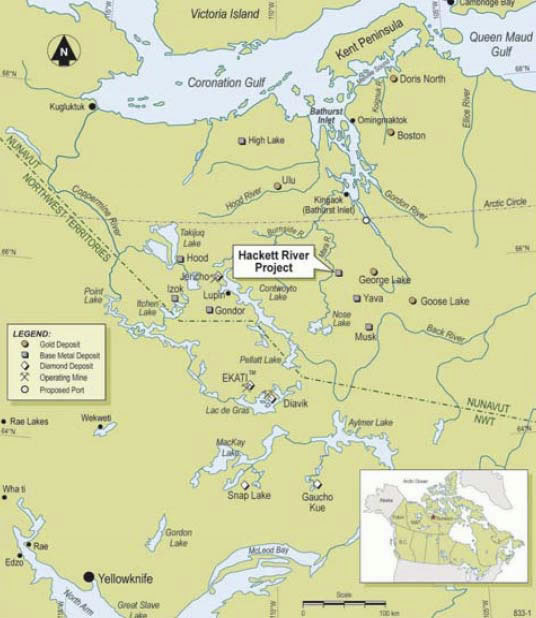 Hacket River Project
Sabina's 100% owned Hackett River project consists of approximately 10,637 hectares and is located approximately 480 km NE of Yellowknife, and approximately 75 km from Bathurst Inlet. The project is located 23 km from the proposed all weather Bathurst Inlet port and road to Bathurst Inlet, and 105 km by road from the proposed tidewater port facility. The settlement of Bathurst Inlet, the closest community, is 100 km to the North. The Hackett River volcanic massive sulphide ("VMS") deposit currently consists of three main silver/zinc-rich zones: Main Zone, Boot and East Cleaver Lake, as well the recently discovered Jo Zone which is considered to be a satellite deposit. All the zones are located within a 2 km by 5 km window, along the contact between underlying felsic volcanics and overlying pelitic sediments.
Following Sabina's acquisition of Hackett River in 2003, most of the work completed has focused on resource delineation and engineering studies on the known deposits with a small portion of the efforts directed toward the exploration potential of the property. Exploration to-date has resulted in a significant increase in resource size and demonstrated that multiple large base metal deposits are present in a relatively small area. In September 2008, a review by an independent consulting geologist was completed on existing data and recommendations were made regarding the exploration potential of Hackett River. Based on these recommendations, the following opportunities have been identified:
Each phase of exploration at Hackett River has resulted in the discovery of significant new or additional resources and a corresponding high rate of increase in size of the resource. This sustained rapid growth can be interpreted as reflecting a highly prolific geological setting similar to that found in world class VMS environments.

There are a number of near surface showings and targets that represent opportunities to increase the resource base at Hackett River by looking for extensions of the existing deposits and looking for new discoveries. In order to optimize these opportunities improved geological modeling would be required.

Previous exploration and resource drilling has encountered a number of intercepts of higher value mineralization consisting generally of copper mineralization with high grade silver and occasionally gold, that, with improved geological modeling, represents an opportunity to expand this higher value mineralization.
With this in mind, exploration has once again become a focus for the project. In 2009, the Company undertook a two phase exploration program at Hackett River. Drilling will continue to test priority exploration targets on the Hackett River claim group with emphasis on near surface targets and targets that have higher value mineralization (copper, gold and silver). Limited drilling will be completed on the Jo Zone prior to resource calculation. Testing of these targets is designed to potentially impact the ongoing project studies by defining high value near surface mineralization that could enhance the earlier years of production.
A Preliminary Economic Assessment ("PEA") was completed by Wardrop Engineering in early 2007 in accordance with NI 43-101. The PEA outlined a mining operation that could produce annually an estimated 12.4 million ounces of silver, 147,300 tonnes of zinc, 9,400 tonnes of copper, 16,800 tonnes of lead and 17,200 ounces of gold. Mine life was estimated to be 13.6 years, at a 10,000 tonne per day milling rate.
The Hackett River project development model is based on production of copper, lead and zinc concentrates with most of the silver and gold reporting to the copper concentrate. The concentrate would be trucked over an all-weather road to a port and concentrate storage facility currently proposed for construction at tidewater on Bathurst Inlet, approximately 45 km south of the community of Bathurst Inlet.
In May 2007, the Company began environmental baseline work in support of a draft environmental impact statement, which includes aquatic biology, bathymetry of water bodies, monitoring for wildlife, water chemistry, consideration of potential acid rock drainage, meteorological conditions and marine studies at the proposed port and concentrate location site on tidewater at Bathurst Inlet as well as initial public consultations with local communities. In January 2008, the Company submitted a project proposal to the Nunavut Water Board along with several applications for land use and water rights. Following these applications, a review of the project by the Nunavut Impact Review Board ("NIRB") was initiated. In September 2008, the Minister of Indian and Northern Affairs approved a Part 5 environmental assessment of the Hackett River project. In April 2009, NIRB provided the Company with the scope of the guidelines for preparation of its draft environmental impact statement.
In June 2007, Sabina engaged AMEC Americas Limited ("AMEC") to work on a prefeasibility study of the project. In 2008, AMEC focused on updating the mineable resource for the project. The Company released a summary of the updated resource calculation on March 11, 2009, which included the following highlights:
Open pit portion of the resource increased 40% from 29.0M tonnes to 40.6M tonnes while maintaining overall resource grades.

Indicated resource tonnes increased by 2% with grades for silver and zinc remaining in line with expectations. Overall inferred resources increased by 30% in tonnes, along with an 18% increase in zinc grade, 15% increase in copper grade and a 4% decrease in silver grade.

All contained metals, silver, zinc, copper, lead and gold have increased, including an additional 7.1M ounces of silver, 448,000 tonnes of zinc, 57,000 tonnes of copper, 12,000 tonnes of lead and 24,000 ounces of gold.

Detailed geological modelling has identified two mineralized zones within the Main Deposit (Main East and Main West) previously interpreted to be one zone. The Main West Zone is a high grade lens with grades significantly higher in zinc, silver and copper than the Main East Zone, and offers opportunities to recover the more economic high value mineralization at the beginning of any mining operation.

New resource modelling has identified a significant portion of material which with closer spaced drilling could potentially be added to the resource at a future date. Also, significant high grade intercepts at the Jo deposit are not included in the current mineral resource and further drilling may bring this deposit into the overall mineral resource.

Detailed modeling of all the deposits has identified metal zoning and "hot spots" that point to exploration targets that have better potential to add higher value mineralization.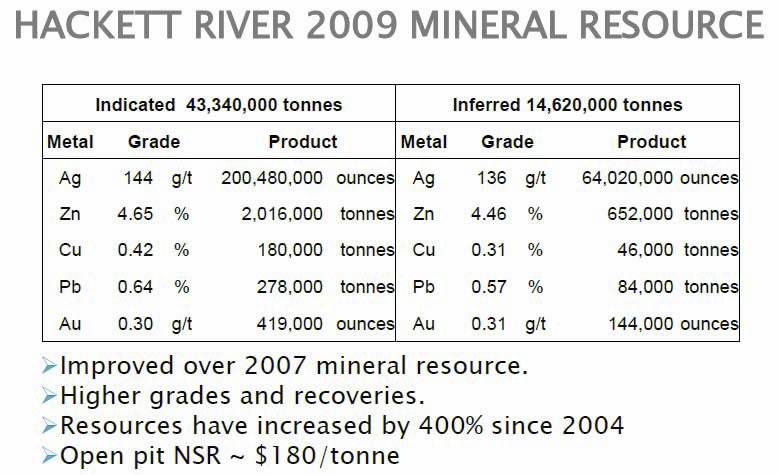 BACK RIVER PROJECT
Acquired in June 2009
Discovery in 2009 with limited drilling program
High grade open-pitable gold target at Goose Lake.
Target add 500k-750k oz.
Project offers track for nearer term gold production for Sabina.
Wishbone offers a pipeline of gold exploration opportunities.
British Columbia: Del Norte
The Del Norte project is located 30 km east of the town of Stewart, British Columbia.
Gold mineralization to date has been found in shear/fault hosted quartz veins associated with a broad NNW -- SSE trending structural deformation zone along the eastern portion of the Del Norte claims. Better grades and thicknesses are encountered where faults intersect. The Del Norte property has potential to host precious metal enriched VMS type mineralization however none has been discovered to date.
No exploration work was done on the property in 2008. The 2007 exploration program report of work was written up and filed for assessment in 2008.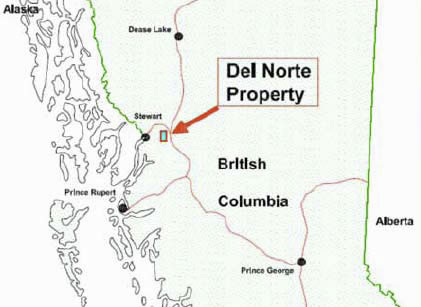 Red Lake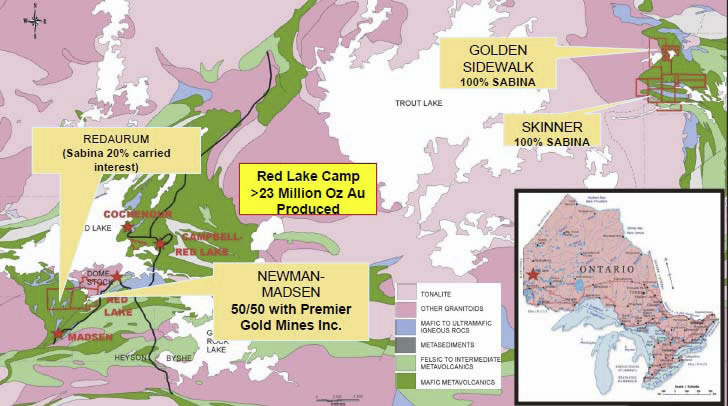 Golden Sidewalk
The Golden Sidewalk and Skinner projects are adjacent projects, both are located approximately 70 km East Northeast of the town of Red Lake, Ontario. Both projects are located in the northwest quarter of Skinner Township, Kenora-Red Lake Mining Division, Ontario. The Golden Sidewalk project lies north of the Skinner project. The property hosts several mesothermal quartz vein hosted gold showings. The historic Bathurst Mine was developed on one of the veins. The Golden Sidewalk property consists of a contiguous group of 12 leased claims and 6 staked claims and is 100% owned by Sabina Silver Corp.
The property is underlain by pillowed, spherulitic, and massive mafic flows together with irregular and ill-defined areas of gabbro. These latter areas may represent coarser grained core regions of massive flows, or alternatively truly intrusive material. The metavolcanics are flanked on the west by trondhjemite of the Trout Lake Batholith, and locally by an ultramafic. metavolcanics and gabbroic rocks of the central and eastern parts of the property are cut by numerous felsite bodies, most of which clearly transect stratigraphy at about 090-120°. A second set exhibits an approximately north-south strike, roughly conformable to stratigraphy.
From November 2007 through March 2008 twenty-three holes, totalling 7,863 m, were drilled on the property. The holes tested the depth and strike extension of the historic Bathurst Mine Horizon. The program was intersected gold mineralization in the primary target Bathurst Mine Horizon and also discovered a second gold bearing mineralized horizon, including 45.96 g/t Au over 1.70 meters. Diamond drilling of the Bathurst Mine Horizon and the new Upper Bathurst Mine Horizon confirmed the presence of multiple gold bearing structures. Exploration potential exists along strike and at depth.
Skinner
The Skinner and Golden Sidewalk projects are adjacent projects, both are located approximately 70 km ENE of the town of Red Lake, Ontario. Both projects are located in the northwest quarter of Skinner Township, Kenora-Red Lake Mining Division, Ontario. The Skinner project lies south of the Golden Sidewalk project. The property hosts several mesothermal quartz vein hosted gold showings.
The Skinner property consists of a contiguous group of 19 staked claims. Sabina holds 100% ownership subject to the following royalties and carried interests. Premier Gold Mines Ltd. holds a 7.5% net profit interest (capped at $450,000). Newmont Canada holds a 1% net smelter return royalty. A local prospector holds a 2% net smelter return interest (1% of which can be purchased by Sabina for $1,200,000, while the other 1% is subject to a right of first refusal granted to Sabina).
The claim group is underlain by rocks of the Balmer Assemblage in the extreme southern portion of the property and the Narrow Lake Assemblage in the remaining portion of the property. The property consists predominantly of massive to pillowed, locally variolitic basaltic komatiite to basaltic flows. Minor interbedded clastic to possibly cherty sediments have also been noted as minor metre-scale to ten's of metre-scale banded units within the massive and pillowed flows. These units have been extensively intruded by concordant to sub-concordant massive to weakly foliated gabbroic sills. Minor feldspar quartz-phyric sills or dykes occur in the central and southern portions of the property. All units are generally ESE to east trending with facing directions indicating tops to the north. Calc-alkaline basaltic andesitic to rhyolitic fragmental units as well as minor tuffaceous siltstone and massive, fine to medium grained, locally moderately foliated and amphibolitized basaltic flows of the Balmer Assemblage occur in the extreme southern portion of the property.
A number of gold occurrences (Dunkin Prospect, Tie Line Showing, Vihonen Showing) are located on the property and generally these are spatially associated with the concordant to sub-concordant gabbroic sills.
Drilling in 2008 on the Skinner Property intersected a gold mineralized shear zone developed along the contact between a gabbro sill and an underlying ultramafic unit. The newly discovered ultramafic unit is located under an arm of Narrow Lake. At present, only two holes have tested the mineralized structure, both returning anomalous gold values, including 4.97 g/t over 0.75 m, 1.29 g/t over 0.70 m and 1.28 g/t over 0.30 meters . These two holes were successful in discovering gold mineralization in a broad east-west trending shear zone; now called
Recent News: Sabina Gold & Silver Provides Update On Nunavut
The combined holdings total approximately 3,000 square kilometers and cover the largely unexplored Hackett River Greenstone belt.
Hackett River is one of the largest undeveloped silver - zinc volcanic massive sulphide ("VMS") deposits in the world with indicated resources totalling 43.6 million tonnes with diluted (recovery) grades of 4.15% zinc, 129 g/t silver, 0.35% copper, 0.58% lead and 0.27 g/t gold. An additional inferred open resource totalling 16.0 million tonnes with diluted (recovery) grades of 3.53% zinc, 111 g/t silver, 0.24% copper, 0.46% lead and 0.25 g/t gold is also contained at Hackett River.
The Back River Project is comprised of the George and Goose Lake gold deposits and contain measured & indicated gold resources of 3.4 million tonnes grading 10.9 g/t Au for 1.19 million ounces and inferred resources of 3.6 million tonnes grading 10.2 g/t Au for 1.16 million ounces of gold.
The Company has recently announced a Preliminary Economic Assessment on Hackett River, filed on SEDAR in December, 2009. According to the assessment, Hackett River would generate $1.8 billion in free cash flow, an IRR of 25.9% and an NPV of $975 million at a 5% discount.
The consolidation of these projects has enabled Sabina to amass an entire district with significant exploration and development potential. This significant toehold in the region, along with the advanced nature of the Hackett River Project positions Sabina to potentially strongly influence this emerging mining district.
Fundamental Considerations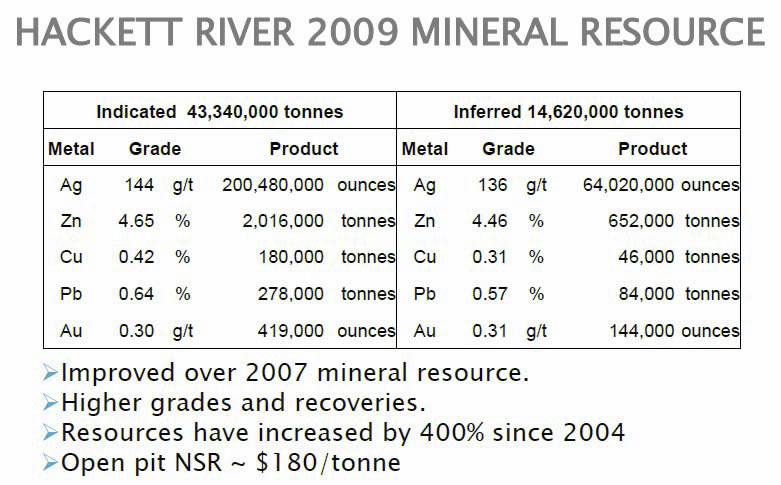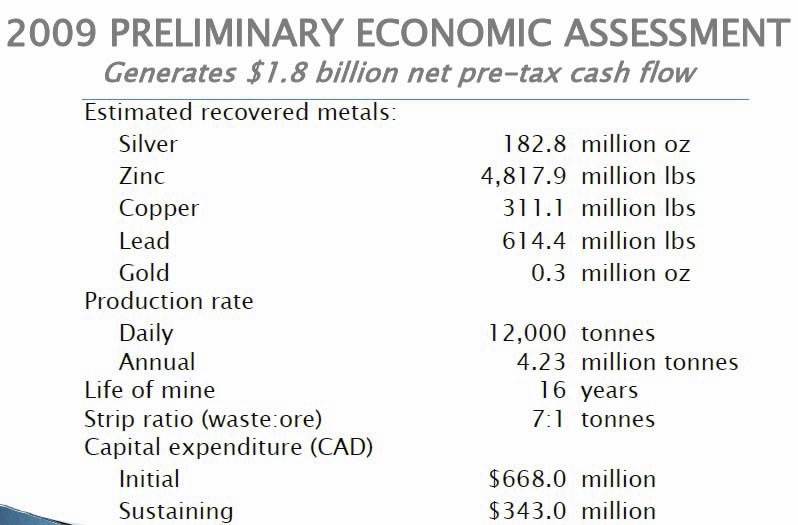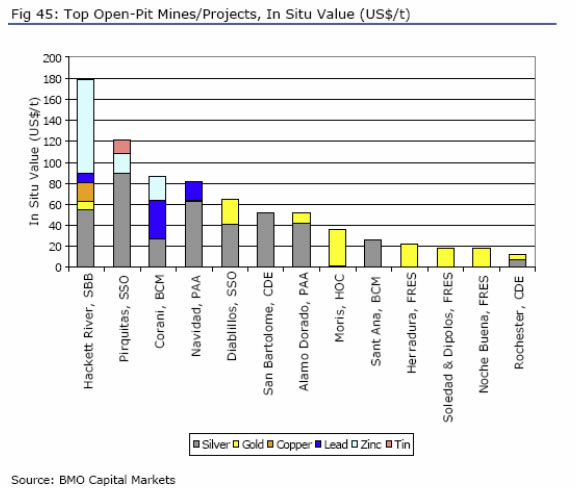 SABINA GOLD & SILVER CORPORATION'S NAME IS IN FACT MISSLEADING AS ESPECIALLY GOLD REPRESENTS A RELATIVELY SMALL PERCENTAGE OF THE TOTAL MINERAL RESOURCE. SILVER, ON THE OTHER HAND, AMOUNTS TO APPROXIMATELY 30%.
50% OF THE MINERAL RESOURCE IS ZINC.
THE TOTAL VALUE OF THE MINERAL RESOURCE AT TODAY'S PRICES IS ABOUT 11 BILLION USD OR USD 75 PER FULLY DILUTED OUTSTANDING SHARE, WHICH PRESENTLY HAS A MARKET PRICE OF CAD 1.45.
BUT, SIGNIFICANT OPPORTUNITIES EXIST TO IMPROVE AN ALRADY ROBUST PROJECT THROUGH
EXPANDING THE RESOURCE AND FINDING HIGHER VALUE MINERALIZATION
ADDITIONAL DRILLING ALONG THE CURRENTLY PROPOSED PIT MARGINS
OPPORTUNITES FOR MORE NEW DISCOVERIES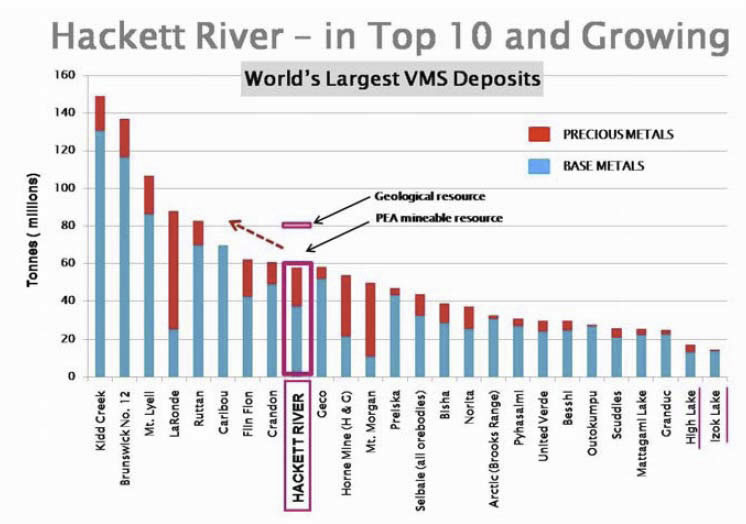 Technical Considerations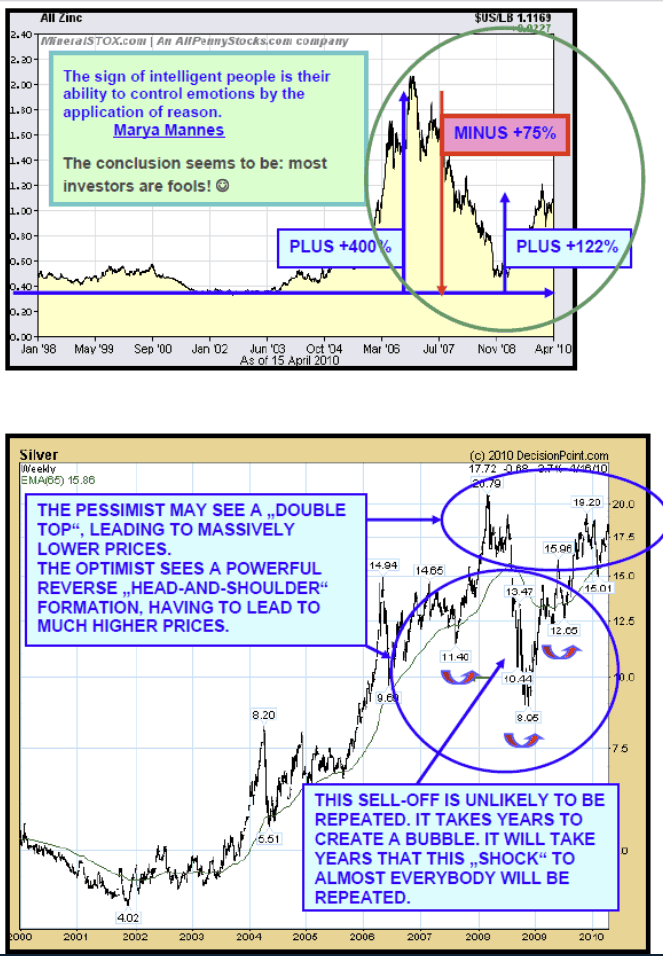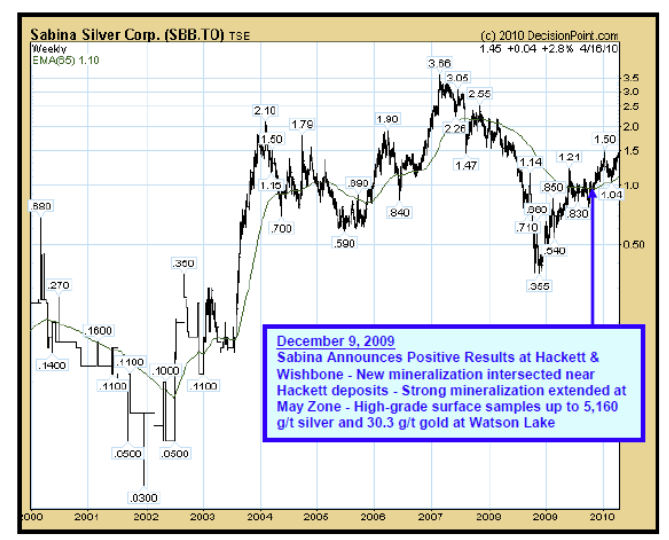 By Peter Zihlmann
www.pzim.com
invest@pzim
phone +41 44 268 51 10
mobile +41 79 379 51 57
THE TIMELESS PRECIOUS METAL FUND is a shareholder in the company and will benefit from any increase in the company's share price.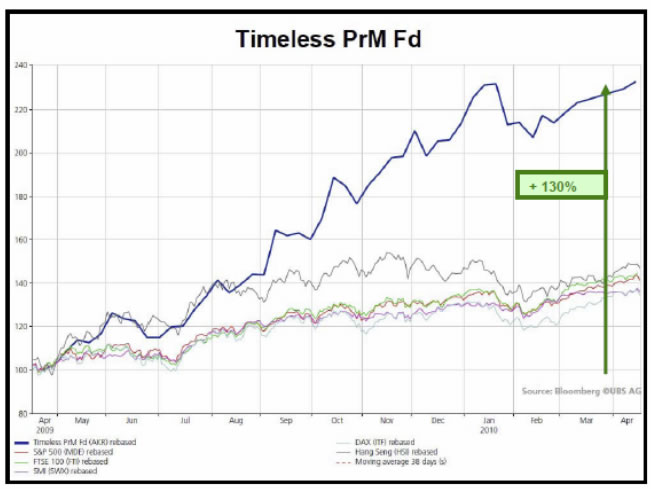 How to invest: http://www.timeless-funds.com/en/timeless-precious-metal-how-invest
Disclosure: The author has not been paid to write this article, nor has he received any other inducement to do so.
Disclaimer: The author's objective in writing this article is to invoke an interest on the part of potential investors in this stock to the point where they are encouraged to conduct their own further diligent research. Neither the information nor the opinions expressed should be construed as a solicitation to buy or sell this stock.
Investors are recommended to obtain the advice of a qualified investment advisor before entering into any transactions in the stock - or to use their own brains.
In our opinion, the best approach is to buy a diversified portfolio of stocks as represented in THE TIMELESS PRECIOUS METAL FUND or THE SIERRA MADRE GOLD & SILVER VENTURE CAPITAL FUND instead of shares of only a small number of companies.
© 2005-2019 http://www.MarketOracle.co.uk - The Market Oracle is a FREE Daily Financial Markets Analysis & Forecasting online publication.

Only logged in users are allowed to post comments.
Register/ Log in