Major Change for China's Individual Stock Market Investors
Stock-Markets
/
Chinese Stock Market
Aug 21, 2007 - 10:20 AM GMT

Tony Sagami writes: The not-so-invisible hand of government intervention has been very active lately. For example, the U.S. Federal Reserve Bank flooded the system with tens of billions of dollars, and announced a surprise, mid-meeting cut of its discount window rate by half a percentage point.
There is a lot of debate over whether those moves will solve the credit crunch and save the sagging stock and real estate markets. And the uncertainty is what's causing U.S. markets to go haywire. Yesterday was another day of wild swings, in both U.S. stocks and bonds.
But you know what? The Wall Street crowd was so busy watching the Fed and the unfolding credit crunch that they completely missed news of a different kind of government intervention, one that could make smart investors a bundle of money.
I'm talking about the decision by China's State Administration of Foreign Exchange to permit the country's individual investors to buy stocks traded on the Hong Kong exchange. Let me explain …
Hong Kong Isn't Just for Chinese Institutions Anymore!
Back in May, I told you how the China Securities Regulatory Commission had just announced a sweeping change that allowed China's institutional investors — banks, insurance companies, and mutual funds — to invest billions of dollars in the Hong Kong stock market.
Heck, I was in Hong Kong the day of that announcement, and the excitement was tremendous. Reason: An influx of billions of dollars would mean great things for investments traded in Hong Kong.
I considered the announcement a great step for China, too. It signaled a greater acceptance of foreign markets.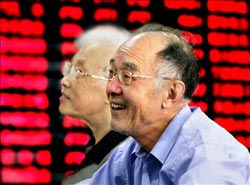 China's individual investors now have another way to diversify their portfolios!
However, that change did nothing to help China's individual investors, the everyday citizens like you and me. After all, they were still prohibited from investing directly in overseas markets. The only way they could invest abroad was through a limited selection of mutual fund-like vehicles licensed under the Qualified Domestic Institutional Investor (QDII) program.
Basically, the only place Chinese investors could put their money was in the Shanghai and Shenzhen stock markets.
Not anymore! On Monday, China dropped those restrictions. For the first time ever, Chinese investors will be allowed to invest directly in the Hong Kong stock market.
That's Great News for Chinese Investors, But What Does It Mean to You?
I'll get right to the point: This move is going to open yet another flood of new money into Hong Kong-listed stocks.
China has accumulated $1.33 trillion in foreign exchange reserves, and I've seen estimates that peg Chinese household savings at another $2 trillion .
I can't tell you how much of that will end up in the Hong Kong stock market, but even a small percentage would translate into a massive amount of buying. It would be enough to push share prices up significantly.
Want proof? Just look at the China Enterprises index of H shares, which measures the performance of the Hong Kong-listed shares of mainland Chinese companies. On Monday, it rose 961 points to 11,963 — nearly an 8% gain!
Some individual stocks did even better, of course. China Mobile (0941.HK) jumped 8.4%, China Life (2628.HK) rose 9.4%, and the Bank of China (3988.HK) soared by 11.7% on Monday!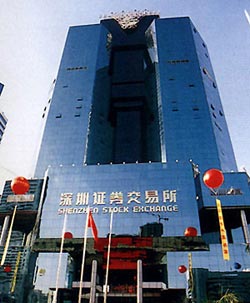 Stocks on the Shenzhen exchange hit another all-time high on Monday.
Here's the most important point: You, too, can invest in many of the same companies that will benefit from a flood of Chinese money. In fact, all three of the stocks I just mentioned are available not only in Hong Kong but also on the New York Stock Exchange.
Those aren't the only ones, either. The number of Chinese stocks now listed on the U.S. markets — the NASDAQ, the American Stock Exchange, and the New York Stock Exchange — is approaching the 100 mark.
If you haven't included China in your portfolio because you think it is too hard, too complicated, or too expensive … you're just plain wrong. These days, overseas investing is as simple as making a couple of mouse clicks.
More importantly, don't think for a second that Monday's jump will be the end of the surge, or that it will be limited to just Hong Kong stocks. Other markets around Asia were also on fire:

Japan's Nikkei average recorded its biggest one-day gain in 13 months, rising 3%.

The South Korean Kospi Composite jumped 5.7%.

Singapore's Straits Times Index rose 5.1%.

Taiwan's Weighted Index gained 5.3%.

And China's Shanghai and Shenzhen both hit new all-time highs.
Look, I know volatile markets are unnerving. And I know it's hard to step up to the plate and buy when the news is overwhelmingly negative. But I think there are plenty of opportunities out there, especially given this latest move in China.
Best wishes,
By Tony Sagami
This investment news is brought to you by Money and Markets . Money and Markets is a free daily investment newsletter from Martin D. Weiss and Weiss Research analysts offering the latest investing news and financial insights for the stock market, including tips and advice on investing in gold, energy and oil. Dr. Weiss is a leader in the fields of investing, interest rates, financial safety and economic forecasting. To view archives or subscribe, visit http://www.moneyandmarkets.com .
© 2005-2019 http://www.MarketOracle.co.uk - The Market Oracle is a FREE Daily Financial Markets Analysis & Forecasting online publication.

Only logged in users are allowed to post comments.
Register/ Log in