A Small Silver Mining Stock with Big Potential
Commodities
/
Gold & Silver Stocks
May 07, 2010 - 08:29 AM GMT


I recently returned from Mexico, where I toured the Royal Mines of Zacualpan project. The project is owned by Minpoza, a subsidiary of IMPACT Silver (IPT on the TSX-V in Canada; ISVLF on the pink sheets in the U.S.). While there, I toured two of the company's mines — San Ramon and Chivo. I also toured the processing plant and visited other projects, some already well underway, others still being planned.
My impression was very favorable. Despite some drawbacks, I think this company has enormous potential for both silver production and share price appreciation.
First, let's look at what IMPACT Silver had already accomplished. Then we'll look at the company's future plans. Finally, I'll throw in some caveats.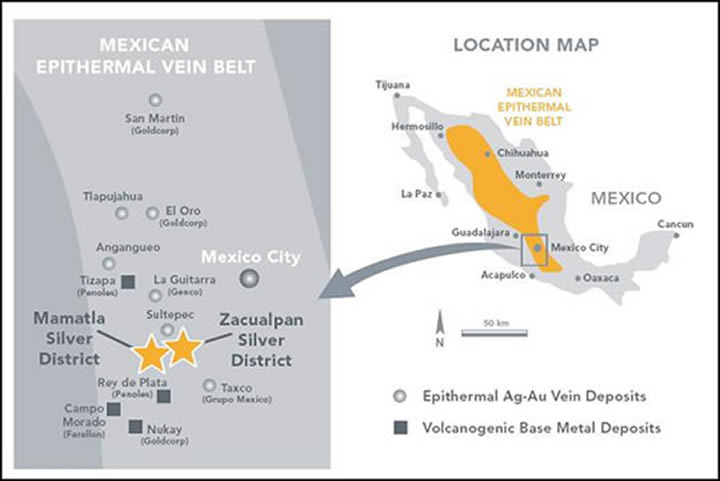 The Royal Mines of Zacualpan is a silver-rich district that dates back 500 years. IMPACT Silver, which is partly owned by Energold, a Canadian drilling company, picked up its original property in the district on the cheap when the previous owner wanted out. IMPACT then added to its land package throughout the district, and also added the neighboring Mamatla Silver District. It has other projects and land packages scattered around Mexico.
IMPACT has more than 1,800 old mine workings in its database, which was put together from old maps of the area. Why are old maps important? Because miners who worked hundreds of years ago often just mined the extremely high grade, very-easy-to-mine ore, then moved on. That means there are plenty of targets that still have rich grades and are within range of IMPACT's processing plant.
Costs are low. IMPACT follows the philosophy of Energold's CEO, Fred Davidson. His goal is that "every ounce mined has to make a profit." So, IMPACT focuses on bringing on low-cost, high-yield mines as quickly as possible. Result, IMPACT is able to keep its cost of production very low — around $60 a metric tonne.
Also, mines come online quickly — as soon as 12 to 24 months from the discovery drill hole to production. IMPACT is able to do this because it has the old maps of previous mine workings which give it a good idea where to start. The company has brought two mines into production in three years and plans to bring another one (the Noche Buena Mine) online later this year.
Good infrastructure. The working mines are on the local power grid, and there is a road network (some of it paved) that puts the mines about 4 hours away from Mexico City. There is plenty of water.
Zacualpan Project Production Summary
Dec 31, 2009
Dec 31, 2008
Dec 31, 2007
Silver production (ounce)
823,571
645,668
348,949
Lead (tonne)
969
813
601
Zinc (tonne)
1,098
1,053
976
Revenue per production tonne sold ($C)
$109.51
$89.89
$72.56
Direct cost/tonne produced ($C)
$60.39
$54.80
$44.15
Production is increasing. As you can see from the accompanying table, IMPACT Silver is ramping up its silver production. It pays for that increased production out of cash flow, which makes this a very solid business model. Revenue per production tonne sold increased by 22% in the past year while direct costs per tonne increased by 10%.
Revenues are heading higher. The net result of increasing production of zinc, lead and silver is to ramp up the company's revenues …
As with any project, total production is limited by the capacity of the mill. The company plans to increase throughput at the mill from 330 tonnes per day now to around 450 tonnes per day by the end of this year.
Future Plans: Make an Impact
The company's short-term objective is to reach full capacity at its main processing plant, with a long-term goal of exploring and developing new resources at its various properties. Operations generated fiscal year 2009 revenue of $12.2 million, diluted earnings per share of $0.02 and produced 824,000 ounces of silver (11,400 metric tonnes).
The company is also developing a gold/silver project, Capire-Aurora in the Mamatla District. The company will issue a 43-101 mineral resource estimate on the project in June of 2010. Further down the road, if things go according to plan, IMPACT will bring Capire-Aurora into production. IMPACT has a semi-portable 200 tonne per day processing plant that it can set up at the Capire-Aurora site while it does tests and preliminary production, but a new plant will be required for full-scale production.
What You Should Be Aware of Before You Buy
With all this potential, you have to wonder why IMPACT Silver is languishing at under C$1.15 a share. Here are a few things to keep in mind.
IMPACT is not following the "drill, baby, drill" business model. And by that, I mean the business model we see so often out of Vancouver, where companies mortgage the farm to drill and prove up ounces, then sell to the highest bidder.
Instead, CEO Fred Davidson has focused the company on using their resources smartly. They are using a "don't go in debt" approach, which means they are concentrating more on production growth than on drilling/preparing costly 43-101 compliant resource reports.
What's more, the northern areas of IMPACT Silver's land package are comprised of epithermal-vein structures which form in "clumpy" groups and are costly to quantify to 43-101 standards. In its southern land holdings, the deposits are mostly VMS-type (Volcanic Massive Sulphides) structures which are more homogeneous and more easily and inexpensively brought to 43-101 compliant resource reports. That's where the June reserve report will be coming out of.
This means that IMPACT is probably not a Vancouver rocket. Instead, it is looking for slow and steady growth, and will fund that growth out of its cash flow. That, in turn, will draw from earnings. So, we'll probably see revenues grow but earnings may not follow as quickly.
Some more things to keep in mind …
When IMPACT opens up new mines away from its current base — or adds any production beyond the 450 tonnes per day of the current plant — it will have to build a new processing plant. To do that, the company will very likely issue shares. Share dilution is the bane of many juniors, and I think uncertainty over how much the company will have to raise for the next stage of its growth and how much that will dilute shares is scaring away some people.
Also, while IMPACT Silver did not pay me to write a report, they did pay for my airfare and hotel stay, such as it was. While I enjoy my work, and this was a very interesting trip, this was not a pleasure trip, and I was never so happy to get back to my own bed.
One more thing — the volume on this stock is low. Therefore, it may be difficult to get in or out at the best price.
IMPACT Silver spent the first part of this year consolidating, but now looks ready to push above overhead resistance and head higher again.
Yours for trading profits,
Sean
P.S. You can see some photos from my trip on my blog at http://blogs.uncommonwisdomdaily.com/red-hot-energy-and-gold/. And don't forget that I post updates on my blog every day.
This investment news is brought to you by Uncommon Wisdom. Uncommon Wisdom is a free daily investment newsletter from Weiss Research analysts offering the latest investing news and financial insights for the stock market, precious metals, natural resources, Asian and South American markets. From time to time, the authors of Uncommon Wisdom also cover other topics they feel can contribute to making you healthy, wealthy and wise. To view archives or subscribe, visit http://www.uncommonwisdomdaily.com.
© 2005-2019 http://www.MarketOracle.co.uk - The Market Oracle is a FREE Daily Financial Markets Analysis & Forecasting online publication.

Only logged in users are allowed to post comments.
Register/ Log in