Stock Market Indices Edge Higher on Late Snapback
Stock-Markets
/
Stock Markets 2010
Jun 18, 2010 - 03:13 AM GMT


The stock market indices swung back and forth most of the session, but a late, sharp rally brought them back into the plus column and they closed not too far off the session highs with gains on the day.
The day started with a gap up, making the session highs at that point. Then the indices dropped, popped and dropped again to reach the session lows within about 90 minutes after they opened. A 3-wave rally brought them back to retest the highs, but they fell short, particularly in the S&P 500, and then sold off rather steadily until about a half hour to go, at which point they snapped back very sharply, and closed positive once again.
Net on the day, the Dow was up 24.71 at 10,434.17, the S&P 500 up 1.43 at 1116.04, and the Nasdaq 100 up 5.34 at 1910.65.
Technicals were nearly flat as declines outnumbered advances by 28 issues on the New York Stock Exchange, but advances outnumbered declines on Nasdaq by 18 issues. So, a very narrow day today. Up/down volume was about 7 to 4 1/2 negative on New York, but 9 1/2 to 8 positive on Nasdaq. Total volume on New York was just over 1.1 billion and on Nasdaq about 1.7 billion.

Our Charts of the Day:
Anadigics, Inc. (ANAD), a low priced semi-conductor stock, had a significant technical session. Its 2-month declining channel was tested yesterday, and today it gapped up through it, taking out the declining topsline and 20-day moving average. It also blew through price resistance and the 50-day moving average as well, closing just a penny off the high for the day on 3 million shares, the heaviest volume in months. It's right at 4.82, around the next resistance level, and if that's taken out we expect a test of the 5 1/2 area soon. That's our next trading target, but on the long-term chart the lateral price resistance goes back a couple years and could lead to more price movement. Targets are 6 3/4 short-term and 8.00 intermediate-term.
Star Scientific, Inc. (CIGX) had a significant technical session in that after breaking the declining channel since April and firming up today, it exploded through lateral price resistance and its 50-day moving average, closing a penny off the high for the day, up 20.6%, That's a significant day with heavy volume accompanying it and technicals surging. Moving averages have crossed over and curled up, and now we're getting additional headway. If it can take out the 2.04-.05 zone tomorrow, which is the next resistance, we could see a quick move that takes us up towards 2.35, but if that's taken out, perhaps a test of the 3 1/2 range near the April highs may be in order.
Isilon Systems, Inc. (ISLN), a member of our Fab 40, having moved from under 2.00 to the 15 range, settled into a quiet consolidation over the last couple months, but today started moving. It jumped 94 cents, or 7 1/2%, and appears that a test of the declining topsline right at around 14 may be due as early as tomorrow, but what I'm looking for is a projected move toward 17 1/2 range, my short-term trading target.
Vonage Holdings Corporation (VG) had a significant day today, jumping 29 cents or 12% on 16 million shares. More importantly, it took out lateral price resistance that's goes back three years. Secondary target is up around 4-4 1/2 range and that's what we'll be looking for.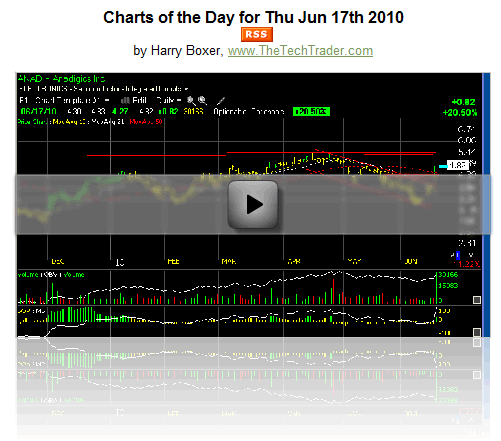 Reviewing our Watchboard:
TheTechTrader.com board, as a result, was mixed with several point-plus gainers today, including portfolio position OmniVision Technologies Inc. (OVTI), which has been acting great of late, up 1.22 at 22.85. Transocean Ltd. (RIG) was up 2.41 at 49.43, continuing its snapback from recent heavy losses. Cirrus Logic Inc. (CRUS) jumped 1.50 at 17.00, and Acme Packet, Inc. (APKT) 1.06 at 29.37.
Apple Inc. (AAPL) was up 4.62 at 271.87, reaching an all-time new high at 272.90. InfoLogix, Inc. (IFLG) gained 1.06 at 6.25 on 6.9 million shares, snapping back from its recent pullback.
On the downside point-plus losers included Baidu, Inc. (BIDU) down 2.34 at 72.47, Amazon.com Inc. (AMZN) down 1.01 at 125.89, and Dendreon Corp. (DNDN) off 1.11 at 38.46. Google Inc. (GOOG) lost 1.19 at 500.08.
Those were all of the point-plus gainers and losers today.
Stepping back and reviewing the hourly chart patterns, the indices were volatile, being down in the morning, up late morning, and then back down mid-day before rallying early afternoon near the session highs, only to drop back sharply to retest the lows, but doing so successfully, and then snapping back late in the session. So, it was a narrower but volatile session, as the day was saved with a late snapback putting the indices back in the plus column. However, technicals were quite mixed and narrowly so, more of a consolidation day, perhaps.
We'll see what tomorrow brings on quadruple witching options expiration day.
Good trading!
Harry
For more of Harry Boxer, sign up for a FREE 15-Day Trial to his Real-Time Technical Trading Diary. Or sign up for a Free 30-Day Trial to his Top Charts of the Week service.
(c) 2010 AdviceTrade, Inc. All rights reserved. Distributed only by written permission of AdviceTrade and The Technical Trader at info@advicetrade.com . In using any portion of Harry Boxer's content, you agree to the terms and conditions governing the use of the service as described in our disclaimer at http://www.thetechtrader.com
Mr. Boxer's commentaries and index analysis represent his own opinions and should not be relied upon for purposes of effecting securities transactions or other investing strategies, nor should they be construed as an offer or solicitation of an offer to sell or buy any security. You should not interpret Mr. Boxer's opinions as constituting investment advice. Trades mentioned on the site are hypothetical, not actual, positions.
© 2005-2019 http://www.MarketOracle.co.uk - The Market Oracle is a FREE Daily Financial Markets Analysis & Forecasting online publication.

Only logged in users are allowed to post comments.
Register/ Log in