The Sinking US Dollar!
Currencies
/
US Dollar
Oct 11, 2007 - 10:13 AM GMT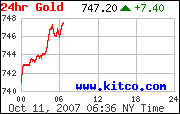 Look at that graph. That's a bull market in action. It just can no longer be held back. I've watched gold shifting back and forth and there is clearly resistance above 700. Yes, there below is my baby. Struggling now to top out at 750 an ounce. Go for it little one.
Well, in all sincerity there are many news pundits predicting that gold is merely in a short term rally. But the point cannot be denied now that gold is on the other side now. Below is a good comment from C.E.O. and Chief Global Strategist & economic analyst Peter Schiff.
Peter D. Schiff – " Inflation is completely out of control and the Fed, hiding behind phony government numbers that purport otherwise, has the green light to add additional fuel to inflation's fire. It's the ultimate irony that the lower the official preferred measures of inflation are (core CPI or the core Personal Consumption Expenditure Index,) the worse inflation actually gets." Footnote
A few months ago gold was struggling to get close to the high 690s and now gold, in my opinion, is firmly entrenched with 700 the floor price. Is a sinking US dollar affecting the economy of the rest of the world?
"Its decline to a nine-year low is impacting everything from the price of goods at Wal-Mart to the vigor of Europe 's economy." "The sinking US dollar in recent weeks has raised what is suddenly a top concern from Washington to Berlin and Beijing …" Footnote
And all around us the dollar continues to weaken and the economy fights for survival.
"…the downside could be significant. America, the world's leading importer of goods, is now buying them at higher prices. And if the dollar's dive makes foreign investors wary, US interest rates may have to rise to attract buyers of federal debt". "More broadly, it's a shock to the global economy." Footnote
But what is the main news today? The dollar continues to sink and to lose credibility.
"Sunday in Germany, officials from the Group of 20 industrial and major developing countries called for the United States to cut its federal deficit, which is seen as a key factor in the dollar's fall." "The dollar is now down 50 percent against the Euro since October 2000, and hit its lowest level since 1995 against a basket of foreign currencies last week." Footnote
Investing definitely requires patience. If you are looking for a quick kill in 30 short days or so the odds are fairly well stacked against you. Look for 6 months or more than a year often to see your gains.
"While the shift isn't entirely new, it has accelerated since President Bush's reelection. Some observers say the timing reflects concern that Mr. Bush - with his emphasis on tax cuts - won't be able to rein in record budget deficits." "How far could the dollar fall? Some see another 20 percent as possible…" Footnote
Let me remind something else here about investing. Google is now over 600 dollars a share. In 2004 its share price was 100 per share. The moral of the story? Have patience when speculating with your money. Understand that it just may take a few years for a stock to reach its peak. No telling and no one knows for sure. I repeat this over and over because I run across so many geeks who are hoping to double their money inside of 30 days and it generally takes more time than that.
Dear David, "To bail out of this market prematurely is analogous to dumping the pan after the first kernels pop. Sure, you may have a tasty morsel or two, but what a waste, when the big event is right on the horizon. Thanks again for the knowledge and the insight." A.S.
Gold and resource stocks, historically, have presented the highest rate of returns. Gold Letter, Inc. reviews gold and other resource stocks under valued and poised to rise in this time of increased demand. Natural resources and related contrarian stocks will only escalate in value as the world continues to experience unprecedented population growth. Gold Letter's 10 best performing stocks are up over 2,000% and GL's top 55 performing stocks are over 400%. Close to 90% of all Gold Letter's recommendations since inception in January, 2003 are close to 200%. GL charts are computer generated and updated every hour while markets are open.
Click here to order Gold Letter
Send me an email and your comments.
By David Vaughn
Gold Letter, Inc.
David4054@charter.net
"The Worldwatch Institute, an organization that focuses on environmental, social and economic trends, says the current rate of global demand for resources is unsustainable."
The publisher and its affiliates, officers, directors and owner may actively trade in investments discussed in this newsletter. They may have positions in the securities recommended and may increase or decrease such positions without notice. The publisher is not a registered investment advisor. Subscribers should not view this publication as offering personalized legal, tax, accounting or investment-related advice. The news and editorial viewpoints, and other information on the investments discussed herein are obtained from sources deemed reliable, but their accuracy is not guaranteed. © Copyright 2007, Gold Letter Inc.
© 2005-2019 http://www.MarketOracle.co.uk - The Market Oracle is a FREE Daily Financial Markets Analysis & Forecasting online publication.

Only logged in users are allowed to post comments.
Register/ Log in