Lock In Your Gasoline Prices With Crude Oil on the Rise
Commodities
/
Gas - Petrol
Feb 06, 2011 - 07:47 AM GMT


Yes, it's true. I know what you are thinking... that I'm probably going to show you some fancy stock or futures contract strategy to offset higher crude oil prices -- but it might be simpler than that. The question is whether it's worth it or not... Let's take a look.
West Texas Crude Oil Above $90
Sometimes it takes a geopolitical crisis or catastrophe to act as a "reality check" and create a catalyst for movement in the prices of stocks or commodities. Natural and man-made catastrophes can not only change the fundamental picture of a commodity like oil, but also rouse speculators to drive prices wildly higher (or lower). Sometimes an impending catastrophe can be right under our noses, as Sara discussed in yesterday's Smart Investing Daily article. Whether you're an investor or simply an informed citizen, you cannot afford to ignore what is going on around the world.
The events unfolding in Egypt and in other areas across the world (Australia) remind us of not only the fragility of some political and social systems, but also the unpredictability of our Mother Earth. The protests to oust President Mubarak alone have catapulted crude oil prices from $85 to over $92 a barrel in just two days. Egypt is not even a major oil exporter by comparison, but the Suez Canal is a major thoroughfare for tankers.
Even at two-year highs, crude oil prices are still drawing support, not just because of tensions in Egypt and the Middle East, but by the weakening dollar and a 20-year high reading of the Chicago Purchasing Managers Index, which perhaps indicates continued growth regionally and also nationally.
Let's not forget our friends at OPEC who "manipulate" supply to keep crude oil prices steady. I am sure that the 12 members -- Iran, Iraq, Kuwait, Saudi Arabia, Venezuela, Qatar, Libya, United Arab Emirates, Algeria, Nigeria, Ecuador and Angola -- want to do everything they can to keep prices low. (Chuckle.)
So where do we go from here? I say higher over the next year... Crude oil has been on Smart Investing Daily's radar for some time; we saw this coming and have offered you a couple of ways to play it from an investment standpoint. But we also realize that it's not just your investment account that can benefit (or suffer from) from a rise in the price of crude oil. What about your transportation costs?
Do You Need to Protect Your Fuel Costs?
Crude oil at $100 is not an "if" but a "when" in my humble opinion, which unfortunately is shared by many. At the height of the commodity boom in 2008, I found a company called MyGallons.com, which allowed you to "lock in" your fuel costs, the same way Southwest Airlines did during that same period. It seems like a decent idea, but I wanted to check it out for all of you beforehand.
Here's How It Works
If you think gas prices are going to be on the rise, you can lock in fuel prices at MyGallons.com, but there are some nuances you need to know. You have to have an idea about how much gas you use on a monthly basis and just how much gas you want to purchase beforehand. Take a look at your past receipts to help figure that out.
MyGallons.com charges $30 per year for their service. They allow you to lock in a price for up to 150 gallons per month, per car (you can add up four cars and purchase up to 600 gallons per month... wow).
Think of them as a "gas storage facility." You buy as many gallons as you want up front and they guarantee the price for as long as you are a member (paying the $30 annual fee).
Basically, the website has an interactive map which you can use to check out the average fuel price for your state and purchase your gas with a click of the mouse. Think of the map as the "stock market" for your gas prices (the prices go up and down daily as fuel prices ebb and flow).
On the site, I can purchase a gallon of (87 octane) gas (in Texas) for $3.03. So if I wanted, I could log on today and buy 100 gallons for a total cost of $303.30, giving me about a five-month supply of gas based on my personal usage, locked in at that rate. You can also have MyGallons send you a debit card to purchase your gas with (which they charge extra for), or you can tell them how much you actually spent at the pump and they will credit your bank account for the difference, no matter where or how much you spent per gallon.
I know it seems a bit confusing -- even the customer service agents I spoke to had a tough time explaining.
You do need to know that MyGallons charges 6 CENTS a gallon to process your rebates for gas. So in reality, add 6 CENTS to the MyGallons website price to find the "real" price you are locking in at.
(Investing doesn't have to be complicated. Sign up for Smart Investing Daily and let me and my fellow editor Sara Nunnally simplify the stock market for you with our easy-to-understand investment articles.)
Does It Make Sense?
The first downside I see is the big upfront cost: purchasing all your gas in one transaction. Some of us may not be able to afford that. Secondly, if the price of gas drops, you can just go purchase at the pump and wait for the price to go back up to use the gas you prepaid for. (Remember that your locked-in price is good indefinitely as long as you pay the $30 annually.)
The third con is managing how much you use and figuring out just how much you want to buy and lock in.
According to gasbuddy.com, a gallon of gas in my area costs $2.90 on average, but the Shell station across the street from me is currently at $3.19, so maybe MyGallons.com is a good deal right now for me.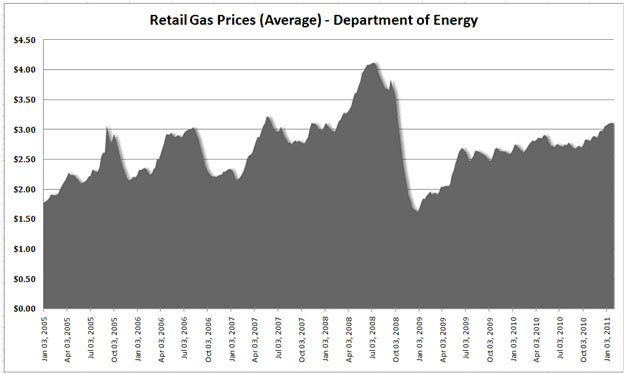 The bottom line is that a service like this is not for everyone; the biggest hurdle is having the means to buy your gas in one lump sum.
According to the Department of Transportation, the average American drives about 17,000 miles per year (2003). The DOT also puts the average MPG of the autos we drive at about 20, which means that on average you can expect to use 850 gallons of gas annually. Just a 25-cent rise in the price of gas from here would cost you about $213 annually at that amount of consumption.
From January to July 2008 alone, gas prices rose over $1.20, while crude oil rose from $88 to $140. While I don't see crude oil at $140 by July, anything can happen; this is just another potential resource for you, the smart investor, to consider...
Editor's Note: This coming crisis could blow a 950% profit your way! The U.S. wants to use "green technology" to decrease our dependence on oil. But China has a 97% monopoly on a natural resource that is vital to green technology... and we're about to experience a serious shortage! In this URGENT FREE REPORT learn which companies could solve this crisis and hand you 950% gains in as few as 24 months!

Don't forget to follow us on Facebook and Twitter for the latest in financial market news, investment commentary and exclusive special promotions.
Source : http://www.taipanpublishinggroup.com/tpg/smart-investing-daily/smart-investing-012511.html
By Jared Levy
http://www.taipanpublishinggroup.com/
Jared Levy is Co-Editor of Smart Investing Daily, a free e-letter dedicated to guiding investors through the world of finance in order to make smart investing decisions. His passion is teaching the public how to successfully trade and invest while keeping risk low.
Jared has spent the past 15 years of his career in the finance and options industry, working as a retail money manager, a floor specialist for Fortune 1000 companies, and most recently a senior derivatives strategist. He was one of the Philadelphia Stock Exchange's youngest-ever members to become a market maker on three major U.S. exchanges.
He has been featured in several industry publications and won an Emmy for his daily video "Trader Cast." Jared serves as a CNBC Fast Money contributor and has appeared on Bloomberg, Fox Business, CNN Radio, Wall Street Journal radio and is regularly quoted by Reuters, The Wall Street Journal and Yahoo! Finance, among other publications.
Copyright © 2011, Taipan Publishing Group
© 2005-2019 http://www.MarketOracle.co.uk - The Market Oracle is a FREE Daily Financial Markets Analysis & Forecasting online publication.

Only logged in users are allowed to post comments.
Register/ Log in