US Dollar Devalution - When Cash Is Trash: What To Do ...
Currencies
/
US Dollar
Nov 08, 2007 - 10:10 AM GMT


Larry Edelson writes: Your cash — whether it's in money markets, bonds, or hidden under your mattress — is quickly becoming trash.
You see, just as I've been predicting all along, the Fed continues to flood the market with unbacked paper dollars. The latest: An injection of $41 billion, the day after the Fed cut interest rates last week.
That $41 billion amounts to $135 for every man, woman and child in the U.S. But it's not going directly into your pocket, it's just out there, floating around the world.
Unfortunately, this is just the beginning. Because ultimately the Fed will have to supply HUNDREDS of billions of dollars to the U.S. economy to help it get over the real estate and mortgage crisis it's now saddled with.
Even once that crisis eases, because of the pyramid of bad debts piling up in this country from a variety of sources, the Fed will be forced to continually pump billions upon billions of additional dollars into the economy.
As I've said many times before, this is the only action the Fed can take in this kind of an environment. Deflate the value of the dollar — and thereby inflate asset prices!
Inflate them to make debts smaller relative to assets …
Inflate them to thereby make it easier to pay off debts …
Inflate them to make U.S. citizens feel as if the economy is doing fine when in real terms, it's going nowhere or even down, fast!
End result:
The U.S. Dollar Continues to Plunge in Value, Reaching a New All-Time Low Just Yesterday!
The dollar is getting absolutely killed by all of this pumping. Take a look at a chart of the dollar index and you'll see what I mean. The greenback is continually hitting new record lows against a basket of the world's major currencies.
Just yesterday it plunged to the never-before-seen level of 75.08!
This is why I say "cash is trash." Look at it this way, if you're holding savings in a money market account at 4% interest, and the value of the dollar is falling by 4% a year, your cash isn't even keeping up with inflation!
And in reality, the dollar has been declining more rapidly than 4% a year! So let me give you a more specific example of what has actually happened over the last five years …
Suppose you put $500,000 into a money market account earning 4% a year back on November 7, 2002. Compounded daily, you'd have $610,694.69 as of yesterday.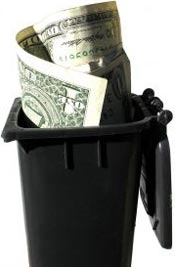 The Fed is essentially taking money out of your wallet and throwing it into the trash can …
But wait! Over that same five years, the dollar has lost another 28% of its purchasing power. So, what one dollar bought in 2002, will only buy $0.72 worth of goods and services today.
So that $610,694.69 in savings that you accumulated and thought you protected so wisely in a money market fund? Well it will only purchase $439,700 worth of goods and services — 28% less than you thought!
That's $170,994 LESS than what you started with!
Great deal, eh?
And going forward, it will likely get worse, especially if you invest in Treasury notes or bonds, making the same kind of low-single-digit interest rates.
Reason: The dollar will continue to fall … the value of your bonds will fall as the dollar sinks … and you'll ultimately lose much more in the principal value of your bonds than you'll earn in interest payments.
Who is doing this to you? Your own central bank!
So What Should You Do If Cash Is Turning to Trash?
The simple answer: Don't keep all your money in cash!
In my opinion, the only cash you should keep on hand is roughly six months worth of living expenses.
All of your other money should be invested in assets that are going to benefit from what the Fed is doing to the dollar, including …
#1. Select foreign currencies , which are rising in value against the dollar, and where you can also get a nice return. Two of my favorites right now are the New Zealand and Australian dollars.
#2. Select foreign stock markets , especially those that are rich in natural resources and where billions of new consumers are driving their economies upward. Examples: China, India, and most of Southeast Asia.
#3. Select natural resource companies that control in-demand commodities … the very same commodities that are also rising in value as the dollar plunges.
The list includes gold … oil … gas … iron … steel … aluminum … zinc … nickel … uranium … wheat … corn … soybeans … sugar … coffee … even water!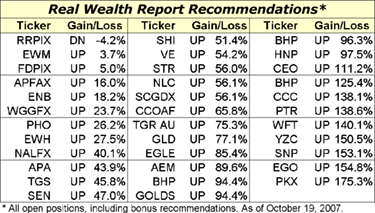 Want a sense of how much money can be made in natural resources? Take a look at the recent performance of the recommendations from my Real Wealth Report ! As you can see from the table, subscribers have had numerous opportunities to go after big gains.
Never forget that three billion new consumers in Asia are entering the modern world and buying all sorts of products that are made from these scarce natural resources.
Also remember that many of these very same commodities are priced in dollars, which as I just showed you, are being systematically devalued.
Combined, those two forces are creating some of the greatest profit opportunities you're ever going to see!
Best wishes,
Larry
This investment news is brought to you by Money and Markets . Money and Markets is a free daily investment newsletter from Martin D. Weiss and Weiss Research analysts offering the latest investing news and financial insights for the stock market, including tips and advice on investing in gold, energy and oil. Dr. Weiss is a leader in the fields of investing, interest rates, financial safety and economic forecasting. To view archives or subscribe, visit http://www.moneyandmarkets.com .
© 2005-2019 http://www.MarketOracle.co.uk - The Market Oracle is a FREE Daily Financial Markets Analysis & Forecasting online publication.
Comments
Aqualung
28 Feb 08, 13:23
why not spent your precious money on Euro??


Why not spend your precious cash into EURO?

Yes the answer is simple, EU is the economical opposite to holydollar.

Spend more to Euro and the US economy meets the banana...




Only logged in users are allowed to post comments.
Register/ Log in