Gold and Silver as Continuing Confidence Insurance
Commodities
/
Gold and Silver 2011
Aug 03, 2011 - 06:01 AM GMT


Gold and Silver are confidence insurance and for the last 10 years I have no qualms in saying that people have had a natural instinct for gold and silver. Of course that applies more when they are owned outright or physically or without leverage. Gold and silver have historically proven themselves to be the ultimate insurance against government caused collapses of confidence. In today's world that is proving to be all too true.
As I have often written Gold is the "magic bullet" around which all currencies dance as they are worth less in times of deflation and more in times of inflation. Gold is the mean or average or standard that is always worth exactly what it should be worth. It is paper currencies that fluctuate wildly. So while gold was up a staggering $41.00 today it was for no other reason than this was the true worth of money as debt concerns, fiat printing of paper currencies and concerns over a possible downgrade to the prestigious United States "AAA" credit ranking gave investors confidence as they sought a safe haven from the economic storm.
I have a hedge fund friend, Adam Smith, and he taught me that the market is much smarter than we are. When I asked him years ago how GE could be worth $30.00 on one day and $45.00 the next day and he told me the reason was because that was what the market had determined the stock was worth on that day. The correlation is exactly the same with gold. How could Gold be worth $1619.00 on Monday and be worth 1661.00 on Tuesday. The reason is that the market has factored in all of the possible variables, probabilities and concerns and the market had determined the value of gold.
Now we add to this mix the fact that both the DOW and the S&P have both breached key technical levels and we are getting set up for a perfect storm. Let's take a look at the chart of the S&P on the close yesterday.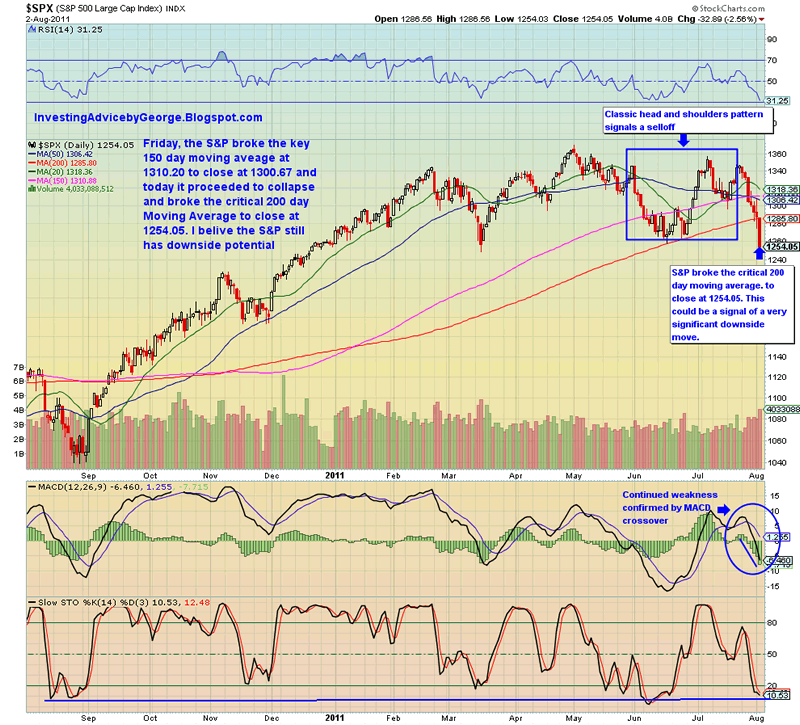 A look at this chart will show that we have not only breached the 200 day moving average we obliterated it. This is a very bearish signal as yester day we didn't even take a pause as we closed down 33 points on the S&P.

For further evidence let's take a look at the chart of the DOW from yesterday's close.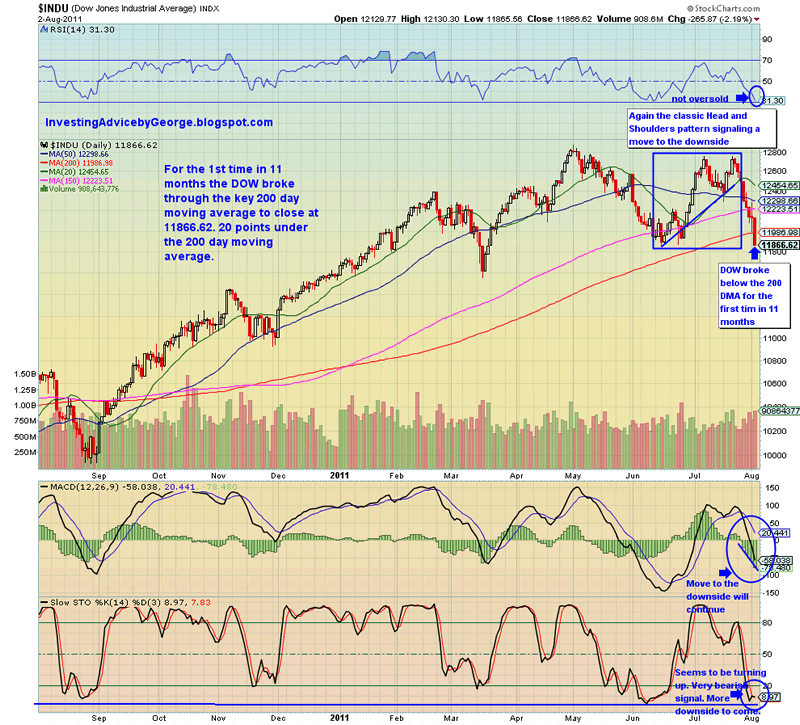 A look at this chart will show that we broke the key 200 day moving average and closed down 266 point at 11866 or 20 points under the 200 day moving average.

Both of these charts have indications that with all of the bad news that has come our way it is beginning to look like a double dip. With the 1st Quarter GDP revised numbers at an anemic 0.04% last week, the terrible ISM numbers on Monday, the seeming dissatisfaction with the debt ceiling agreement by Wall Street - a plan that gave everyone something to hate, the blayoffs that have been announced by Cisco, HSBC and the banking sector and what I can only assume what will be terrible employment numbers on Friday I see a continued sell off of the market.

Despite what the professional economists say the recession never really ended. The numbers were skewed to give the feds something good to report but you don't have to be a weatherman to know which way the wind is blowing. The fact is that most Americans believe that the 2008 – 2009 downturn never ended. Is it any wonder? Home prices have continued to fall, Estimates are that 11 million homes have under water mortgages, banks have inventories of as many as 2 million foreclosed homes and have now begun to solve the problem by bulldozing the homes. Poof! No more problems. Wait a minute – big problem.

However, perhaps the most powerful example of the continued recession is the persistent unemployment. There are fourteen million people out of work and a third of those have been jobless for over a year. May unemployment numbers were a body blow as the fragile economy added only 58,000 jobs and from what I have read and heard most of them were part time jobs. Experts seem to agree that the nagging unemployment rate will not improve until we start consistently adding 300,000 jobs a month at a minimum. And using that number it would take at least 2 years at that rate for the economy to come back to what is traditionally considered a reasonable unemployment figure.

So in conclusion, with the myriad of "Black Swans" swimming around us I feel my readers have properly positioned themselves in Gold and Silver both physical, ETF's, closed end funds and mining stocks. For the foreseeable future I see Gold and Silver as the safe haven in the perilous economic waters.

I continue to recommend GLD on a pullback to 145, SLV as close to $38.00 as possible, PHYS below $14.00, PSLV as close to $16.50 as possible, SLW at $36.75, ABX at $46.00, GG at under $48,00 and UXG (which is a junior miner that will not bear fruit until 1915) at $6.00 or lower. While UXG closed at $6.71 yesterday it will go under $6.00 on any eventual pullback on gold. One more a reader brought to my attention and studied was AXU, This Company has Eric Sprott's finger prints all over it and the shorts are trying unsuccessfully to kill it. I would advise everyone to take a good look at this stock because it won't be long before this one is a winner.
By George Maniere
http://investingadvicebygeorge.blogspot.com/
In 2004, after retiring from a very successful building career, I became determined to learn all I could about the stock market. In 2009, I knew the market was seriously oversold and committed a serious amount of capital to the market. Needless to say things went quite nicely but I always remebered 2 important things. Hubris equals failure and the market can remain illogical longer than you can remain solvent. Please post all comments and questions. Please feel free to email me at maniereg@gmail.com. I will respond.
© 2011 Copyright George Maniere - All Rights Reserved

Disclaimer: The above is a matter of opinion provided for general information purposes only and is not intended as investment advice. Information and analysis above are derived from sources and utilising methods believed to be reliable, but we cannot accept responsibility for any losses you may incur as a result of this analysis. Individuals should consult with their personal financial advisors.
© 2005-2019 http://www.MarketOracle.co.uk - The Market Oracle is a FREE Daily Financial Markets Analysis & Forecasting online publication.

Only logged in users are allowed to post comments.
Register/ Log in