From Nuclear Disaster To Electric Car Disaster
Commodities
/
Nuclear Power
Oct 07, 2011 - 02:50 AM GMT


Turning an ill wind for nuclear power into a great post-disaster fillip for carbon neutral business as usual, Japan's shaken corporate elite has rallied to the "inevitable" all electric car solution. As Osamu Masuko, President of Mitsubishi Motors said on 3 October at the annual CEATEC show displaying the latest high-tech wares from rivals like Renault-Nissan, Sony, and NTT Docomo : "The role for electric cars changed dramatically since March 11," (the date of the Fukushima disaster). He added: "We need to think of ways to store energy to use it."
Actually use it ! This call rings out in all countries poised to jumpstart renewable source electricity, quit nuclear power and/or promote electric cars, but the way ahead is full of pitfalls - of the crippingly expensive variety.
Stored in electric car batteries, never mind the cost, the outlook supposedly improves for the emerging and clear crisis of how we can use the power from the world's growing giant-size windfarms, located on the same far-off horizons as the scary (and expensive) nuclear power stations we just closed down. Charging the batteries of imaginary mass electric car fleets of tomorrow, and recycling power back into the imaginary super grid when needed, with only trifling losses of energy and at trifling cost, helps a lot when promoting a straight line growth for offshore windfarms and solar power stations.
Only the churlish could disagree.
Plans by several European countries, especially Germany, Denmark, Spain and the UK target as much as 30% of all national electricity being sourced from so-called new renewables, mostly windfarms and solar power stations, by 2025 or soon after. Even today however, especially in Germany, its 21 600 giant wind turbines create power system havoc on days the wind is blowing but there is not enough power demand to use it - and no way to store it. The surplus electricity has to be given away or, even worse, distributors have to be paid to take it. When the reverse situation happens, especially in winter and periods of high demand, but with no wind blowing, bulk power prices in Germany and its neighboring countries can spiral as high as 16.5 euro cents a kWh - to compare with regular off-peak day traded electric power prices in the USA, today, as low as 3 US cents a kWh.
OH THAT GRIMLY REAL WORLD
In the real world, with real power grids using real copper and aluminium and other not-free metals, and real transformers that are also not free, power grid interconnection is small scale. If the grids are undeground, or under the sea they cost even more. Why ? It costs too much to build either new grids or the links between grids, using any known high capacity transport technology, for example ABB's HVDC Light (high voltage DC transmission). It is not physically impossible, but it costs.
Germany's power links with the 4 neighboring Scandinavian states of the Nord Pool electric power system might seem to offer some relief - the Nord Pool has the biggest power system export/import capacity in Europe at around 4.3 GW, but with Germany its present trading capacity is only 1 GW. This is about the capacity of 400 of Germany's 21 600 giant wind turbines, or 0.74% of Germany's total power generating capacity of 135 GW. Windpower dreamers however always go further: this 135 GW number is also the claimed total offshore windfarm capacity of the North Sea, which "could or might" be developed by 2035, according to European Commission experts and policy makers.
How will this offshore power be transported and used, not wasted when or if the upfront cash is found to build the windfarms at capital costs as high as 6000 euro per kilowatt, or 6 billion euro per GW ?
Nord Pool already has to deal with Denmark's large wind capacity (currently 3.5 GW producing 7 TWh a year but being expanded to 4.3 GW by 2013), and growing windpower capacity in its other member countries. The pool also has very big hydro capacities, but with a vast difference in output between dry and wet years, varying about 90 TWh a year to each side of an average 230 TWh. Already and in fact, Denmark has to use Nord Pool as it "battery back up", exporting wind electricity it cant use, and importing electricity from its pool neighbours when the wind is low in Denmark.
The logical potential for relieving Germany is therefore low, since a "bad day" for windpower with no output in Germany can knock down its national power generating capacity by 27.5 GW. For the UK, already offshore relative to European power grids and tie-lines, but planning vast offshore windfarms able to produce 35 GW or more, the possible linkage to Nordpool or other power export country groups might offer some theoretical relief but the costs of subsea and underground HVDC grids are known: for each 1 GW of capacity the costs are well over 10 million euro per kilometre.
Hundreds of kilometres of grid connection will be needed for "tying in" the UK's coming windfarms to the UK mainland, but at the European scale the problem spirals. Forecasts by the EU-sponsored ENTSO-E power transporters group are that Europe must build more than 35 000 kilometres of new grids, and upgrade about 5000 kilometres of existing lines, to constitute the presently-imaginary Super Grid of 2035. The costs help explain why these high capacity grid connection links do not exist.
Going further and higher is no problem - for the dreamers. A world super grid using off-peak electricity to brew hydrogen, store it, and then burn the hydrogen to re-generate electricity at a typical energy conversion ratio of 50% and "recycle" the electricity in the super grid is a concept of Jeremy Rifkin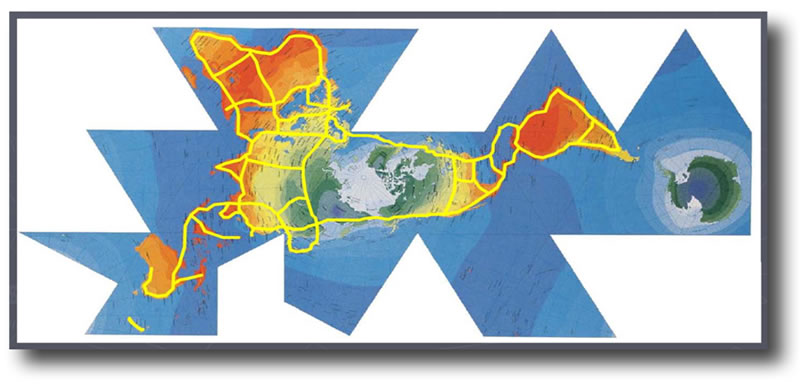 (Source: The Empathic Civilization, Jeremy Rifkin 2007)

WHO PAYS ?
Getting governments to hand out the subsidies to pay for it all is the necessary default solution. When we are talking about the European Union we can compare its multi-trillion euro electric fantasy spending day dreams with the current long-running Greek debt crisis, where finding 8 billion by the end of the month, from all the 17 member states of the Eurozone, is a heroic and difficult challenge.
Consumers can of course be gouged with high prices for their electricity "to save the planet" (no less !) but the basic technical problem will remain: how do we use growing amounts of windpower? The next stage in the fantasy is therefore the super grid, but Japan's present political elite, and lookalike carbon neutral crusaders in other developed countries now think the imaginary all electric car fleet that is coming "by about 2030" could also help solve the problem.
Electric car boomers are not shy when talking up their scam: Carlos Ghosn of Renault-Nissan is a regular French TV interviewee, always saying his firm's output of all electric Leaf saloons could, can or might hit 1 million-a-year by 2015. Japanese carmakers now say the national electric car fleet could grow to more than 20 million by as early as 2025. US carmakers bandy around similar numbers.
Curiously enough, until the March 11 Fukushima disaster, nuclear power was a part of the carbon neutral solution in Japan, Germany too, but times change and the shop window gimmicks have to be moved around or the consumer crowd gets bored and shuffles along to gawp at flashier trinkets elsewhere. Despite the state cash cow being vastly overwhelmed by sovereign debts, shills like the UK's green billionaire Sir Richard Branson say we need a "Carbon War Room" with special spending powers: building up electric car fleets is now so grid-friendly we can spend even more than we first imagined, because electric car batteries can replace Nord Pool. Branson believes !
As Ghosn of Nissan-Renault also never forgets to add when telling us how Leafs save the planet, he has a personal undertaking from his friend Nicolas Sarkozy that - as long as Sarkozy stays in power - France will pay 7000 euro to every single buyer of a Leaf. Battery included ! Ghosn believes that his 1 million-a-year electric car output will net him 7 billion euro a year: but French voters could make a big change to this fantasy, by kicking out Sarkozy in 5 months time.
Each high-tech electric car battery seems like a gee-whiz power storage solution, to those who are too stupid to work out simple numbers. A Leaf battery costing around 12 000 euros can store 24 kWh of electricity after a 5-hour charge. The problem for power grids in Europe is storing TWh of electricity - that is billions of kWh - in a single day. We could surmise that if the world's entire car fleet of about 1.1 billion vehicles, about 97% oil-fuelled, was magically transformed overnight to all-electric Leafs, and all of them were kept cozily at home in a garage, on full charge, and were fully connected to national and international power grids this 25 TWh of charge would just about solve a morning's load shedding and electric power transport problems for 135 GW of windpower in the imaginary Europe of 2035 !
Keep dreaming, but dont waste my time.
SAVING ENERGY
Japan's National Panasonic showcased its latest solar panels and power backup systems at CEATEC, the country's biggest annual electronics show, which started 3 October in Tokyo. Its rival Sharp displayed how electric cars could serve as emergency power systems in case of blackouts - and also prevent global warming, and Arctic ice cap melt down. Saving the planet needs innovation !
As we know, this great action can also save polar bears, if not the minke whales that Japanese adore hunting, killing and eating "for scientific purposes". Hitachi Ltd. also showed its energy-efficient post-disaster products, such as light-emitting low-watt diode lightbulbs able to operate on car battery systems, when the not-so-friendly local nuclear plant blows its top. Japan's interest in products that consume less electricity or can store it, and come with a car handle, have ballooned following the Fukushima disaster which triggered the world's worst and most costly nuclear accident in 25 years.
In a keynote speech to CEATEC, Panasonic CEO Fumio Ohtsubo said: "Expectations for renewable energy sources, especially solar power, has (sic) risen in Japan and elsewhere. We plan to facilitate the expansion of those energies to households as well as to large-scale users." Making this corporate correct, and following the August decision of Japanese lawmakers to pass a bill heavily subsidizing electricity from all renewable power sources, Sharp's CEO Mikio Katayama concluded this could likely boost the nation's solar-panel production by as much as 900 percent.
All that Japan needed was a Chernobyl-type nuclear disaster, to shift political and corporate thinking !
Japan's corporate move into electric cars, as elsewhere, necessarily features the heavy, expensive, hard to charge batteries that will only have short lifetimes if they are not used in well-defined ways, for example not frequently booster charged at high amperage, nor operated in very cold or hot weather. Battery failure is the fatal flaw of electric cars (EVs) and the biggest problem for selling $45 000 small-sized family saloons that take 5 or 6 hours to recharge at normal household amperage. An old fashioned all-gasoline or all-diesel car, costing $12 000 takes around 3 minutes to recharge with fuel at the fuel pump, ans can run 750 kilometres on a single fill. A Nissan Leaf batery costing 12 000 euro can store the equivalent of 2.4 litres of gasoline after a 5-hour charge. The fundamentals are stacked against the EV fantasy - and perhaps because of this corporate subsidy grubbers and shills like Branson have gone that extra mile.
Teamed with windfarm boomers, promoting electric power systems as expensive as nuclear power if not as dangerous, they paper over the vast cracks in their shaky "philosophy" with talk of using EV batteries as utility-size and utility-scale electric power storage systems. They then graft on smart and super grids to further drive the costs into the stratosphere.
SAVE THE PLANET
Consumers may be interested in saving the planet, but it is unsure they will thrill to the high-tech feature of being able to use low-watt lighting powered by their electric car's $ 15 000 battery to dimly light a survival shelter, after their next local nuclear catastrophe. They will also likely not thrill to the electric power prices they will be forced to pay - in an attempt to amortize the far-out costs of developing windfarms and solar power stations to cover large slices of total national power demand.
They will of course be brainwashed day and night by the shills talking up the ecological benefits of EVs. Also at CEATEC, Sanyo showed its nickel-based storage batteries able to survive high amperage charging for Honda and Ford electric-hybrids, as well as for Suzuki's Electric Swift. The batteries, called NiMH for nickel metal hydride, have typical chemical formulae like La 0.8 Nd 0.2 Ni 2.5 Co 2.4 Si 0.1, indicating their "environment friendly" constituants, a cocktail of rare earths lanthanum and neodymium, along with cobalt and silicon.
Typical production profiles for these batteries necessitating metals with heavy environmental impacts, demanding high fossil energy consumption for their extraction and production, with high CO2 emissions, makes a laughing stock of the clean-green patter from charlatans. But the sheer and totally uneconomic basis of the promotion is why this tawdry dream wont happen, but will turn a lot of bucks for a few charlatans, fraudsters and showmen.
ADDING UP THE ZEROS
Paying for the party is always a downer, so the biggest boomers make a point of avoiding any talk about this sensitive subject. The European Union climate-energy package is a good example of this bad habit, but we can give a few ideas on what it might all cost
EUROPEAN UNION 2030-2035 targets
| | |
| --- | --- |
| Component of plan and programme | Accumulated spending Billion euro |
| All electric car fleet 225 million units (1) | 1575 |
| 40 000 km new and upgrade Super Grid (2) | 350 - 450 |
| 90 GW - 135 GW additional windfarms (3) | 540 - 810 |
| 20 - 50 GW solar PV power plants (4) | 300 - 750 |
| TOTAL | 2765 - 3585 |
(1) Subsidy payments by government only. Current car fleet of EU is 225 million units.
Rate of 7000 euro per Leaf-type all electric car as proposed in France and Germany.
(2) Based on ENTSO-E TYPD (ten year development plan) and cost average of 10 - 12.5 million euro per kilometre for underground and undersea grid links, and "smart" grid upgrades to rest of network
(3) Offshore windfarms at capital cost of 6000 euro per kilowatt installed
(4) Solar PV power plants at capital cost of 15000 euro per kilowatt installed.
By Andrew McKillop
Contact: xtran9@gmail.com
Former chief policy analyst, Division A Policy, DG XVII Energy, European Commission. Andrew McKillop Biographic Highlights
Andrew McKillop has more than 30 years experience in the energy, economic and finance domains. Trained at London UK's University College, he has had specially long experience of energy policy, project administration and the development and financing of alternate energy. This included his role of in-house Expert on Policy and Programming at the DG XVII-Energy of the European Commission, Director of Information of the OAPEC technology transfer subsidiary, AREC and researcher for UN agencies including the ILO.
© 2011 Copyright Andrew McKillop - All Rights Reserved Disclaimer: The above is a matter of opinion provided for general information purposes only and is not intended as investment advice. Information and analysis above are derived from sources and utilising methods believed to be reliable, but we cannot accept responsibility for any losses you may incur as a result of this analysis. Individuals should consult with their personal financial advisors.
© 2005-2019 http://www.MarketOracle.co.uk - The Market Oracle is a FREE Daily Financial Markets Analysis & Forecasting online publication.

Only logged in users are allowed to post comments.
Register/ Log in