Stop Hyperventilating about Federal Debt: USA Is Heading for Party-Time Again
Interest-Rates
/
US Debt
Dec 09, 2011 - 05:30 AM GMT


An interesting component of the current atmosphere of angst in America is collective amnesia. Everyone seems to forget:
1: There was a very expensive war. Whether the war was in fact "necessary" so as to Keep America Safe, is debatable. But putting that to one side, it most certainly did not generate a return on investment in the form of looting and pillaging…which always used to be the main justification for going to war in the old days, and that in the cold light of debt servitude, arguably remains the only fiscally-responsible reason for going to war…ever…so long as you win!
2: The war was "financed" by tax cuts, or in other words by debt.
3: There was a credit crunch caused by a brilliant theory which had proved beyond all reasonable doubt that (1) economic prosperity could be achieved by increasing the level of home-ownership, and (2) the best way to do that was to use the GSE's to help to harness the magical "free-market" powers of securitization to make mountains of credit available so that the new home owners paid twice as much for their new houses than they would have in normal circumstances. There is a widespread consensus nowadays that there was what in a rare moment of lucidity Alan Greenspan called, "a flaw", in that theory.
4: When the "flaw" was recognized, well there was a bit of consternation, because banks discovered that what they had previously thought were AAA assets, which they had bought on margins of up to 30:1 turned out to be worth a lot less than the somewhat optimistic valuations that they had used to calculate their bonuses…back in the days when there was a widespread belief that house prices would go up forever.
5: And so the "lender of last resort" stepped in, which in a fiat monetary system is the standard Plan B response when "flaws" in brilliant socio-economic theories are discovered. But even so tax revenues plummeted, particularly since they had previously been bolstered by taking a share of the "profits" that the banks had declared so as to maximize their bonuses, and thus the Federal Government had to borrow heavily to honor prior commitments, i.e. to pay for the fiscal sins of the past.
6: On top of all that, oil prices went through the roof, and since Americans don't pay any significant tax to finance their divine right to waste imported oil, that caused even more problems.
7: Then the hyperventilating hyper-inflation doomsayers all came streaming out of the wood-work, screaming blue-murder that the end of the world was happening, and that the whole problem was caused by entitlements, unionized-teachers, illegal immigrants, and closet homosexuals in the Military; and if the "money-printing" didn't stop This Instant then America would never be Great ever-again. That was a superb theory; although three years later there are reasons to suspect there might have been a "flaw" in that one too.
Fast forward to now:
These days everyone says that President Obama lost the plot.
They conveniently forget that he got left a stinking pile of garbage to clean up. Of course that's the American way, all show and no trousers; everyone remembers a great party (vaguely), but no one remembers the black boy that comes-by in the morning to sweep up the mess. Except for the vocal few who wake up from their hangovers and berate the lazy bum for not working faster…so that they can all start partying again.
This is a chart of year-on year increase in US Federal debt in nominal terms; there are two lines (1) Total outstanding US Treasuries, and (2) Total outstanding US Federal debt which includes IOU's written to entities such as the "Federal Old-Age and Survivors Trust Fund".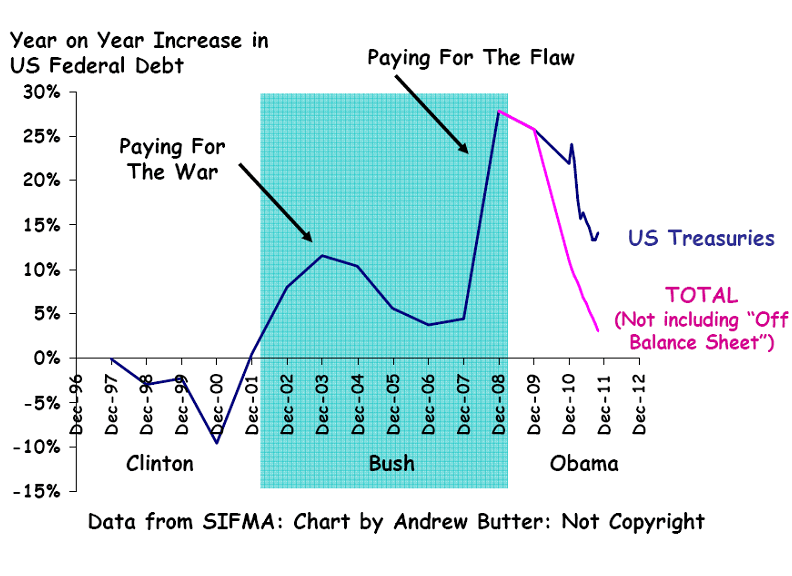 End 2008 US Federal debt was going up at 25% a year, end 2011 it's going up at less than 5% a year, which is less than nominal GDP growth, the main difference from before was that previously the Federal Government used to write about as many IOU's to the "Federal Old-Age and Survivors Trust Fund", as they issued Treasuries, no more.
But what's not to like about that, given that the party-boys managed to create one of the biggest financial crises the world has ever seen?
OK that doesn't include un-funded obligations hidden "off-balance-sheet", but one thing at a time, you can't mop the floor, AND polish the silver, AND show the party-boys you got a Green Card, all at the same time, multi-tasking is good, but that's ridiculous. But the good news is definitely that the floors will be scrubbed, and the silver will be spotless, in time for the next party.
My only concern is that the cleaning-boy is doing too good a job, according to my analysis US Federal debt needs to hit 134% of GDP before it starts to go down again, less than that and effects of the anticipated de-leveraging of private sector debt will cause extreme hardship to poor Americans (although us party boys, we don't care about that), but more important, that will constrain the recovery of the private sector, and I hate to say that I broadly agree with that bleeding-heart-communist Paul Krugman on that point; unemployed Americans did not cause the credit crunch, making them suffer won't solve that problem.
http://www.marketoracle.co.uk/Article20418.html
But I suppose that's a good reason for bringing back the party-boys, they sure know how to pile on debt!
Twenty years doing market analysis and valuations for investors in the Middle East, USA, and Europe; currently writing a book about BubbleOmics. Andrew Butter is managing partner of ABMC, an investment advisory firm, based in Dubai ( hbutter@eim.ae ), that he setup in 1999, and is has been involved advising on large scale real estate investments, mainly in Dubai.
© 2011 Copyright Andrew Butter- All Rights Reserved
Disclaimer: The above is a matter of opinion provided for general information purposes only and is not intended as investment advice. Information and analysis above are derived from sources and utilising methods believed to be reliable, but we cannot accept responsibility for any losses you may incur as a result of this analysis. Individuals should consult with their personal financial advisors.
© 2005-2019 http://www.MarketOracle.co.uk - The Market Oracle is a FREE Daily Financial Markets Analysis & Forecasting online publication.

Only logged in users are allowed to post comments.
Register/ Log in