Metals ready to explode higher ! - Gold, Silver, Uranium
Commodities
/
Investing
Feb 14, 2007 - 12:09 PM GMT

I spent last week at the Money Show in Orlando. As usual, I was frantic — trying to race between speakers, my own presentation, and sit-down interviews with some of the best little natural resource companies you never heard of (yet).
And the metals markets were just as frantic last week! Silver was leading gold higher, but gold had such a strong Thursday and Friday that the yellow metal might be taking over as lead dog now.
In fact, it looks like we might be off to the races any moment now. And that's why I think investors should seriously consider getting in before it's too late. Today, I want to talk about what I'm watching in three of my favorite metals … gold, silver, and uranium.
Now Is a Great Time to Buy Your Favorite Gold Stock
The stocks in my portfolios are so packed with firepower they're what I call "Kiss-Me-Deadly" … ready to explode. And I have so many more new ideas, it's ridiculous. I'll give you an example:
I talked to a guy at the Money Show who is chief geologist of a mining project in Latin America. They're starting production this year … already know they have half a million ounces of gold … and will probably have 1.5 million ounces defined by the end of 2008. Plus:
Their mining costs are around $200 per ounce (possibly less).
They're on a tax holiday for 18 more years, so they keep what they earn.
The stock is trading at less than a buck a share … and I'm talking Canadian dollars!
So, by my back-of-the-envelope figuring, they have a resource worth more than $200 million being valued at about $65 million. There are a few more things I have to check out first, but I'll probably be recommending this one to my Red-Hot Canadian Small-Caps subscribers next week.
You think that one sounds good? I've got stories like that left and right. Let me tell you about one of my silver picks …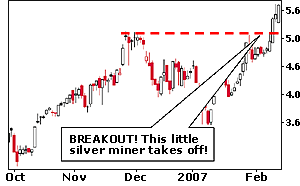 This Silver Stock Is The Belle of the Ball
Silver — man oh man, how sweet it is! Check out the weekly chart of Endeavour Silver, a stock I recommended to my Red-Hot Canadian Small-Caps subscribers a few months ago … you can see that the shares have taken off. Here's why …
1. The silver squeeze is on! Analysts at ScotiaMocatta, part of Scotia Capital and a division of The Bank of Nova Scotia, say silver mine output is expected to increase by only 2% this year. Meanwhile, the silver ETF (SLV) now holds 3,642 tonnes and is increasing its silver holdings at an average of 330 tonnes a month. Do you see a supply/demand crunch coming? I sure do!
2. Endeavour just announced that it's outlined three new high-grade silver mineralization zones at its Guanacevi Mine project in Durango, Mexico. Plus, the company will be issuing a new resource estimate soon. I expect the company to double its current conservative estimate of 3.5 million ounces in proven reserves and over 13 million ounces in total resources. Indeed, Endeavour's objective is to push its total resources to 35 million ounces of silver.
3. Endeavour is cranking up production. The Guanacevi Mines Project produced 1.35 million ounces of silver in 2006, and should produce 3.1 million ounces this year.
So, if anything, this is just the beginning of the stock's run. My initial price objective is $8.75 a share, but I think it could go much higher than that … especially if silver goes to $20 an ounce this year.
The best news is that you can buy this company's shares right here in the U.S. The stock trades on the American Stock Exchange under the symbol EXK.
But here's an important point — only my subscribers are going to receive my sell signal. And when it comes to small-caps, knowing when to sell is just as important as knowing when to buy.
Speaking of buying, uranium's prospects just keep getting better …
The White-Hot Metal Gets Even Hotter!
In Orlando, I gave my presentation on uranium to a packed house. The uranium story is pretty straightforward: A tidal wave of demand is threatening to swamp available supply.
Heck, uranium is getting so hot that I need a new term to describe it! I think the metal is about to enter a "melt-up" phase, thanks to news that came out when I was in Orlando. Here's the scoop:
Cameco Corp. announced that planned uranium sales from its flooded Cigar Lake Mine project could be deferred for up to seven years! That's the equivalent of the oil market losing Saudi Arabia for more than half a decade. Can you imagine what would happen to oil prices? To the moon, Alice!
Remember, when Cameco's Cigar Lake Mine flooded with water in October, the company said the project would be delayed by a year. Cigar Lake was supposed to produce seven million pounds of uranium in 2008 and 18 million pounds annually after that. In 2008, uranium demand was already expected to exceed supply by 25 million pounds.
So with Cigar Lake out of commission, that supply/demand gap will be 32 million pounds — an increase of 30% — and it will likely get worse for seven more years!
Plus, another piece of news just came out this past weekend that could set a fire under uranium prices — SXR Uranium One is going to buy UrAsia Energy, another uranium miner, for $3.1 billion. The combined entity, to be called Uranium One, will be the world's second-largest uranium producer with an estimated production of more than seven million pounds of uranium in 2008 from five projects.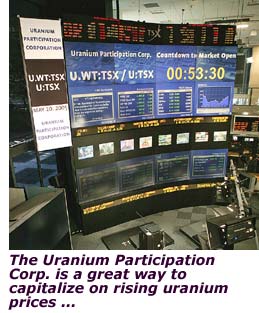 Going forward, I expect we'll see a lot more mergers among uranium miners. This will do two things:
Drive up the prices of companies being acquired.
Dampen future uranium production and boost uranium prices, as the merged teams concentrate their efforts on the best projects instead of many projects.
By the way, I recommended SXR Uranium One in my first uranium report, and the stock has gained more than 80% since then. But if you didn't buy the report, don't feel bad. There are still …
Plenty of Ways to Ride the Wildest Bull Market of Our Lives
If you aren't investing in natural resources yet, consider doing so now. There are lots of approaches you can take. Here are just three:

First, for a diversified stake in metals and natural resources, you can invest in a solid mutual fund. Two I like are from U.S. Global Investors: The World Precious Mineral fund (UNWPX) and the Global Resources fund (PSPFX).
Second, you can focus on my favorite white-hot metal by looking into the Uranium Participation Corp. , a Canadian fund that tracks uranium. The symbol up in Canada on the Toronto Exchange is U. In the U.S., the symbol is URPTF on the Pink Sheets. (On Yahoo, that would be URPTF.PK.)
Third, you can buy individual small-cap mining stocks like Endeavour Silver. These are the kinds of investments I'm recommending to my Red-Hot Canadian Small-Caps subscribers. In fact, the stocks I recommended just last week are already racking up open gains. And given the bullish moves in gold, silver, and uranium, I expect a lot more in the future.
Now, when it comes to picking individual stocks, you need to be diligent in your research because there are a lot of turkeys out there. But for Pete's sake, please consider getting in the game. This is one bull market you don't want to miss!
Yours for trading profits,
By Sean Brodrick
P.S. If you want to stay up on the latest natural resources news, check out my blog at http://redhotresources.blogspot.com/
This investment news is brought to you by Money and Markets. Money and Markets is a free daily investment newsletter from Martin D. Weiss and Weiss Research analysts offering the latest investing news and financial insights for the stock market, including tips and advice on investing in gold, energy and oil. Dr. Weiss is a leader in the fields of investing, interest rates, financial safety and economic forecasting. To view archives or subscribe, visit http://www.MoneyandMarkets.com
© 2005-2019 http://www.MarketOracle.co.uk - The Market Oracle is a FREE Daily Financial Markets Analysis & Forecasting online publication.

Only logged in users are allowed to post comments.
Register/ Log in