The Shape and Future of Indian Gold Demand
Commodities
/
Gold and Silver 2012
Jun 14, 2012 - 06:57 AM GMT


Morgan Stanley has just issued a solid report on Indian Gold demand and its shape. We at Gold Forecaster believe it gives very good insight into the Indian gold investors' thinking. The addition of some background on the Indian culture helps us to get a perspective of Indian gold investor psyche and to his social structure and how it contributes to his attitude to gold. Morgan Stanley conducted a survey of 2,019 urban and rural gold buyers across 16 Indian cities for urban consumers and 8 Indian states for rural consumers.
The survey report notes that Indians own 20,000 tonnes of gold worth $1 trillion.
Household gold consumption appears to have gone up to $45 billion in 2011 from $19 billion in 2009. To put things in perspective, India's gross domestic product (GDP) is inching closer to $2 trillion. This means, the value of gold held by Indians comprises nearly half of the country's GDP.
Gold accounts for one-third of the household portfolios Morgan Stanley surveyed.
The love of gold in India goes far beyond a simple source of future profits. It's an expression of wealth, financial security and family stability. It also carries religious overtones. In addition it reflects his attitude to business, government and government bureaucracy. The net result is a structure that's oriented to family and financial self preservation.
The Family and its Financial Attitudes
The family in India is the core of Indian society. Grandparents and parents are the Elders who are deeply respected even amongst the most educated urban Indians. Their offspring usually follow their recommendation, even on family investments. The family sits at a level of importance that is far higher than governments. Family finances are not linked, almost unbreakably, to the banking system as in the developed world. Morgan Stanley indicates that the demand for gold will be split equally among investments and 'life events' (which includes marriage or other ceremony, religious occasions, gifting, fashion statements and the like) and discretionary consumption.
The report adds that in 2012, gold demand for life events is expected to increase by 50% pushed by an increase demand from rural India. Consider the belief that 'gold brings good fortune'. In 2000, the gold price was just under $300. It now stands at $1,600. Imagine you are the mother of the bride and look at your gold holdings and at today's value. Wouldn't you feel this had served your family well and must surely serve your daughter's daughters as well? This belief will continue for generations to come and Indian demand will continue growing.
The developed world financial structures do not transcend the family financial traits. Indians, (wherever you find them in the world) deal in cash, their businesses and income of no concern to outsiders particularly the corrupt bureaucracy of India.
An Indian's perception of banks is that the privacy of an Indian's financial life is lost when his funds are placed in their safe-keeping. Government and government bureaucracy have access to this information. Frequently corrupt government bureaucrats then harass Indian businesses for illegal payments to influence the duty or tax collection efforts. Because of a long history of corruption in government, businesses fail to disclose accurate figure or any figures at all to them.
Hence Indians hate credit and love cash.
Profits from agriculture are tax free, so these tend to go into land or gold. Profits thereafter are taxable but rarely are properly declared. Indians see this as a consequence of government corruption, not their own illegal activities. Such a situation reinforces the family financial cocoon. Inevitably this has led to an alternative banking system among Indian society. Wealthy locals will use their gold as collateral to acquire loans. These are not officially 'seen' and repaid in cash when due.
Around 13% of Indian households have taken loans against gold in the last year, with a slightly greater prevalence in rural India. Some 60% of rural households choose the unorganized sector for taking gold loans, while banks are now preferred by urban households.These loans are usually taken for funding farming activities in the case of rural households, while for urban households the reasons are quite dispersed. The rate of interest on such loans is in the 15% to 20% range.
Bear in mind, urban households do not have the tax benefit of tax free income whereas farmers do.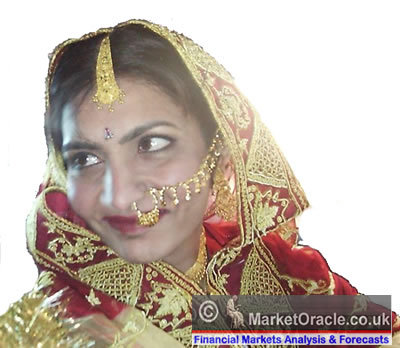 How does gold fit into this picture you may well ask? In the Indian family male offspring are especially treasured, even to the extent that the brides in their wedding have to supply a dowry. This is not a gift to the groom, per se, but the 'working capital' the new family unit starts off with. The husband supplies the new family's assets, i.e. property, etc. Together they then start their married life with some financial security, hopefully to last through to the time when their children get married themselves. Then the parents contribute from their finances, the father, assets to the son and mother gold to their daughter.
Thus gold is more than a commodity, or even just money; it's an integral part of the weave and weft of Indian family life. The dowry often comes in the form of beautiful jewelry adorning the bride as she is presented to her husband. A wedding is the social highlight of the nation and can last for days. Just how big a demand for gold will this produce in the future?
50% of the population is under 25, and there will be 15 million weddings per annum over the next decade.
But don't see that just as jewelry, it is at the end of the day their 'working capital'. Hence, it's difficult to make a distinction between investment and jewelry demand because in India, these two ideas are inseparable. Gold jewelry is usually 22 or 24-carat. Western 18 or 9-carat jewelry is not deemed to be acceptable to them because of this function.
Religion Plays a Part!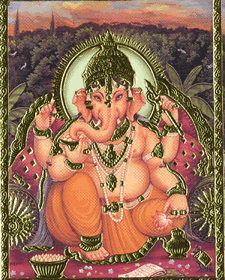 Over time it has found a corner in the religion of India. The God of Good Fortune, Ganesa, the elephant-headed god is important as Hindus want to know the right time to buy gold when they are able to. Their gods dictate when it is 'auspicious' to buy and when it's 'auspicious' to get married, as they believe that this will affect their future financial lives as well. That's why Technical analysis has not yet found a good place in the timing of gold buying in India. Auspicious dates dominate. The Western gold world keeps a sharp eye on just when these days are due in the year. With gold imports to India reaching over 800 tonnes in a good year and 500 tonnes in a bad year, this demand accounts for between 20% of total gold supply [30% or newly mined gold] in a good year and 12.5% of total gold supply and 20% of newly mined gold in a bad year.
Gold Forecaster regularly covers all fundamental and Technical aspects of the gold price in the weekly newsletter. To subscribe, please visit www.GoldForecaster.com

By Julian D. W. Phillips
Gold-Authentic Money
Copyright 2012 Authentic Money. All Rights Reserved.
Julian Phillips - was receiving his qualifications to join the London Stock Exchange. He was already deeply immersed in the currency turmoil engulfing world in 1970 and the Institutional Gold Markets, and writing for magazines such as "Accountancy" and the "International Currency Review" He still writes for the ICR.
What is Gold-Authentic Money all about ? Our business is GOLD! Whether it be trends, charts, reports or other factors that have bearing on the price of gold, our aim is to enable you to understand and profit from the Gold Market.
Disclaimer - This document is not and should not be construed as an offer to sell or the solicitation of an offer to purchase or subscribe for any investment. Gold-Authentic Money / Julian D. W. Phillips, have based this document on information obtained from sources it believes to be reliable but which it has not independently verified; Gold-Authentic Money / Julian D. W. Phillips make no guarantee, representation or warranty and accepts no responsibility or liability as to its accuracy or completeness. Expressions of opinion are those of Gold-Authentic Money / Julian D. W. Phillips only and are subject to change without notice.
© 2005-2019 http://www.MarketOracle.co.uk - The Market Oracle is a FREE Daily Financial Markets Analysis & Forecasting online publication.

Only logged in users are allowed to post comments.
Register/ Log in