The United States of Europe has Arrived!
Politics
/
Euro-Zone
Jun 27, 2012 - 09:41 AM GMT


A fiscal union, a banking union, a United States of Europe has arrived! Don't believe it? Just like many newborns, this one has its shares of wrinkles, but what you see is what you get. We discuss a tough love approach to move forward in Europe, as well as implications for currencies.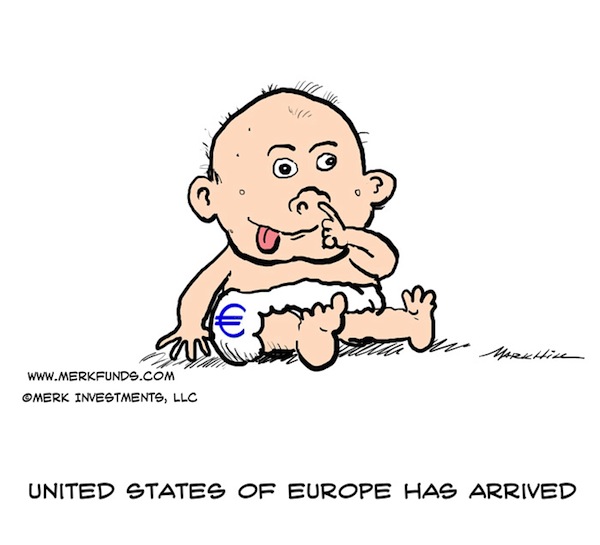 A vision "Towards a Genuine Economic and Monetary Union" has just been published by the European Union. Key components include integrated financial and budgetary frameworks. The goal is to achieve a "strong and stable architecture in the financial, fiscal, economic and political domains." For a vision to work, it has to be realistic. The budgetary framework calls for "joint decision-making … and … steps towards common debt issuance." Given that German Chancellor Merkel was quoted as saying Europe will not have shared liability for debt as long as she lives, such goals seem a tad ambitious. Understanding that Merkel is like a mother to the United States of Europe, she should consider nurturing it with vitamins, love and care.
Love
Love has a lot to do with communication. And while it should be so easy, we all know that we sometimes neglect to communicate with our loved ones. Translating that to the Eurozone, take charge, be a leader and communicate! Merkel may not be a Reagan, nor a Thatcher, but it ultimately falls upon her shoulders to frame the discussion. If she does not agree, there is little others can do to move forward. Tough love is okay, too…
Care
Intensive care is what peripheral Eurozone countries are in. Let's focus on the good news in terms of European integration: those countries that require assistance have yielded sovereign control to the European Commission. Presto! That's the key element of the union. Those that have proven prudent in managing their budgets don't need to yield control to Brussels bureaucrats. But those that are not capable do. It may sound like an unbalanced union, where not everyone is ceding control, but given the political realities, policy makers ought to leverage the cards they are dealt.
Regarding the so-called banking union, the same principle applies: countries that have been incapable of cleaning up their own banking system, ought to cede control. Seizing control from national bank regulators, including a European resolution scheme are key; but unlike the proposed vision published by the European Union, such a scheme must start with the more modest goal of first intervening where calls for help have been issued.
Vitamins
The way you leverage on the framework is by providing hope and support to those that succumb to it. Some vitamins, when administered in too high a dose, may be toxic. The European Stability Mechanism, the ESM, has shown such toxic characteristics. Because the ESM subordinates all other debt, it has made such subordinate debt toxic. The ESM is a last resort bailout scheme, not a tool to promote a "strong and stable architecture." The discussion about the solution must include Eurobonds.
Having said that, vitamins do little good if not accompanied by underlying lifestyle changes. Put another way, as long as policy makers look for evermore creative ways to finance rather than to reduce debt, the underlying disease won't be cured. Ultimately, debt will need to be reduced. The way it looks, it may be more likely be through default than sustainable fiscal policies.
Squaring the circle
The price for living beyond one's means and failing to regulate one's banking system should be the loss of sovereign control over budgeting and regulation. This part is already reality, as evidenced by the various bailout schemes in place.
What is not in place is a mechanism to allow those chronically sick children to get back on the right path, for national governments to conduct policy with enough dignity, so that political backlash won't tear those countries apart.
The solution must include a tough love support mechanism, one where sovereign debt of the country in need is not de facto labeled as toxic. At the same time it is fully understandable that a country such as Finland wants to receive collateral for loans provided to those that have a proven track record of living beyond their means. Once a check is written, it's rather difficult to decide on where the money is going to be spent. As such, a basis of discussion for the Eurozone should be:
Countries that want final control over where bailout money is spent, need to accept the seniority status of IMF and ESM money.
Eurobonds (without seniority over outstanding bonds) should be issued to finance projects that are directly supervised by the European Commission.
If Spain wants a bank bailout that doesn't jeopardize its sovereign bonds, it must yield control over its banking system. It must accept that fact that its banking system may be too big, that institutions may be liquidated and management teams fired.
It's too early to write off Europe. In the short-term, expectations are so low that policy makers will have a hard time disappointing. In the meantime, central banks around the world appear to be hoping for the best, but planning for the worst. That may mean easy money, a weak U.S. dollar, with money flowing into currencies of countries whose central banks can afford to not join the fray. To us, it is no coincidence our analysis of recent market data suggests biases of major central banks towards easing, whereas central banks of smaller countries shift towards tightening monetary policy. Please sign up to our newsletter to be informed as we discuss global dynamics and their impact on currencies. Please also register for our upcoming Webinar on July 19, 2012.
By Axel Merk

Manager of the Merk Hard, Asian and Absolute Return Currency Funds, www.merkfunds.com

Axel Merk, President & CIO of Merk Investments, LLC, is an expert on hard money, macro trends and international investing. He is considered an authority on currencies. Axel Merk wrote the book on Sustainable Wealth; order your copy today.
The Merk Absolute Return Currency Fund seeks to generate positive absolute returns by investing in currencies. The Fund is a pure-play on currencies, aiming to profit regardless of the direction of the U.S. dollar or traditional asset classes.
The Merk Asian Currency Fund seeks to profit from a rise in Asian currencies versus the U.S. dollar. The Fund typically invests in a basket of Asian currencies that may include, but are not limited to, the currencies of China, Hong Kong, Japan, India, Indonesia, Malaysia, the Philippines, Singapore, South Korea, Taiwan and Thailand.
The Merk Hard Currency Fund seeks to profit from a rise in hard currencies versus the U.S. dollar. Hard currencies are currencies backed by sound monetary policy; sound monetary policy focuses on price stability.
The Funds may be appropriate for you if you are pursuing a long-term goal with a currency component to your portfolio; are willing to tolerate the risks associated with investments in foreign currencies; or are looking for a way to potentially mitigate downside risk in or profit from a secular bear market. For more information on the Funds and to download a prospectus, please visit www.merkfunds.com.
Investors should consider the investment objectives, risks and charges and expenses of the Merk Funds carefully before investing. This and other information is in the prospectus, a copy of which may be obtained by visiting the Funds' website at www.merkfunds.com or calling 866-MERK FUND. Please read the prospectus carefully before you invest.
The Funds primarily invest in foreign currencies and as such, changes in currency exchange rates will affect the value of what the Funds own and the price of the Funds' shares. Investing in foreign instruments bears a greater risk than investing in domestic instruments for reasons such as volatility of currency exchange rates and, in some cases, limited geographic focus, political and economic instability, and relatively illiquid markets. The Funds are subject to interest rate risk which is the risk that debt securities in the Funds' portfolio will decline in value because of increases in market interest rates. The Funds may also invest in derivative securities which can be volatile and involve various types and degrees of risk. As a non-diversified fund, the Merk Hard Currency Fund will be subject to more investment risk and potential for volatility than a diversified fund because its portfolio may, at times, focus on a limited number of issuers. For a more complete discussion of these and other Fund risks please refer to the Funds' prospectuses.
This report was prepared by Merk Investments LLC, and reflects the current opinion of the authors. It is based upon sources and data believed to be accurate and reliable. Opinions and forward-looking statements expressed are subject to change without notice. This information does not constitute investment advice. Foreside Fund Services, LLC, distributor.
© 2005-2019 http://www.MarketOracle.co.uk - The Market Oracle is a FREE Daily Financial Markets Analysis & Forecasting online publication.

Only logged in users are allowed to post comments.
Register/ Log in