Romney & Co. Distort Medicare Realities, Democrats Did NOT steal $716 billion from Medicare
ElectionOracle
/
US Presidential Election 2012
Oct 17, 2012 - 03:35 AM GMT


Several times during the first presidential debate, Mitt Romney claimed President Obama had stolen $716 billion from Medicare to fund the Patient Protection and Affordable Care Act, known as Obamacare. Paul Ryan repeat that lie, as well as several other distortions and half-truths, in the vice-presidential debate.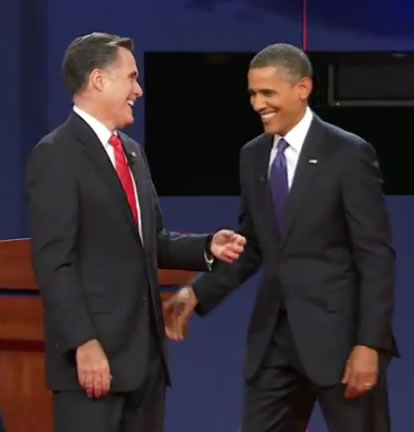 That claim wasn't original with Romney. Thousands of Republican candidates have said the same thing. And, thousands of Republican candidates are wrong. Most know the facts. But in their zealous attempt to spin the truth and get senior citizen votes, they still use that $716 billion claim as fact.
Here are the facts.
Over a 10 year period—that's 10 years not immediately, as stated—Medicare will lose $716 billion. But, that's primarily because of two provisions of the new law, found to be constitutional by the Supreme Court of the United States.
First, Obamacare reduces excessive payments to hospitals and other medical providers over that 10 year period. Second, and most important, it reduces payments to hospitals that have an excessive number of readmissions.
This forces hospitals to deal with patient issues before releasing the patients. Over the next year, you will see hospital staffs spending more time with patients, and more time trying to coordinate care to avoid having patients return—some for three or four times—to take care of issues that should have been handled before their first discharge. No money is taken from individuals.
But, this phony argument by Romney wasn't the only one he made. He claimed a board will determine what treatment patients can receive. This is blatantly wrong. A board does exist, but it exists to review costs by medical providers and, again, to examine high readmission rates and to recommend ways to lower costs. Grandma won't be denied health care because of some governmental board.
Finally, of the couple of dozen errors and lies Romney made in the debate, many not challenged by the President at the time, Romney claims his own plan—an alternate to Obamacare—allows anyone with a pre-existing condition to be able to receive insurance. That's only if the person has a gap of insurance coverage of less than 63 days in the previous 18 months. And, that's not Romney's plan, that's already in the law.
The new law, under President Obama, requires insurance coverage for pre-existing conditions. Period. No exceptions. It ends the cherry-picking by insurance companies that accept only low-risk patients. Persons who do not have employer-sponsored insurance coverage or who have been laid off and can't afford coverage for several months can't be denied insurance protection.
Here's some more facts about Obamacare that are either not mentioned or deliberately distorted by the Republican UnTruth Machine and the propagandists of right-wing talk radio.
Obamacare is not a government take-over of health care, primarily because it still places insurance coverage in the hands of private businesses and insurance companies. It does, however, allow more persons to be insured who are below the poverty line. Currently, about 50 million people do not carry health insurance. Most are unable to afford it. Under Obamacare, they will have insurance coverage.
The new law adds and improves community health centers, allowing low-income persons to be treated in their own micro-communities. Having community health centers in place also increases the probability that those who need medical assistance will receive it. Physicians may still decline to treat persons who are on Medicare, for example, but the impoverished and the low-income elderly won't be turned away.
The new plan also allows more preventative treatment, something that many insurance companies currently don't allow. As dozens of studies have shown, preventative medicine reduces not only mortality but costs as well.
About 19 million middle-class families will receive tax credits averaging about $4,800 a year for health coverage, according to the independent Congressional Budget Office (CBO). However, some people won't get that advantage. Those will be persons earning at least $250,000 a year. Those persons will pay a slightly higher tax, still well below the tax rate during every presidential administration since the Eisenhower Administration, with the exception of what was supposed to be a temporary tax cut by the George W. Bush administration. In a side benefit to more than 98 percent of all Americans, they will no longer be paying a higher tax rate than multimillionaires running for the presidency.
Finally, the CBO has said that implementation of Obamacare will reduce the deficit by $100 billion in the first decade, and $1 trillion in the next decade. But you don't hear any Republicans mention those facts.
In Mr. Romney's case, and the case presented by the bloviators of the right-wing that has smothered the once-respectable Republican party, truth is just the first casualty in the war of words.
[Walter Brasch's latest book is Before the First Snow, a fact-based novel that looks at the nuclear industry during its critical building boom in the 1970s and 1980s.]
By Walter M Brasch PhD
http://www.walterbrasch.com
Copyright 2011 Walter M Brasch

Walter Brasch is a university journalism professor, syndicated columnist, and author of 17 books. His current books are America's Unpatriotic Acts , The Federal Response to Hurricane Katrina , and Sex and the Single Beer Can: Probing the Media and American Culture . All are available through amazon.com, bn.com, or other bookstores. You may contact Dr. Brasch at walterbrasch@gmail.com
© 2005-2019 http://www.MarketOracle.co.uk - The Market Oracle is a FREE Daily Financial Markets Analysis & Forecasting online publication.

Only logged in users are allowed to post comments.
Register/ Log in