Spain's Back In Debt Crisis Mode… And Will Take The EU Down With It
Interest-Rates
/
Eurozone Debt Crisis
Oct 21, 2012 - 05:46 AM GMT

Spain's Back In Debt Crisis Mode… And Will Take The EU Down With It

As I noted previous articles, Spain has essentially three options:
1) Spain goes the "Greek route" of agreeing to austerity measures in exchange for bailouts (which will implode the economy).
2) Prime Minister Rajoy refuses to impose austerity measures and is removed/ replaced by an EU technocrat who is pro-austerity measures (like Italy experienced last year)
3) Spain defaults/ leaves the EU.
Thus far Spanish Prime Minister Rajoy has opted to go for #1. The end result has been riots, protests, and now the threat of Spain as a country breaking up. I've long averred that Spain will bring about the break up of the Euro. By the look of things, we're not far from this.
To whit, as the above article notes, Germany, Holland, and Finland have decided to pull back on the promise of a €100 billion Spanish bank bailout first established in June. These countries are now stating that this bailout should be included as part of the ESM mega-bailout fund's banking program that could take years to implement.
Spain doesn't have time for this. As I've noted before, Spain is facing a full-scale bank run (Spaniards pulled another €17 billion from Spanish banks in August, bringing the year to date bank run to over 18% of total Spanish bank deposits).
Now add multiple regional bailout requests, as well as 25% total unemployment to the mix and Spain is an absolute disaster. The Spanish Ibex knows it too: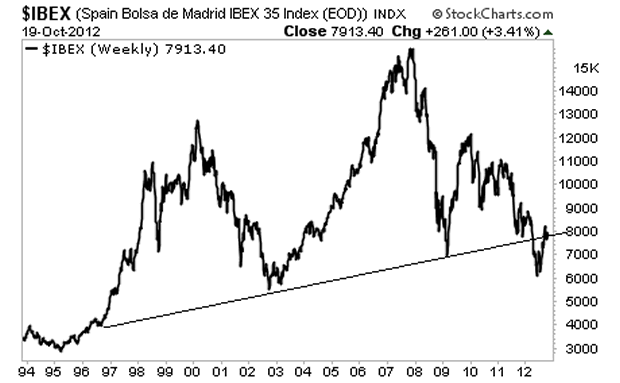 Congratulations Mario Draghi, you promised unlimited bond buying and you bought less than one month's worth of gains for Spain. If you want proof positive that Central Banks are losing their grip on things, the above chart is it. The moment we take out that trendline again, it's GAME OVER (what more can the ECB promise?)
Remember, Spain is currently drawing over €400 billion from the ECB.
Let's put this number in perspective… in June before Spain requested a €100 billion bailout, the country was drawing only €300 billion from the ECB.
Since that time and now, the ECB has promised to provide unlimited bond buying… and even Germany has indicated it would be open to some sort of a Spanish bailout…
And yet, Spain is now borrowing even MORE than it was in June.
This is not progress in any way… if anything it indicates that things are worsening in the EU's financial system at a staggering pace. The powers that be are keeping things calm until after the election… at which time there will be absolute hell to pay.
"So what?" many investors will ask, "Spain is nothing in the grand scheme of things."
Wrong.
Spain's sovereign bond market is $2.1 trillion in size. And Spanish bonds are used as the collateral for hundreds of trillions of Euros worth of derivative and credit trades.
… the global derivative market is over $700 TRILLION in size. And we know that the US only accounts for about $228 trillion of this.
The EU banking system is roughly $46 trillion in size. Total EU sovereign debt outstanding is $13.7 trillion. Assuming that EU derivatives are in the ballpark of $300 trillion or so (a safe assumption), this means that EU derivatives exposure is likely:
Nearly SEVEN TIMES the size of the entire EU banking system.

More than 19 times the size of total EU GDP.

More than 21 times TOTAL EU SOVEREIGN DEBT OUTSTANDING
By now I trust you are beginning to understand why EU politicians and the ECB are terrified of an unorganized EU sovereign default: doing this would result in a significant portion of the collateral for over $300 trillion in trades (remember, I'm only assessing derivatives here) vanishing.
I simply cannot stress this last point enough so I am going to say it again in different terms: EU bonds, including the totally garbage PIIGS' debt as well as the soon to be garbage debt from France and others are the COLLATERAL for $300+ trillion in trades.
What happens when this collateral is found to be worth much less or potentially even worthless…?
Those hundreds of trillions of Euros worth of trades blow up, there's nothing backing them, and the banks that made them implode taking everyone's money with them (think of an MF Global type event across the board for ALL MAJOR EU Banks).
At that point the entire EU banking system collapses.
To summate, everything I've been writing about for nearly a year will still happen. The fact that I was early and we were stopped out of our Euro Crisis trades because the ECB promised "unlimited" bond buying right before the Fed announced QE 3 doesn't change the ultimate outcome: the EU breaking up and a global financial meltdown.
On that note, if you are not preparing for a bloodbath in the markets, now is the time to do so. The reality is that the Central Banks are fast losing their grip on the markets. They'll never admit this publicly, but I can assure you that Bernanke and pals are scared stiff by what's happening in the banking system right now.
Those investors looking for actionable investment ideas could also consider our Private Wealth Advisory newsletter: a bi-weekly detailed investment advisory service that distills the most important geopolitical, economic, and financial developments in the markets into concise investment strategies for individual investors.
To learn more about
Private Wealth Advisory

…
and how it can help you navigate the markets successfully…
Graham Summers
Chief Market Strategist
Good Investing!

PS. If you're getting worried about the future of the stock market and have yet to take steps to prepare for the Second Round of the Financial Crisis… I highly suggest you download my FREE Special Report specifying exactly how to prepare for what's to come.
I call it The Financial Crisis "Round Two" Survival Kit. And its 17 pages contain a wealth of information about portfolio protection, which investments to own and how to take out Catastrophe Insurance on the stock market (this "insurance" paid out triple digit gains in the Autumn of 2008).
Again, this is all 100% FREE. To pick up your copy today, got to http://www.gainspainscapital.com and click on FREE REPORTS.
Graham also writes Private Wealth Advisory, a monthly investment advisory focusing on the most lucrative investment opportunities the financial markets have to offer. Graham understands the big picture from both a macro-economic and capital in/outflow perspective. He translates his understanding into finding trends and undervalued investment opportunities months before the markets catch on: the Private Wealth Advisory portfolio has outperformed the S&P 500 three of the last five years, including a 7% return in 2008 vs. a 37% loss for the S&P 500.
Previously, Graham worked as a Senior Financial Analyst covering global markets for several investment firms in the Mid-Atlantic region. He's lived and performed research in Europe, Asia, the Middle East, and the United States.
© 2012 Copyright Graham Summers - All Rights Reserved
Disclaimer: The above is a matter of opinion provided for general information purposes only and is not intended as investment advice. Information and analysis above are derived from sources and utilising methods believed to be reliable, but we cannot accept responsibility for any losses you may incur as a result of this analysis. Individuals should consult with their personal financial advisors.
© 2005-2019 http://www.MarketOracle.co.uk - The Market Oracle is a FREE Daily Financial Markets Analysis & Forecasting online publication.

Only logged in users are allowed to post comments.
Register/ Log in