Time to Buy Stocks, End of Year Santa Rally is Setting up!
Stock-Markets
/
Stock Markets 2012
Nov 11, 2012 - 10:59 AM GMT


World stock markets are dropping.
This time of year traditionally sees a rally. It is called the year end rally, or the Santa Claus rally. What is going on?
Investors are worried, they want to know if Christmas is cancelled this year. In this article I look at how cycles will effect the outcome.
Buy low, sell high.
Now that the election is over, the media is doing their job and sparking fear in the hearts of traders and investors around the world. Right now it is all about the fiscal cliff. Tax increases. Spending cuts. Large layoffs. I won't even mention Europe.
As investors, we have to understand one thing. The big trading houses like Goldman Sachs and JP Morgan control where prices go and when. I call them the Fat Boys. They have all the money and if you have ever played monopoly, you know the difference being well capitalized makes.
They have one problem, they need the other side to place their trades. They want to buy low and sell high like everyone else but unless the managers running large funds are willing to sell to them on the lows, they can not go long. They need to create fear, as a motivator.
How do they do that? By moving the price down.
Right now they are moving it down. The media responds with negative comments to explain why prices are falling. Investors and money managers listen to them and sell.

Bam!! The FBs have the other side of their trade. Understand, the big fund managers are not immune to the emotions of fear and greed. They are the ones the FBs really target. Sure they will take our money but it is a drop in the bucket compared to the money the hedge funds throw the FBs every day.
What does that have to do with Santa Claus?
The FBs have become so big and powerful that the government uses them to keep the markets orderly. It is the fox and the hen house but that is another story. They can move the market at any time. Remember the flash crash.
Here is the thing. Christmas is very important to the economy. The FBs are responsible for generating a rally every year in the stock market, like clock work. So to stimulate that "warm and fuzzy, lets spend more than we can afford feeling". They ramp up stock prices.
They will do it again this year. The new year may go all to hell but this year will end near the highs.
Bold statement and a good question.
Can I back it up? If there is a big rally coming why are all the funds selling right now?
It is because many portfolio managers trade on fundamental data and it is not looking good.
It is also because many technical analysts use methods that don't work any better than rolling dice, or throwing darts. If prices are falling then they sell.
Something interesting has happened cyclically.
It is the reason for much of the technical selling.
For the first time in four years, we have a very bearish signal in the stock market . An early translation top in the 4 month trading cycle. That is never a good sign for the bulls. Many funds employ technical analysts and they are looking at the fact that we have fallen below the low made in October and are getting very nervous. They should be nervous, this means we are going down until February. If that is the case, then how can we have a Christmas rally?
The portfolio managers are not waiting around to find out, they are getting out now. This negative signal, combined with the president talking about the fiscal cliff is working right into the hands of the FBs.
Remember the FBs have to do two things. They have to create a year end rally but before they do, they need to buy some inventory. They need something to sell higher when the funds come back and buy. That is how they get paid. There is no remuneration from the Government.
Let me explain translation.
An early top in the smaller cycle means that a larger cycle has turned down. That is bad.
You see the small cycle always revolves around a bigger cycle. An early top in the small cycle can only happen if the bigger cycle is going down. That is a bad sign.
That is what just happened to the stock market. There are many cycles working at the same time.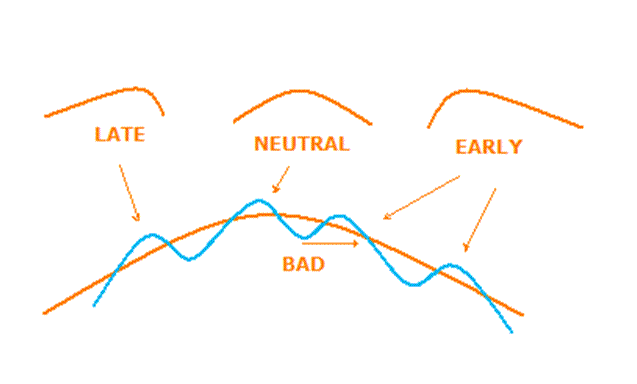 The chart below has the 4 month trading cycle at the bottom. The arrow shows the early translation that has just occurred, which is the bad sign. The pink boxes show the time frame when the year end rally happens. There are bigger unmarked cycle lows that stand out on the chart, which occur on a yearly basis. When a 4 month trading cycle breaks a previous low of the same duration, we see that a larger cycle is dominating. Leading to a yearly low. That is what is happening now.
There is one other thing to point out on the chart. The space in 2011 where we shifted the cycle by two months. Cycles do shift. Once in Four years is not a bad record when it comes to a variable. Also notice that it happened when a yearly low was due and in the summer.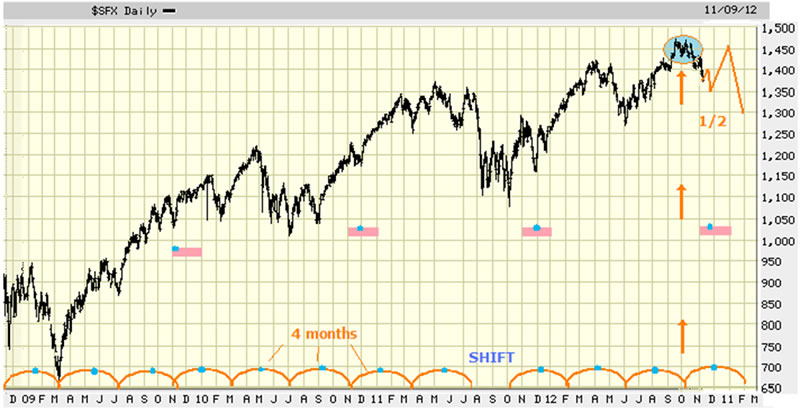 The bottom line.
There are some very important things that we see on the chart.
I have marked the pink rectangles with a blue dot, to show the low we always get this time of year as the FBs hammer prices lower, to shake the tree and get the other side of their trades. They are doing that now. Right on schedule.
There is another factor and it tells us how they will take prices back up soon. Notice that every 4 month cycle has a half cycle low in the middle (blue dot again). It happens approximately every 2 months. That is coming up at the end of November. We are building that low now and it will become the clean out spike before the rally.
What about the shift I mentioned earlier? What if we shift again now. Let's factor it into our analysis. First of all it should not shift now. They usually only happen at yearly lows.
Right now we expect a strong year end rally that takes the price back up near the highs but does not go to a new high. Followed by a drop to a new yearly low in late January, or early February.
If we do shift, then the low we make this month will become the new 4 month trading cycle low. We will go to much higher levels than the last high at 1475.
Either way, we buy this dip. Just do not over stay.
I can teach you how to use the Fat Boy's algorithms. (The algorithms are not cycles.)
I have taught fund managers, floor traders to be more profitable. I have taught pipe fitters and welders to trade professionally. It does not matter what your education or background is. When you learn way the Fat Boy's computers control the markets, you will be able to join them instead of being their victim.
I teach in a step by step, easy to understand way. Get my videos, or better yet, take my full course. I have never had a failed student and I guarantee my training works.
Stop being a victim. Let me help.
Bob Clark is a professional trader with over twenty years experience, he also provides real time online trading instruction, publishes a daily email trading advisory and maintains a web blog at www.winningtradingtactics.blogspot.com his email is linesbot@gmail.com.
© 2012 Copyright Bob Clark - All Rights Reserved
Disclaimer: The above is a matter of opinion provided for general information purposes only and is not intended as investment advice. Information and analysis above are derived from sources and utilising methods believed to be reliable, but we cannot accept responsibility for any losses you may incur as a result of this analysis. Individuals should consult with their personal financial advisors
© 2005-2019 http://www.MarketOracle.co.uk - The Market Oracle is a FREE Daily Financial Markets Analysis & Forecasting online publication.

Only logged in users are allowed to post comments.
Register/ Log in