Europe's Fine… Just Ask Depositors Who Saw Their Savings Go to ZERO
Interest-Rates
/
Eurozone Debt Crisis
Feb 24, 2013 - 04:03 PM GMT


Anyone who wants to get an inside look at both the European banking system and the politicians in charge of fixing it need to only look at Spain's Bankia.
Bankia was formed in December 2010 by merging seven totally bankrupt Spanish cajas (regional banks that were unregulated). The bank was heralded as a success story and an indication that European Governments could manage the risks in their banking systems.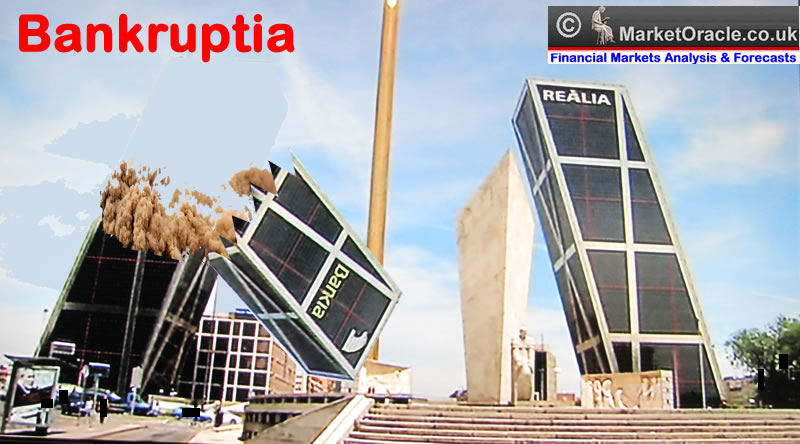 Indeed, in 2011, Bankia even reported a profit of €41 million. And in April 2012, it was proposing paying a dividend. Then, in the span of two weeks, the bank revised its 2011 profit to a €3.3 billion LOSS, requested a formal bailout from Spain, and had to be nationalized.
What's striking about this sequence of events is that throughout it, Spain's Prime Minister Mariano Rajoy was claiming that Spain's banks were in great shape. Indeed, on May 28 2012, (after Bankia had already requested a €19 billion bailout, the single largest bailout in Spanish history), Rajoy stated , "there will be no rescue of the Spanish banking sector."
Bear in mind, Spain itself was just days away from requesting outside aid from the EU.
The timeline says it all:
May 9th: Bankia requests €4.5 billion loan, Spanish Government states that the bank is "solvent."
May 21st: Spain meets Bankia's request for loan and takes a 45% stake in the bank thereby instigating a partial nationalization.
May 23rd: Bankia's bailout needs grows to €11 billion/ Rajoy retorts to France's Hollande, "Hollande does not know the state of Spanish banks."
May 24th: Bankia's bailout needs grow to €15 billion
May 25th: Bankia's bailout needs are now €19 billion (2011 profits revised to €4 billion loss)… the Spanish Bailout Fund has just €5 billion in cash.
May 28th: Rajoy comments, "there will be no rescue of the Spanish banking sector."
Weekend of June 8-10th: Rajoy texts to his finance minister: "Aguanta, we are the fourth European power. Spain is not Uganda… If they want to force the rescue of Spain, they need to start getting ready €500 billion and another €750 billion for Italy, which will have to be rescued afterwards."/ Spain informally asks for €100 billion bailout/ EU Finance Ministers OK the bailout.
Sunday June 10th: Rajoy states that the bailout is a "victory" before commenting, "This year is going to be a bad one: Growth is going to be negative by 1.7 percent, and also unemployment is going to increase."
Thus, in just one month's time, Spain implements the largest bank nationalization in its history and requests €100 billion from the EU to recapitalize its banks. And yet, throughout this time, Spanish politicians maintain that Spain's banking system is "solvent" or in great shape… right up until they get the €100 billion at which point the truth comes out: "This year is going to be a bad one."
Also note that Rajoy sealed the deal and which he proclaimed a "triumph" (along with the above statement about 2012 being a bad year) before hopping a plane to watch Spain's soccer team play Poland.
Fast forward to December 2012, and Bankia is again in the news, this time with Spain revealing that despite receiving the largest bailout in Spanish history, the bank still had a NEGATIVE value.
Bankia's shareholders have received a nasty new year's surprise. They may lose most of their investments or even all of them says the Spanish bank rescue fund in its latest report.
According to FROB, the Fund for Orderly Bank Restructuring, Bankia has a negative value of 4.2 billion euros, and its parent group BFA is 10.4 bn in the red.
Valuation is key in the recapitalisation of Spain's banking system, weighed down by massive bad loans accumulated in a property bubble that burst in 2008. Bankia/BFA is set to receive 18 bn euros of European aid, and become the country's biggest bailout recipient.
http://www.euronews.com/2012/12/27/bankia-worthless-says-new-report/
At this point the following is obvious:
1) Europe's banks are in far far worse shape than anyone publicly admits
2) The political class in Europe has no idea how to solve this mess
3) No one has quantified the bank's actual losses or their capital needs
4) Everyone is lying about just about everything related to Europe's financial system
You could honestly end the story here and know everything you need to about Europe. But then you'd be missing out on Bankia's newest achievement: setting the record for corporate losses in Spanish history.
Nationalised Spanish lender Bankia is expected to reveal a €19bn loss next week, the largest in the country's corporate history.
On Thursday Bankia will report full-year earnings, including a €12.6bn provision taken at the end of last year. The writedown is a result of the lender moving assets into Spain's "bad bank" at heavy discounts.
Bankia, which is seen as a symbol of Spain's financial woes, was created through the merger of seven smaller savings banks before being listed on Madrid's stock exchange. When the company failed, hundreds of thousands of people who had been sold shares saw their savings wiped out. The collapse forced Spain to ask Europe for a bailout for its banking sector, which has meant the lender is subject to tight controls.
http://www.telegraph.co.uk/...
It's a little known fact about the Spanish crisis is that when the Spanish Government merges troubled banks, it typically swaps out depositors' savings for shares in the new bank.
So… when the newly formed bank goes bust, "poof" your savings are GONE. Not gone as in some Spanish version of the FDIC will eventually get you your money, but gone as in gone forever (see the above article for proof).
This is why Bankia's collapse is so significant: in one move, former depositors at seven banks just lost virtually everything.
And this in a nutshell is Europe's financial system today: a totally insolvent sewer of garbage debt, run by corrupt career politicians who have no clue how to fix it or their economies… and which results in a big fat ZERO for those who are nuts enough to invest in it.
Be warned. There are many many more Bankias coming to light in the coming months. So if you have not already taken steps to prepare for systemic failure, you NEED to do so NOW. We're literally at most a few months, and very likely just a few weeks from Europe's banks imploding, potentially taking down the financial system with them. Think I'm joking? The Fed is pumping hundreds of BILLIONS of dollars into EU banks right now trying to stop this from happening.
If you're an individual investor (not a day trader) looking for the means of profiting from all of this… particularly the US going over the fiscal cliff… then you NEED to check out my Private Wealth Advisory newsletter.
Graham Sumers
Chief Market Strategist
Good Investing!

PS. If you're getting worried about the future of the stock market and have yet to take steps to prepare for the Second Round of the Financial Crisis… I highly suggest you download my FREE Special Report specifying exactly how to prepare for what's to come.
I call it The Financial Crisis "Round Two" Survival Kit. And its 17 pages contain a wealth of information about portfolio protection, which investments to own and how to take out Catastrophe Insurance on the stock market (this "insurance" paid out triple digit gains in the Autumn of 2008).
Again, this is all 100% FREE. To pick up your copy today, got to http://www.gainspainscapital.com and click on FREE REPORTS.
Graham also writes Private Wealth Advisory, a monthly investment advisory focusing on the most lucrative investment opportunities the financial markets have to offer. Graham understands the big picture from both a macro-economic and capital in/outflow perspective. He translates his understanding into finding trends and undervalued investment opportunities months before the markets catch on: the Private Wealth Advisory portfolio has outperformed the S&P 500 three of the last five years, including a 7% return in 2008 vs. a 37% loss for the S&P 500.
Previously, Graham worked as a Senior Financial Analyst covering global markets for several investment firms in the Mid-Atlantic region. He's lived and performed research in Europe, Asia, the Middle East, and the United States.
© 2013 Copyright Graham Summers - All Rights Reserved
Disclaimer: The above is a matter of opinion provided for general information purposes only and is not intended as investment advice. Information and analysis above are derived from sources and utilising methods believed to be reliable, but we cannot accept responsibility for any losses you may incur as a result of this analysis. Individuals should consult with their personal financial advisors.
© 2005-2019 http://www.MarketOracle.co.uk - The Market Oracle is a FREE Daily Financial Markets Analysis & Forecasting online publication.

Only logged in users are allowed to post comments.
Register/ Log in