The Mexican standoff: Gold, Banxico and the Bank of England
Commodities
/
Gold and Silver 2013
Mar 06, 2013 - 08:33 PM GMT


Late last month it was reported that Mexico are going to organise an audit of their gold stored at the Bank of England.
Financial journalist Guillermo Barba, writes that that the Mexican Superior Audit of the Federation ("ASF" in Spanish) has made an official 'recommendation' that the Bank of Mexico "should "make a physical inspection with the counterparty that has the gold under its custody, in order to be able to verify and validate its physical wholeness and the compliance with the terms and conditions of dealing with this Asset…" It was verified by the ASF that this has never been done by Banxico."
It turns out the Banxico, aren't really even that sure how many gold bars they own.
Barba's concern, along with many other individuals and countries, is that the gold may not even be there. In documents received by Barba, from Banxico, reference is made to the London Bullion Market Association which he finds 'disquieting.' This is of course down to the fractional reserve system which large bullion banks operate on. This can, of course, only survive if the countries don't come running for their gold at the same time.
The gold stored at the Bank of England came under (weak) media scrutiny at the beginning of the year when Germany announced that it would be bringing back some of its gold, not from the Bank of England, but from Banque de France and the Federal Reserve.
At the time many speculated that the gold held at the Bank of England was not being returned to Germany as storage was not being charged for and it 'made economic sense'. In case anyone was in any doubt as to the existence of the gold the Queen of England was rolled out for a photo-op, just to reassure any doubters around the world.
It's clear that Queen Elizabeth II's visit did not do enough to put the Mexicans' minds at rest.
The news of Germany's repatriation, and now Mexico's audit request should not be big news.
The fact that it is news shows what idiots central bankers have been. These various central banks are now thinking maybe they should have paid better attention to the quality, location or even existence of the gold.
Gold bullion storage on Threadneedle Street
Historically it seems a gentleman's agreement has been enough to guarantee the existence of your gold in another central bank.
Mexico has, according to official figures, 125 tonnes of gold bullion, 95% of which is held abroad and 99% of this is held on Threadneedle Street. The gold represents a mere 4% of Mexico's reserves, and works out at just over 1.12g per capita.
Mexico doesn't just hold gold abroad it's also increasing in the production stakes. Whilst silver is the country's mining cash cow, Mexico is also the world's tenth largest producer of gold. By 2014, the World Gold Council (WGC) estimate it will be producing approximately 75 tonnes a year – an 80% increase in production since 2007. Between 2010 and 2011 gold production increased by 22% meaning Mexico had the world's highest growth rate in terms of production. At present gold production only accounts for 0.38% of GDP.
Back in 2011, the country made headlines when they bought nearly 100 tonnes of gold between the February and March. At the time it was, and remains, one of the largest single, monthly purchases by a central bank in recent history.
The Bank of Mexico indicated that the decision to invest in gold was as part of a decision to divest the country's reserves which had rapidly expanded from approximately $75 billion to $120 billion between Q1 2007 and Q1 2011.
Buying up gold reserves is one thing, it is often explained away by it being good practice to diversify the country's reserves. But nowadays increasing numbers of people see that as showing a concern for currencies – whether your own or the dollar.
But to ask for an audit or to repatriate it makes it almost personal that one country to another doesn't have any trust.
What's made the Mexican ASF decide now is the right time to start asking questions about their gold?
Along with all other fiat currencies across the world, the Mexican peso is rapidly losing value. But not a significant amount more than the British Pound.
As we wrote a while back, in 5 reasons why a country would repatriate their gold, one of the reasons to start checking up on your gold is when you don't trust the custodian country to look after their own currency. Recent developments in the British pound may go some way to explaining ASF's move.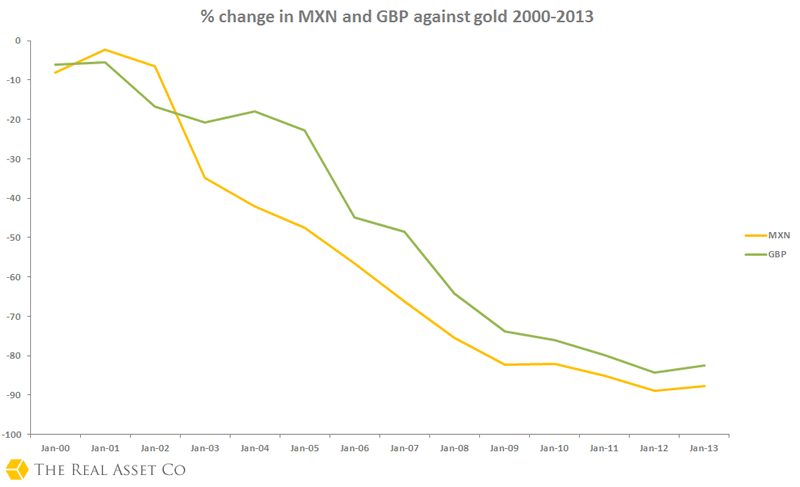 Perhaps Mexico foresaw the drop in the British pound, ahead of the Moody rating announcement and thought they should start paying more attention to their most precious assets. In fact this month gold is down against the MXN, compared to the pound in which it is up.
The Bank of England should be held solely responsible for the devaluation of the pound. Things are so bad, that the pound is only one of two currencies which is down against gold at the moment.
Despite the loss of the long-held and cherished triple-A rating, the Bank of England still remain set on weakening the British Pound, both the outgoing and incoming governor appear keen to carry on with QE, even discussing increasing it.
Can you trust the Bank of England?
Another reason we believe explains the investigations into gold holdings is that you don't trust the gold might actually be there.
As Alasdair Macleod explained in a recent article, the Bank of England is one of the most trusted in the world and 'oversees the largest bullion market by far.'
However, as Mr Macleod concludes (and Barba mentioned earlier), that , 'on the basis of reasonable supposition it appears that the total amount of monetary gold at the Bank of England, including that of Germany, Austria and Mexico and the UK's own stock, cannot be more than 3,320 tonnes, perhaps significantly less. The belief that the world's central banks store a significant amount of their gold in London is therefore incorrect. This raises two interesting questions: where is it all, and does it actually exist?'
At the moment Mexico is at risk of non-payment, until the gold's existence is at least verified and then brought back to home soil, how will they really know that their reserves are safe?
Mexico's on-going gold investment
Last week it seemed we couldn't read anything on gold that wasn't declaring the end of the bull market. Yet when booming emerging economies are not only checking up on their gold, but also stocking up on it we have to wonder if these analysts in their dollar-funded towers really know what's driving this bull-market.
Whilst the price might be lying low we should bear in mind that we shouldn't just look at its price. We should also be looking at what the fundamentals to gold are doing. Central banks' relationships with gold have been one of the top drivers for gold over the last few years, increasingly so. When they're not buying up hundreds of tonnes, it doesn't mean they're no longer interested.
As chatter of currency wars hots up just look out for other central banks talking about getting their houses in order.
Do you think Mexico, or any other central bank, will be looking to bring their gold back? Let us know in the comments below Want protection from debt and defaults? Buy gold online in minutes…

Jan Skoyles contributes to the
The Real Asset Co
research desk. Jan has recently graduated with a First in International Business and Economics. In her final year she developed a keen interest in Austrian economics, Libertarianism and particularly precious metals. The Real Asset Co. is a secure and efficient way to invest precious metals. Clients typically use our platform to build a long position and are using
gold
and
silver
bullion as a savings mechanism in the face on currency debasement and devaluations. The Real Asset Co. holds a distinctly Austrian world view and was launched to help savers and investors secure and protect their wealth and purchasing power.
© 2012 Copyright Jan Skoyles - All Rights Reserved Disclaimer: The above is a matter of opinion provided for general information purposes only and is not intended as investment advice. Information and analysis above are derived from sources and utilising methods believed to be reliable, but we cannot accept responsibility for any losses you may incur as a result of this analysis. Individuals should consult with their personal financial advisors.
© 2005-2019 http://www.MarketOracle.co.uk - The Market Oracle is a FREE Daily Financial Markets Analysis & Forecasting online publication.

Only logged in users are allowed to post comments.
Register/ Log in