What Does The DOW At New All Time Highs Really Mean?
Stock-Markets
/
Stock Markets 2013
Mar 12, 2013 - 04:25 PM GMT


Yesterday the DOW rallied 50 points to close at an all time high at 14447. What does this mean?
Well for one thing it means that the stock market naysayers have been proven wrong and man oh man there have been a lot of them. I don't want to name names here, because some of them might take it as a personal attack if I do, but there are a lot of experts with egg on their face right now.
But unfortunately there are a lot of individual investors who have been in low yielding CD's and bonds that are now suffering as they hear that the DOW has made a new high and they have been sitting there making nothing. There are also a lot of people who got shaken out of the market back in December when the TV news was talking about the "fiscal cliff" and just a few weeks ago when the market dipped for a few days as the news talked about the scary "sequester" that had zero impact on the market once it happened.
So when the DOW goes up it means some people make money and those that aren't in it don't. That's obvious. What isn't so obvious though is that if you a foreign investor overseas you haven't made much of anything over the past year investing in the DOW, because the value of the US dollar has gone down too. That's something they'll never mention on TV.
The same is true over the long run if you are an American. Even though the DOW has made a new high yesterday if you invested in the DOW since 2000 you actually would have failed to keep up with inflation. The price of commodities and just about everything you can buy has gone up more than the DOW has in the past 13 years.
Just look at this chart from >a href="http://advisorperspectives.com/dshort/updates/Inflation-X-Ray-View.php">Doug Short showing you how much prices have gone up since 2000.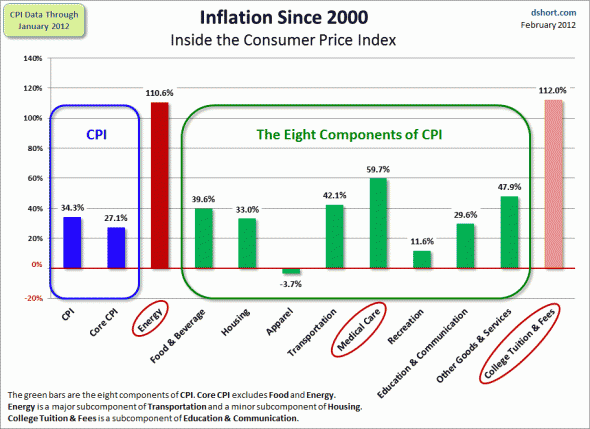 Even this year prices have been shooting up.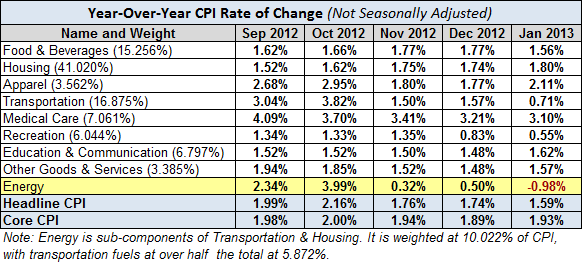 Since September the cost of health care has gone up over every single month!
Food prices have gone up. Housing prices have gone up. Everything is going up in price and since 2000 has been doing so faster than the DOW has.
The funny thing is that gold prices have not gone up - not yet. But they will in time make their turn and skyrocket.
The point I want to make to you today though is that it is nice to see the DOW go up. It is nice to see it make a new all-time. But it hardly means that everyone is all of a sudden rich now.
And when it comes to investing in markets - I bet you that over the next two years European markets, gold, and commodities will go up at a faster rate than the DOW too. Actually I AM betting on it, because that is what I'm invested in.
So what does the DOW making a new all-time high yesterday really mean? Not a heck of a lot in the big scheme of things.
It certainly doesn't mean we are in some sort of economic boom that's for sure.
Well than why is the DOW up then? Simple - inflation. Fed money printing is creating inflation and that inflation is helping the stock market go up. We are in an economy that is totally driven by Fed money printing and not real business growth, job creation, or the private sector. In this context the DOW going up is helping some people make money who are invested in the stock market, so that is a good thing, but it is happening for bad reasons that in the long run will actually hurt most Americans.
It's called Ben Bernanke command and control economics with President Obama in the side passenger seat and all of the rest of us sitting in the back. He's got his foot on the pedal and we're all going up the hill right now, but watch out and just pray he doesn't run out of gas, because once he does we'll all end up rolling down the hill backwards and who knows what we'll run into then! If you are riding in this car enjoy it. But just jump out before it runs out of gas. Everything looks safe now, but we'll keep our eyes on that fuel meter.
And keep that gold in your pocket for insurance! Don't get tricked out of your wealth!

To get future updates from me about the price of gold and actionable investment ideas subscribe to my free newsletter at

http://www.wallstreetwindow.com/newslettersubscribeforfree.htm

By Michael Swanson

WallStreetWindow.com
Mike Swanson is the founder and chief editor of WallStreetWindow. He began investing and trading in 1997 and achieved a return in excess of 800% from 1997 to 2001. In 2002 he won second place in the 2002 Robbins Trading Contest and ran a hedge fund from 2003 to 2006 that generated a return of over 78% for its investors during that time frame. In 2005 out of 3,621 hedge funds tracked by HedgeFund.Net only 35 other funds had a better return that year. Mike holds a Masters Degree in history from the University of Virginia and has a knowledge of the history and political economy of the United States and the world financial markets. Besides writing about financial matters he is also working on a history of the state of Virginia. To subscribe to his free stock market newsletter click here .
Copyright © 2013 Michael Swanson - All Rights Reserved.
Disclaimer - WallStreetWindow.com is owned by Timingwallstreet, Inc of which Michael Swanson is President and sole shareholder. Both Swanson and employees and associates of Timingwallstreet, Inc. may have a position in securities which are mentioned on any of the websites or commentaries published by TimingWallStreet or any of its services and may sell or close such positions at any moment and without warning. Under no circumstances should the information received from TimingWallStreet represent a recommendation to buy, sell, or hold any security. TimingWallStreet contains the opinions of Swanson and and other financial writers and commentators. Neither Swanson, nor TimingWallstreet, Inc. provide individual investment advice and will not advise you personally concerning the nature, potential, value, or of any particular stock or investment strategy. To the extent that any of the information contained on any TimingWallStreet publications may be deemed investment advice, such information is impersonal and not tailored to the investment needs of any specific person. Past results of TimingWallStreet, Michael Swanson or other financial authors are not necessarily indicative of future performance.
TimingWallStreet does not represent the accuracy nor does it warranty the accuracy, completeness or timeliness of the statements published on its web sites, its email alerts, podcats, or other media. The information provided should therefore be used as a basis for continued, independent research into a security referenced on TimingWallStreet so that the reader forms his or her own opinion regarding any investment in a security published on any TimingWallStreet of media outlets or services. The reader therefore agrees that he or she alone bears complete responsibility for their own investment research and decisions. We are not and do not represent ourselves to be a registered investment adviser or advisory firm or company. You should consult a qualified financial advisor or stock broker before making any investment decision and to help you evaluate any information you may receive from TimingWallstreet.
Consequently, the reader understands and agrees that by using any of TimingWallStreet services, either directly or indirectly, TimingWallStreet, Inc. shall not be liable to anyone for any loss, injury or damage resulting from the use of or information attained from TimingWallStreet.
© 2005-2019 http://www.MarketOracle.co.uk - The Market Oracle is a FREE Daily Financial Markets Analysis & Forecasting online publication.

Only logged in users are allowed to post comments.
Register/ Log in