How Alibaba Could Capitalize on the EBay-PayPal Split
Companies
/
Tech Stocks
Oct 08, 2014 - 08:29 AM GMT


Internet auctioneer and retailer eBay announced last week that it will be spinning off its online payment service PayPal into two listed companies. This decision, heralded by activist shareholder Carl Icahn, among other investors, will allegedly enable both companies to focus exclusively on what they do best.
The split makes a lot of sense. PayPal's non-eBay business is growing three times faster than eBay-related transactions. Freeing itself from its parent company will strengthen its brand and marshal its troops under one banner. It will also enable PayPal to allocate more intellectual bandwidth toward improving its mobile payment services in order to stay ahead of serious competitors such as Square Cash, Google Wallet and newcomer Apple Pay, which launched with the iPhone 6. Facebook might also be looking into mobile payment services soon, as a recent hack revealed that Facebook Messenger contains hidden code to accommodate friend-to-friend payments.
But another repercussion of the split is that eBay will give up much of its market value. The company is currently valued at roughly $70 billion, and of that amount, PayPal might be entitled to $47 billion. When the two go their separate ways, eBay will then be worth $23 billion.
Which is very close to the amount Alibaba Group raised on the first day of its historic IPO.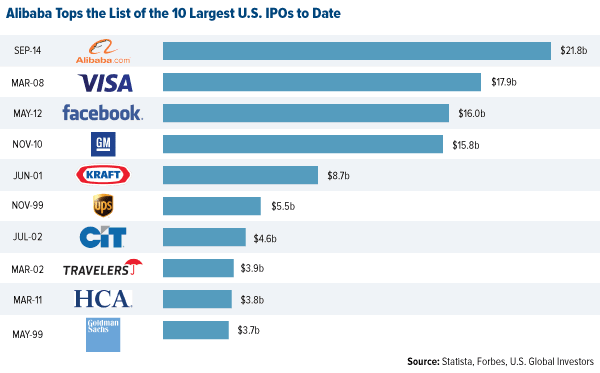 Even though eBay CEO John Donahoe, who will be stepping down once the spinoff is complete, has roundly denied rumors that the company is for sale, Alibaba founder and chairman Jack Ma is in the buying mood.
Alibaba, which we now own in our China Region Fund (USCOX), has already made several recent high-profile investments and acquisitions. It currently owns about 30 percent of Weibo, China's answer to Twitter; 26 percent of Intime Retail, a Chinese department store; 16.5 percent of Youku Tudou, a Chinese Internet video company; UCWeb, a Chinese mobile e-commerce firm; and even 50 percent of the Guangzhou Evergrande Football Club.
In his letter to investors, Ma hinted that Alibaba is now looking beyond China's borders:
"From the very beginning our founders have aspired to create a company founded by Chinese people but that belongs to the world. In the past decade, we measured ourselves by how much we changed China. In the future, we will be judged by how much progress we bring to the world."
There was a time when eBay appeared likely to dominate not just the American market but the Chinese market as well. Then-CEO Meg Whitman stated in 2004: "Ten to 15 years from now, I think China can be eBay's largest market on a global basis... We think China has tremendous long-term potential and we want to do everything we can to maintain our number one position."
Whitman was certainly right about China's tremendous potential.
Today, Taobao, Alibaba Group's eBay-like consumer-to-consumer marketplace, does more business and moves more inventory annually than eBay does in China alone. If Ma were interested in reaching American consumers, eBay could very possibly be his entry point.
"The only way Alibaba can break into the American market is to have an American company like eBay," Marth Stokes, CEO of TechniTrader, told International Business Times. "Otherwise, they're going to have a really tough sell."
Asian E-Commerce Companies Making Huge Strides
Led by giants such as Google, Facebook and Amazon.com, U.S. Internet companies maintain a firm upper hand over the rest of the world. Of the $1.5 trillion represented below, American companies control close to $1 trillion.
But Asian Internet companies, Chinese in particular, are gradually gaining ground.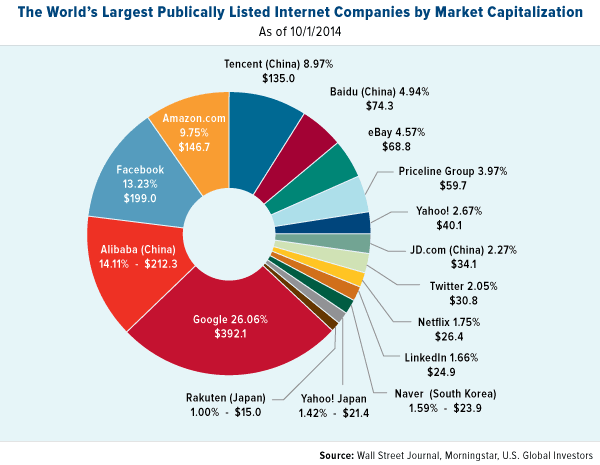 Alibaba, fueled by its record IPO, has already surpassed Facebook in market cap. It's now the second-largest company in the Nasdaq Internet Index behind Google, and were it in the S&P 500 Index, it would be the 11th largest company.
Alibaba's hypothetical acquisition of eBay would be a major tipping point, further tilting e-commerce in China's direction. Not only would the auction site fall under the umbrella of the Alibaba Group, but much of PayPal's business might also drift to Alipay Wallet, which handles much of the transactions made through Alibaba's many marketplaces. Although Alibaba no longer has ownership of Alipay, it's already the world's leading mobile payment service. Last year alone, 2.78 billion transactions were made using Alipay, amounting to $150 billion--far exceeding PayPal and Square's combined $50 billion in volume.
Competition Mounting
Despite the success of digital behemoths such as Google, Facebook and Amazon.com, American Internet stocks are actually lagging behind their Asian counterparts. Whereas the former have returned only 0.55 percent, the latter have delivered 2.59 percent year-to-date (YTD).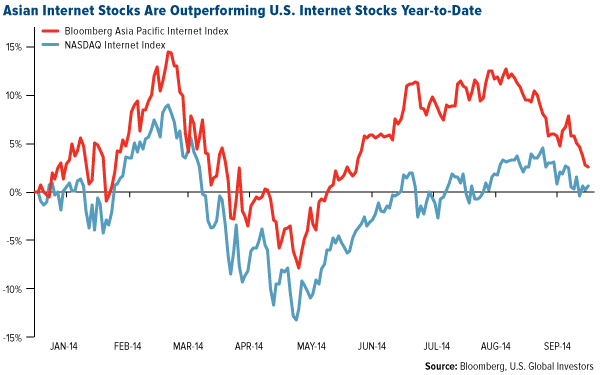 This might very well persist as more and more people in the Asia region gain connectivity and spend their money online. According to the International Telecommunication Union (ITU), around 45 percent of the world's Internet users will be from the Asia-Pacific region by the end of this year. In China alone, there are 618 million Internet users. Of those, 302 million--nearly the population of the United States--shop online.
Again, Donahoe claims neither eBay nor PayPal is for sale. But this is the same man who on numerous occasions opposed Icahn's suggestion to split the two. With Internet company mergers and acquisitions accelerating--Facebook, for instance, just closed on a deal to acquire popular instant messaging service WhatsApp for $22 billion--it's not out of the realm of possibility that eBay might one day be subsumed by Alibaba Group.
"EBay may be a shark in the ocean, but I am a crocodile in the Yangtze River," Ma stated in 2005. "If we fight in the ocean, we lose--but if we fight in the river, we win."
We at U.S. Global Investors are curious to see how a growing Chinese middle-class will shift the global online marketplace ecosystem and payment service industry. The winners will likely be Asian companies such as Alibaba. Smartphones such as the Apple 6 will also benefit, as more and more people will use them to make transactions. The losers could possibly be cash and second-tier credit cards such as Discover.
But like a weathervane, our investment team will be sensitive to the direction Internet companies take--on both sides of the Pacific Ocean.
Want to receive more commentaries like this one? Sign up to receive email updates from Frank Holmes and the rest of the U.S. Global Investors team, follow us on Twitter or like us on Facebook.
By Frank Holmes

CEO and Chief Investment Officer
U.S. Global Investors
U.S. Global Investors, Inc. is an investment management firm specializing in gold, natural resources, emerging markets and global infrastructure opportunities around the world. The company, headquartered in San Antonio, Texas, manages 13 no-load mutual funds in the U.S. Global Investors fund family, as well as funds for international clients.
All opinions expressed and data provided are subject to change without notice. Some of these opinions may not be appropriate to every investor.Standard deviation is a measure of the dispersion of a set of data from its mean. The more spread apart the data, the higher the deviation. Standard deviation is also known as historical volatility. All opinions expressed and data provided are subject to change without notice. Some of these opinions may not be appropriate to every investor. The S&P 500 Stock Index is a widely recognized capitalization-weighted index of 500 common stock prices in U.S. companies. The NYSE Arca Gold BUGS (Basket of Unhedged Gold Stocks) Index (HUI) is a modified equal dollar weighted index of companies involved in gold mining. The HUI Index was designed to provide significant exposure to near term movements in gold prices by including companies that do not hedge their gold production beyond 1.5 years. The MSCI Emerging Markets Index is a free float-adjusted market capitalization index that is designed to measure equity market performance in the global emerging markets. The U.S. Trade Weighted Dollar Index provides a general indication of the international value of the U.S. dollar.
© 2005-2019 http://www.MarketOracle.co.uk - The Market Oracle is a FREE Daily Financial Markets Analysis & Forecasting online publication.

Only logged in users are allowed to post comments.
Register/ Log in